Wine Focus - Chile vs. CalCab
If imitation is the sincerest form of flattery, then Cabernet Sauvignon may be the most flattered of wine grapes. As the leading variety in Bordeaux, Cabernet Sauvignon for centuries has battled Burgundy's Pinot Noir, with few other contenders, for the title of most respected red wine grape.
But it's only in recent years that Pinot has been grown with much success outside its native region; while Cabernet's fanciers have spread its production around the world's temperate zones for generations, growing it with great success in California, Australia, South Africa, South America and beyond.
Grown with care on appropriate soils in a properly cool climate, nurtured in the vineyard to produce reasonable but not excessive yields, Cabernet Sauvignon makes serious, structured, complex and ageworthy wine.
On the other hand, to be honest, if it's harvested under-ripe it can be lean, mean and tannic, reeking of green peppers or even green beans. Cabernet can also be greedily overcropped and mass-produced, soaked in oak to conceal its flaws, yielding an embarrassing rendition that may bear Cabernet's name but doesn't boast much of Cabernet's character.
Then there's the question: To blend or not to blend. Bordeaux is rarely all-Cabernet Sauvignon, usually adding Merlot and Cabernet Franc and sometimes Petit Verdot and Malbec to the mix; in some parts of the region, particularly St.-Emilion and Pomerol and their Right Bank neighbors, it may take second or third place in the blend behind Merlot and Cab Franc.
Even in the U.S., which all but invented 100 percent varietal Cabernet, there's a growing tendency to mix Cabernet Sauvignon into Bordeaux-style or even more idiosyncratic blends (some of the former labeled with the trademarked "Meritage"); and under current federal law, even a wine labeled simply "Cabernet" may contain up to 25 percent of other varieties. Indeed, as splendid as Cabernet can be, some might argue that it's best rounded out with other varieties in a blend.
So many Cabernet-producing regions, so many styles, so many price points. Does any region outside Bordeaux produce a "benchmark" Cabernet? Must one invest in high-end Bordeaux or "cult" Napa Cabernets to sample the best? These are some questions we hope to address in our interactive forums this month, as we narrow our Wine Focus for September to a geographical look at the Cabernets of two New World wine regions: California and Chile.
Value is the focus in our CompuServe/Netscape WineLovers Community, where the "Wine of the Month" feature will seek out "California and Chilean Cabernet for $20 or less." In our non-commercial WineLovers Discussion Group (WLDG), September's Wine Focus program invites you to compare and contrast Chilean and California Cabernet Sauvignon at any price level, from bargain-basement to high-end collectible.
Please feel welcome to participate in both forums with your questions, comments and tasting notes; you needn't be a wine expert to take active part in these friendly, civil online communities.
Today, let's open the discussion with a quick side-by-side look at two modestly priced 2004 Cabernets, one from Chile's Colchagua Valley, the other from California's Paso Robles on the Central Coast. As the month goes by, we'll hope to establish whether these wines are typical of what their growing regions and price points have to offer. Both wines are made for immediate enjoyment, and both went well with a dish made for Cabernet, lamb braised with fennel.
---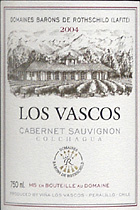 Los Vascos 2004 Colchagua Cabernet Sauvignon ($9.99)
Back in the late 1980s, the proprietors of Bordeaux's Domaines Barons de Rothschild, producers of first-growth Chateau Lafite-Rothschild, joined with California's Chalone to purchase this already respected Chilean producer, pledging to upgrade and modernize its facilities. As it turned out, high-end Rothschild continues to position Los Vascos ("The Basques") as an "affordable" wine made in significant quantities, more than 3 million bottles per year. Very dark ruby in color with reddish-orange glints, an initial high-toned whiff of volatile acidity blows off to reveal more characteristic Cabernet aromas of black fruit with fresh herbs - tarragon and oregano. Flavors follow the nose, lean and rather austere, good acidity and soft tannins. There's a definite French accent here in a wine with Bordeaux-like character, but frankly, it's like a rather low-end generic Bordeaux. U.S. importer: Pasternak Wine Imports, Harrison, N.Y. (Sept. 2, 2006)
WEB LINK:
Domaines Barons de Rothschild has a Los Vascos page here:
http://www.lafite.com/en/php/vins/7_2_1.php?id_chateau=43
FIND THIS WINE ONLINE:
Find vendors and check prices for Los Vascos 2004 Colchagua Cabernet Sauvignon on Wine-Searcher.com:
http://www.wine-searcher.com/find/Vascos%2bCabernet/2004/-/USD/A?referring_site=WLP
---
Liberty School 2004 Paso Robles Cabernet Sauvignon ($12.99)
Very dark reddish-purple, clear garnet edge. Blackberries and blueberries, ripe and fruit-forward. Juicy and fresh, sweet berry fruit and a whiff of vanilla; appropriate acidity provides necessary structure. Oak becomes quite apparent with a distinct dill-pickle note that seems to increase with time in the glass. Easy drinking, New World style, but I'm not sure the varietal character is there to nail it as Cabernet Sauvignon in a blind tasting. For many years, Liberty School was a second label for Napa's respected Caymus Vineyards, but in 1997 the brand was sold to Chuck and Marlyn Hope, who had been grape growers for Liberty School in Paso Robles, and who now make it as a second label behind their more pricey Treana brand. (Sept. 2, 2006)
WEB LINK:
This Liberty School Cabernet Sauvignon fact sheet on the Treana Website includes a link to an Adobe Acrobat (PDF) file with further information about the wine.
http://www.treana.com/ourwinescabernet.php
FIND THIS WINE ONLINE:
Find vendors and check prices for Liberty School 2004 Cabernet Sauvignon on Wine-Searcher.com:
http://www.wine-searcher.com/
find/Liberty%2bSchool%2bCabernet/2004/-/USD/A?referring_site=WLP