Offbeat grape - Kerner
We haven't taken a hike down the less-traveled wine trails lately, so let's have a look at an unusual but highly promising modern grape, a cross between the noble Riesling variety and the much less familiar grape that's variably known as Schiava, Vernatsch, Trollinger or Black Hamburg.
Yes, you heard that right: This aromatic grape is the offspring of a union between a white and a red, a grape-breeding enterprise that you might expect would yield pink fruit ... until you reason that a blue-eyed mother and brown-eyed father only rarely produce a blue-brown-eyed child.
In contrast with the much-maligned French-American hybrid grapes of the Eastern U.S. and Canada - which involve hybridization between entirely different grape species - Kerner is a true "cross" between varieties of the classic Vitis vinifera species.
Kerner was first bred at the the Weinsberg/Württemburg State Wine Institute in Baden, Germany, in 1969, making it one of the world's most recent commercially viable varieties. Within a generation it had become Germany's third most-planted grape after Riesling and Sylvaner and may eventually move into second place. It is also popular in Northern Italy's Südtirol (Alto Adige) and has been planted in South Africa, England, British Columbia in Canada and Michigan in the U.S.
Jancis Robinson speaks highly of Kerner, declaring it "commendably close to Riesling in flavour except with [its] own leafy aroma and very slightly coarser texture." In contrast with the custom of naming new varieties after grape scientists, she adds, Kerner honors the memory of a 19th century composer of German drinking songs.
With its growing reputation, Kerner may not rate as "offbeat" or "little-known" for very long. Today's featured wine is an Italian Kerner, from the Abbazia di Novacella winery in Bolzano, in the Alpine, German-speaking Alto Adige. Built around an ancient abbey and founded in 1142, this is said to be one of the oldest wineries in the world. The wine, a 100 percent varietal Kerner, offers a splendid example of the grape, cool-fermented and produced entirely in neutral stainless steel to retain the purity of the fruit. Powerful and aromatic and well-balanced, it's worth seeking out.
---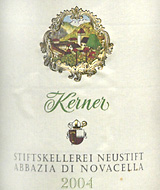 Abbazia di Novacella 2004 Alto Adige Valle Isargo Kerner ($19.99)
Transparent straw color. Fresh aromas offer a tasty blend of mixed white fruits, with hints of apple, peach, grapefruit and a tropical whiff of mango. It's ripe and full in flavor, so luscious that the first sip seems sweet and almost soft, but that impression quickly gives way to tart, mouth-watering acidity and a distinct touch of peach-pit bitterness. The label claims a hefty 14% alcohol, but alcoholic heat isn't obvious in its well-balanced flavor and crisp white-fruit finish. U.S. importer: VIAS Imports, NYC. (Aug. 30, 2006)
FOOD MATCH: It has the heft to hold up to pork, veal, roast chicken or swordfish; I put it to good use with a Caprese-style summer salad of thick, ripe tomato slices layered with mozzarella, sliced avocado and thin-sliced peppered nova salmon.
VALUE: At $20, it's a bit above the line for everyday wine for most of us. It's a fine wine, though, and certainly justifies the expense if you enjoy "collecting" new varieties and regions and have yet to check a Kerner off your list; better still if you can find a vendor offering this wine in the middle to upper teens.
WHEN TO DRINK: Riesling ages well, but does this Riesling cross inherit its parent's longevity? Jancis Robinson thinks so. I have little Kerner experience to guide me, but based on the Riesling heritage and the wine's depth, power and balance, I wouldn't hesitate to put a bottle or two away in a good cellar for a few years to find out.
WEB LINK:
The winery's attractive Website is published in two languages, neither of which is English. This link goes to the primary site in German, where you can click "Italiano" for the alternate version.
http://www.kloster-neustift.it/
If you're stymied either way, try the U.S. importer's Web fact sheet on Abbazia di Novacella Kerner:
http://www.viaswine.com/regioni/schedaProdotto.asp?vino=259
FIND THIS WINE ONLINE:
Find vendors and check prices for Abbazia di Novacella Kerner on Wine-Searcher.com:
http://www.wine-searcher.com/find/Abbazia%2bKerner/-/-/USD/A?referring_site=WLP