Revisiting old friends
One of the simpler pleasures of wine appreciation is the quiet joy of coming back, year after year, to the most recent vintage of an old friend, a wine that we've enjoyed year in and year out.
It's fun to compare and contrast the similarities that emerge each year from the grape, the land and the consistency of the wine maker's hand, against the inevitable changes that result from differences in each vintage's weather and other variables.
The red Côtes du Rhônes of the 2004 vintage have been arriving in quantity in recent months. Thanks to unpredictable recent weather in the region, the Southern Rhone offers an intriguing lesson in vintage variation.
After a "classic" vintage in 2001, the year 2002 saw heavy rain and floods in the Rhône Valley, flooding out some vineyards in Chateauneuf-du-Pape entirely and yielding thin, dilute and largely forgettable Côtes du Rhônes1. The 2003 vintage brought record-breaking heat here and across much of Europe, fostering super-ripe grapes that tended to make fat, fruit-forward, "California-style" wines that some of the big-name critics loved but that fanciers of European elegance did not. Now 2004 returns to a much more typical French vintage, a decent but not remarkable summer saved by beautiful September weather that brought wine grapes to ripeness after a slow start.
Today's featured wine from Alain Jaume offers a good example of a standard-issue Côtes du Rhône in a good, "normal" vintage. Although the label bears the lofty "Reserve" designation, this is actually a lower-tier bottling than Jaume's outstanding Côtes du Rhône Villages "Les Champauvins," a single-vineyard wine that I reviewed last April and likened to a "Baby Chateauneuf." The more modestly priced Reserve comes from a broader region and lacks its sibling's complexity, but the 2004 offers a benchmark example of the wines of the region at a bargain price.
---
1Let the record reflect that vintage comments reflect broad generalizations, and there are almost always exceptions that "prove" the rule. I'm generally wary of 2002 Rhônes, based on the odds, but wouldn't refuse to try one on a recommendation from a trusted source.
---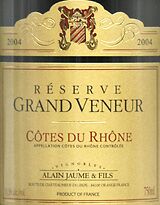 Réserve Grand Veneur 2004 Côtes du Rhône ($10.49)
Very dark reddish-purple with a bright garnet edge. Plums and fragrant black pepper aromas; more akin to black raspberry in flavor, with mouth-watering acidity and drying tannins. Black fruit and a distinct grind of black pepper in the finish. A fairly typical Rhône blend, it features 70% Grenache, 20% Syrah and 10% Cinsaut. U.S. importer: Kysela Père et Fils Ltd., Winchester, Va. (Aug. 28, 2006)
FOOD MATCH: Fine with red meat, it was a natural match with grass-fed Australian beef in the form of a grilled medium-rare tenderloin.
VALUE: It may pay to do some comparison shopping, as U.S. retail prices range unusually widely from $8 to $15 or more. At $10 or less, it earns a place on my list of best values of the year.
WHEN TO DRINK: Although the conventional wisdom holds that simple Côtes du Rhône isn't for aging, I see no reason that this well-balanced and concentrated wine won't hold for three or four years on a wine rack and possibly evolve a bit under good cellar conditions.
WEB LINK:
Alain Jaume & Fils, the producers of Domaine Grand Veneur, publish an informative Website in English and French.
http://www.domaine-grand-veneur.com
For more about Domaine Grand Veneur, see the U.S. importer's Website,
http://www.kysela.com/rhone/grandveneur.htm
FIND THIS WINE ONLINE:
Find vendors and check prices for Réserve Grand Veneur on Wine-Searcher.com:
http://www.wine-searcher.com/find/Veneur%2bReserve/-/-/USD/A?referring_site=WLP