Summer wine reading
You know you're a wine "geek" if your idea of a good book for summer reading is not a light, frothy mystery but something that really sinks its teeth into a serious wine-related topic.
Happily, we've got a fine candidate to hold us through the dog days of August here, whether you're reading on a sunny beach or seeking cool comfort in a chilly wine cellar. "Wine, The 8,000-Year-Old Story of the Wine Trade," by Thomas Pellechia, takes a detailed but fascinating and highly readable look at the history of wine - from ancient times to the present - from the perspective of the wine trade, a point of view that portrays wine in an entirely different light than the usual consumer view.
The book-jacket introduction invites a further taste: "The grape was around long before we were, so it's hard to know who discovered wine. Yet archaeological and other discoveries indicate that when it was discovered, wine quickly became integral to the religious process. This is the story that is usually told. But when civilization began about 8,000 years ago, wine moved from being an instrument of spirituality to a linchpin of the economy. All it took was the development of trade. Thereafter, the life and death of certain cultures often depended upon wine trading. Wine may have even sparked the earliest wars."
Pellechia, a frequent participant in our WineLovers Discussion Groups, is ideally suited to this task. He's a skillful writer and experienced wine educator who boasts experience in the wine trade as both a wine maker and wine merchant. In 244 erudite but easily digestible pages, he takes us from the dawn of wine (and civilization) in the ancient Near East, through Egypt, classical Greece and Rome, through the Dark Ages and the Renaissance and on into modern times, all from the perspective of the wine trade as a business and economic force.
At the end, he takes a peek into the crystal ball and offers a few cogent thoughts about why the modern wine industry is at a point of change, and what the future might hold.
It was my pleasure to be invited to write one of Pellechia's back-jacket blurbs, which allowed me an early look at his manuscript. The published book bears out what I wrote then: "Pellechia's experience uniquely qualifies him to outline the history of the wine trade, a business that may just be the real 'world's oldest profession.'"
BUY THE BOOK ONLINE:
Thomas Pellechia's "Wine, The 8,000-Year-Old Story of the Wine Trade," is available online from Amazon.com in hardcover for $16.38, a 37 percent discount from its $26 book store list price:
http://www.amazon.com/exec/obidos/ASIN/1560258713/robingarrswineloA/
As always, if you should choose to buy this book through this direct link, we'll earn a small commission that helps cover the costs of distributing this E-letter and maintaining WineLoversPage.com.
Now, for today's tasting, let's open a wine made from the Gamay grape, the featured variety in this month's "Wine Focus" topic on our WineLovers Discussion Group. Brouilly is one of the dozen or so villages within the Beaujolais region that are entitled to bear the name of the village on the label in preference to the more generic "Beaujolais," and Chateau de la Chaize is a long-term performer. This vintage, a return to more traditional form after the powerful and overripe 2003s, shows the good, refined berry fruit that typifies Gamay, along with pleasant toasty-earthy minerality that's a hallmark of Brouilly.
---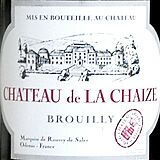 Chateau de la Chaize 2004 Brouilly ($15.59)
This Gamay from Brouilly, one of the named Beaujolais "Cru" villages, comes in a squat, rather medieval looking bottle. Light strawberry aromas add a distinct whiff of toasted white bread. Fruit is more forward on the palate, juicy red berries and a squirt of lemon, and the toasty aromas segue into a plesant earthy minerality to add flavor interest. U.S. importer: Diageo Chateau & Estate Wines, NYC. (Aug. 6, 2006)
FOOD MATCH: An offbeat match, curried summer squash soup, is just okay at first, palatable but not compelling, but the combination suddenly draws a gasp of pleasure when a sip of wine taken after a swallow of soup bursts on the palate like a perfect ripe strawberry.
VALUE: Shop around, as the local retail price I paid is very close to the high end of its range; it's available at some vendors for $10, at which price it's a much better buy.
WHEN TO DRINK: Even with the village Crus, there's never any harm in drinking Beaujolais young and fresh; if you want to try cellaring it, I wouldn't hold it much past five years post-vintage.
PRONUNCIATION:
Chateau de la Chaize = "Sha-toe duh lah shahz"
Brouilly = "Brool-yee"
WEB LINK:
Here's a link to the importer's fact sheet about Chateau de la Chaize. You'll have to endure a quiz about your age before the site will let you in.
http://www.diageowines.com/brandInfo/
displayPage.asp?pagelink=Ch_de_La_Chaize&brandid=215
FIND THIS WINE ONLINE:
Find vendors and check prices for Chateau de la Chaize Brouilly on Wine-Searcher.com:
http://www.wine-searcher.com/find/Chaize%2bBrouilly/-/-/USD/A?referring_site=WLP