Bargain Burgundy
"If I were a rich man,
Ya da yada whatever ...
All day long I'd ...
... drink great Burgundy!
Never mind all that stuff that the character Tevye wanted in Fiddler on the Roof." If I ever hit the trifecta at Churchill Downs, one of the first places I'm headed is the wine shop.
Until that happy day, though, it's true that the average wine lover's reach exceeds his grasp when it comes to the current pricing of great wines like Burgundy. The conventional wisdom has it that if Burgundy is good, it isn't cheap, and that if it's cheap, it isn't good.
There's some economic rationale behind this: The great vineyards of Burgundy - those spread along the favored hillsides collectively labeled the Côte d'Or - are strictly limited by tradition and by law to the painfully few hectares declared Première Cru and Grand Cru based on their long track record of success.
With vineyard yields restrained by practice, by regulation, and often by weather, the world's supply of great Burgundy falls so far short of the demand that prices shoot up. And in contrast with the widget industry, wine makers can't simply start producing more (or at least they can't do so, thank Bacchus, in traditional, regulated wines like Burgundy's great Crus).
But tell us, Uncle Tevye, isn't there any way that a poor man - or at least a middle-class wine lover - can get a hint of what Burgundy is all about? Well, maybe. Wine snobs will look down their noses and tell us that if we're not drinking Grands or Premières Crus, preferably from favored producers, we had might as well not be drinking Burgundy at all. And there's no question that these top-tier wines, particularly from a good vintage and with a little age on them, can provide complexity and finesse that the low-end stuff can't match.
But I wouldn't go so far as to say that "lesser" Burgundy should be shunned. Plenty of "villages" wines - those designated not by the vineyard but the name of the nearby village (Volnay, Nuits-Saint-Georges, Morey-St.-Denis, etc., ad inf) - can offer considerable drinking pleasure for significantly less than the cost of the Crus.
And even the most modest generic Bourgogne Pinot Noir - like the wine featured in today's tasting - can offer fine value. It pays to compare notes with friends, online forums and publications you trust, or you may find yourself kissing a few frogs before you discover a princess. I've had very good luck with the Bourgogne Pinot Noir of Louis Jadot (whose Beaujolais-Villages was featured in Wednesday's Wine Advisor. Today's featured wine from Moillard of Nuits-Saint-Georges certainly passes my test as well. If you've been enjoying New World Pinot Noir in the same price range and would like to compare a taste of Old World character, this one would make a worthy introduction ... even if it's not a Grand Cru.
Finally, don't entirely rule out a Cru Bourgogne experience on the basis of price. To keep things in perspective, we're not talking Chateau Petrus or Screaming Beagle prices here. With the advice of savvy friends or a trustworthy wine merchant, you can easily enter Première Cru territory for $50 or so, a price that even a poor man might consider paying on a very special occasion.
---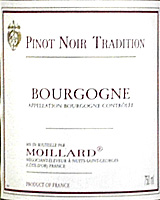 Moillard 2004 Bourgogne Pinot Noir Tradition ($15)
This is a clear, ruby-color wine, on the light side as is typical of Bourgogne Pinot Noir. Fresh, bright and clean, aromas focus on ripe red cherries. Crisp and tart on the palate, juicy red fruit gains structure from snappy acidity and perceptible tannins. Simple but appealing, good basic Burgundy; rather sharp acidity goes well with food, though some will find it a bit tart for sipping alone. U.S. importer: USA Wine Imports Inc., NYC. (Aug. 3, 2006)
FOOD MATCH: This versatile food wine will go with a wide range of dishes from red meat or poultry to mushrooms and cheese dishes. I couldn't have asked for a better match with fresh wild Alaskan sockeye salmon grilled with onions.
VALUE: You're not going to find a drinkable Burgundy below the mid-teens, and not many good ones at that price.
WHEN TO DRINK: Generic Bourgogne isn't meant for long aging, but I wouldn't hesitate to cellar this one for several years just to see what time does with it.
PRONUNCIATION:
Moillard = "M'wahl-yar"
Bourgogne = "Boor-gon-yuh"
WEB LINK:
Moillard's simple, rather charming Website is online in French and basic English.
http://www.Moillard.com/
FIND THIS WINE ONLINE:
Find vendors and check prices for Moillard Bourgogne on Wine-Searcher.com:
http://www.wine-searcher.com/find/Moillard%2bBourgogne/-/-/USD/A?referring_site=WLP