Gamay conditioning
The heat wave continues, and so does my quest for wines appropriate for a torrid summer. As we slouch from July into August, the "Dog Days" are here, so-called because the ancients noticed that Sirius - brightest star in the sky and the so-called "Dog Star" - rises just before dawn at this time of year, heralding weather that, well, isn't fit for a dog.
Seeking a red wine that's appropriate for the season, our online forum participants have chosen Gamay as the subject for our monthly "Wine Focus," wherein participants taste, share reports on and discuss a specific wine-grape variety or region.
Gamay is a great choice for the Dog Days because it makes a red wine that can be both interesting and refreshing, and that doesn't object if you serve it with a bit of a chill when the weather's sultry.
Once a major grape of Burgundy that contended for primacy with Pinot Noir itself, Gamay was banished to Beaujolais by court order in the Middle Ages and is now permissible in Burgundy only as in the uncommon Pinot-Gamay blend called Bourgogne Passetoutgrains.
Perhaps not least because of this history, a lot of wine enthusiasts have little respect for Gamay or Beaujolais; and some of the mass-market bottlings (not excluding the much-hyped arrival of the Nouveau Beaujolais in November) do little to diminish this prejudice.
We're hoping that this month's Wine Focus program will help rehabilitate Gamay's reputation: Carefully chosen, a good Beaujolais can be a real eye-opener. The best examples combines luscious strawberry fruit, mouth-watering acidity and intriguing minerality in a well-balanced and surprisingly complex package. And, as I said, when the Dog Days are upon us, it's hard to find a more refreshing red.
In forum discussions during the month, we'll go into more detail about the sub-categories of Beaujolais, Beaujolais-Villages and the "Cru" Beaujolais that bear the names of specific villages on the label. And of course we'll also welcome notes and comments on Gamay from other places around the world. It's grown Down Under, in New Zealand and Australia, and occasionally reaches peaks in the New World that challenge the primacy of Beaujolais.
Some top Beaujolais producers, according to our Gamay guru David M. Bueker, include Jean Paul Brun, Chateau Thivin, Coudert, Louis Jadot. Breton, Bouchard and Lapierre. Some outstanding New World Gamay wines I've tried include Edmunds-St. John's "Bone Jolly" from California and Chateau des Charmes' excellent "Gamay Droit" from Ontario's Niagara Peninsula.
To join in the discussions, click to Wine Focus in our WineLovers Discussion Groups,
http://www.wineloverspage.com/forum/village/viewforum.php?f=18
Now, for today's tasting, here's the current (2005) release from Louis Jadot, a major negociant but one whose Beaujolais I almost always find pleasing.
---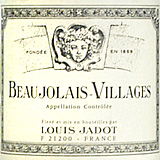 Louis Jadot 2005 Beaujolais-Villages ($11.99)
This is a very dark reddish-violet wine, clear at the edge and almost black at the center. Its aromas and flavors are classic Beaujolais: Juicy strawberries and clean, "dusty" earthy notes, crisp and mouth-watering, refreshing and balanced. Fine Beaujolais, and about 30 minutes in the refrigerator brings it to a perfect serving temperature. U.S. importer: Kobrand Corp., NYC. (Aug. 1, 2006)
FOOD MATCH: This summery red made a fine match with a light summer dinner of small portions of caprese (fresh tomato, fresh basil, creamy mozzarella and fruity olive oil) wrapped in bite-size prosciutto packets.
VALUE: While it's worth this $12 toll, it's a good idea to shop around, as it's available in many parts of the U.S. for well under $10.
WHEN TO DRINK: Freshness is the key to Beaujolais. You can keep it longer, but I like it best within the first year after release.
PRONUNCIATION:
Beaujolais = "Bow-zho-lay"
Gamay = "Gam-may"
WEB LINK:
Louis Jadot's Website is online in English and French. Click the flag of your choice on the home page, then click "Wines" or "Vins" for a fact sheet about the Beaujolais.
http://www.louisjadot.com/
FIND THIS WINE ONLINE:
The Jadot Website lists international distributors. You can look up prices and locate sources for Louis Jadot Beaujolais on Wine-Searcher.com:
http://www.wine-searcher.com/find/Jadot%2bBeaujolais/-/-/USD/A?referring_site=WLP