Fruit bomb!
With its snarky evocation of bomb-throwing anarchists, the wine-tasting term "fruit bomb" is rarely meant as a compliment. It's generally used dismissively to slam a wine utterly dominated by fruit.
Now, just as I did Wednesday after gently dissing White Zinfandel and then feeling a need to 'splain myself, let's take on the obvious follow-up question: What in the heck is wrong with wine tasting like fruit? Isn't wine really just grape juice, after all?
In all fairness, a wine dominated by forward fruit flavors can be delicious, particularly in summertime when a light chill is warranted even on a red. Fairness also requires the acknowledgement that some of the wines I snub as "fruit bombs" are highly rated by Robert M. Parker Jr. and Wine Spectator.
So what's the matter with that? The problem for me comes down to the simple word "balance." The best wines - and "best" need not translate to "expensive" - maintain a desirable balance between fruit and acidity. Fruit is important, but so is the acidity that provides it structure, not to mention the subtle complexity, minerality and terroir that render a good wine multi-dimensional.
Simply put, if good wine is like orange juice freshly squeezed from fruit just plucked from the tree, a fruit bomb is the moral equivalent of cheap supermarket juice-in-the-box.
But there are fruit bombs, and then there are fruit bombs. There's no denying the enjoyment of a wine that's distinctly fruit-forward and built on a decent acidic structure. Today let's take a look at a modestly priced Spanish red that qualifies by both criteria. Sexto ("Sixth") is a new offering from the San Francisco-based wine negoçiant Laely Heron, whose Heron line of wines have become popular restaurant pours.
Sexto is a blend of six, count 'em, six grape varieties from Spain's Terra Alta region, a mountainous region in Catalonia not far from the more highly regarded Priorat.
Five of the varieties are familiar: Grenache (33%), Carignan (30%), Tempranillo (20%), Cabernet Sauvignon (6%) and Syrah (5%). The sixth grape is a variety so obscure that, if you're a varietal-wine "collector," it's worth the price of admission just so you can say you've tried it: Lledoner Pelut Noir. Also called "Garnatxa Peluda" ("Hairy Grenache") in Catalonia, this variety is known, if not widely grown, on both sides of the Pyrenees, in eastern Spain and in the Languedoc-Roussilon wine region of France.
Probably a first cousin of Grenache, it's said to be mixed in with regular Grenache in some of the best Catalonian vineyards, reportedly including Alvaro Palacios's exalted Priorat L'Ermita. Distinguished by its "hairy" (well, fuzzy, anyway) leaves, its fruit doesn't seem to be that much different from Grenache. Wine maker Heron declares that it's this "sixth" grape that makes Sexto special, but be that as it may, the fresh and very forward raspberry character of this blend says "Grenache" to me.
It's a fruit bomb, yes. But a good one.
LLEDONER LINK
It's available only in French, but grape geeks will find it worth trying to muddle through a translation for the information on this short page (with photos) about Lledoner Pelut:
http://www.vitis.org/lledoner.html
---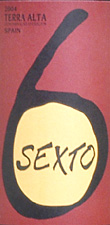 Sexto 2004 Terra Alta ($9.99)
Very dark garnet. Raspberry cordial, fruit-forward and ripe. Juicy raspberry flavor, bright and full; although it's undeniably a "fruit bomb," it's elevated by fresh, mouth-watering acidity and the substantial body that 13.5 percent alcohol provides. U.S. importer: Heron Wines, San Francisco. (July 27, 2006)
FOOD MATCH: So fruity you can enjoy it as an aperitif, fine with burgers or steaks. The combination of fruit and acidity made it a pleasant match with a simple summer dish of spaghetti with a quick sauce made of tomatoes fresh from the garden, topped with a hearty ration of grated Pecorino Romano cheese.
VALUE: It's a good buy at this price if you love brash, fruit-forward wines, and a decent summer exception even if you don't. For offbeat-variety collectors, it's worth the toll just to add the obscure Lledoner Pelut Noir to your life list.
WHEN TO DRINK: Simple and very, very fruity, this wine invites drinking while it's young and fresh. I'd finish it up over the next year or so.
WEB LINK:
The Sexto Website offers quite a bit of information about the wine, including tech sheets, tasting notes and background on importer Laely Heron.
http://www.SextoWines.com
FIND THIS WINE ONLINE:
The Sexto Website lists wholesale distributors in many states of the U.S. Although distributors can't sell direct to the public, they should be willing to provide you information on retail sources in your community.
http://www.sextowines.com/Distributors_Page.htm
There's limited information about Sexto vendors and prices on Wine-Searcher.com:
http://www.wine-searcher.com/find/Sexto/-/-/USD/A?referring_site=WLP