A rosé is a rosé ... not!
In Monday's dissertation on an Australian rosé wine and its cheeky Zork-brand stopper, I mentioned that the ripe, slightly sweet Pink Knot might make a good bridge selection for wine novices seeking to discover life beyond "blush."
This raises an obvious follow-up question that's not to be answered lightly, "What's wrong with blush wine?"
The short, non-snob response is, "Nothing, really, if you like it." Industry experts estimate that the blush category makes up a solid one-sixth of all California wine shipments, suggesting that about 75 million gallons of sweet pink wine went down the hatch last year. That's a lot of wine, and from a marketing perspective, it's hard to argue that so many White Zinfandel drinkers can all be wrong.
From a wine geek's perspective, however, the problem with "blush" wine is akin to the problem with industrial American beer: With few exceptions, it's made for the mass market and styled for the least common denominator. No, it won't poison you. But to be blunt, most of it is simply not very interesting.
As I wrote when we reviewed rosé wines in our Wine Tasting 101 feature in the spring of 2005, "it's a mistake to generalize about pink wines as if they were all alike."
First, true rosé wines are distinguished from "blush" wines by their relative dryness and tart acidic structure. But perhaps even more significant, there's considerable diversity even within the rosé category. Rosé wines may vary from off-dry to bone-dry, totally sugar-free; from feather-light to full-bodied; from soft, low-level acidity to piercing steeliness; from simple fruit to complex swirls of fruit, herbs and minerals; and, not least, depending on how the wine maker has handled the "blanc de noirs" process of extracting light-colored wine from dark-colored grapes, rosé wines may range from the palest pink through rose, salmon and copper to a rich claret color that's all but indistinguishable from red wine.
Of all the world's pink wines, I find the ones that please me most come from Provence in Southern France, as often as not. Today's tasting features a splendid recent arrival from Domaine de la Petite Cassagne in the Costières de Nîmes, a wine region near the famous Camargue at the mouth of the Rhone. A blend of Grenache and Syrah, mostly, with a bit of Carignan and Mourvèdre, it's a rich, dark pink color with the intense berry fruit and subtle herbs that make Provence rosé a treat. Drink it crackling cold as a summer sipper, but don't underestimate its affinity for food.
---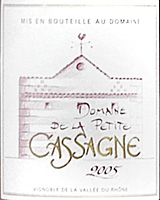 Domaine de la Petite Cassagne 2005 Costières de Nîmes ($11.99)
A clear, deeply hued reddish-pink color, this wine is a bit on the dark side for a rosé. Ripe strawberry aromas add a hint of fresh green herbs, tarragon and just a touch of fennel or anise. Ripe berry fruit flavors are crisp and dry in the Provence style and far from lightweight at 13.5% alcohol; it's refreshing and fun, but a bit more serious than a New World "blush" wine. U.S. importer: Robert Kacher, Washington, D.C. (July 22, 2006)
FOOD MATCH: Suitable for aperitif sipping as are virtually all rosés, this one has the heft to stand up well at the dinner table. It was fine with pork chops braised with onions and tomatoes.
VALUE: In the overall scheme of things, it can compete at $12, but competitively, it was shamefully overpriced at Whole Foods Wine Market in Louisville. Many vendors offer the 2005 as low as $8, so shop around, and consider buying it online if the saving is sufficient to cover shipping costs.
WHEN TO DRINK: Its intense fruit, balance and alcohol will probably hold it better than a lighter-style rosé, but pink wines are still best enjoyed young and fresh; drink up over the next year.
WEB LINK:
The U.S. importer has a short article about Domaine de la Petite Cassagne, with links to brief tech sheets on the rosé and the red, at this link:
http://www.robertkacherselections.com/winery.php?wineryid=48
FIND THIS WINE ONLINE:
Find vendors and compare prices for Domaine de la Petite Cassagne Rosé on Wine-Searcher.com:
http://www.wine-searcher.com/find/
Petite%2bCassagne%2bRose/-/-/USD/A?referring_site=WLP