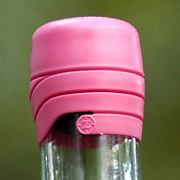 Zork!
You are standing in a small room. There is a table and two chairs here. On the table there is a wine bottle with a very odd stopper.
LOOK STOPPER
It is a pink plastic blob. It is attached to a plastic ribbon that circles the bottle neck three times.
PULL RIBBON
The ribbon unwinds and falls off. You are holding a wine bottle with a pink cap.
PULL CAP
The cap comes out with a soft "pop."
POUR WINE
Don't mind it I do!
Please pardon the parody, but it was an almost irresistible impulse upon my first encounter with a wacky new Australian wine-bottle closure called, well, Zork.
Zork, as any old hacker will know, was one of the first interactive computer games, dating back to the mainframe computers of the 1970s and quickly ported over to the early Apples and PCs, Commodores and Ataris. A simple, text-based adventure, it used terse commands to lead the player on a strange adventure through an underground labyrinth.
That's the old Zork. The new Zork, gaining popularity in Australia and now breaking out into the wine industry in the U.S. and elsewhere, is an offbeat new wine-bottle closure, put forward as yet another taint-free alternative to natural cork. The name was apparently based on its sound-alike rhyme with "cork" and, at least as far as the proprietors are telling, has no connection with the old computer game.
Billed as "the revolutionary wine closure that seals like a screw cap and pops like a cork," Zork works pretty much as described in the faux computer-game sequence above: Pull to snap loose and unwind the fettuccine-size plastic ribbon that holds it on, and you're left with a slightly bulging version of the familiar liquor-bottle "T-cork," but one made entirely of purportedly inert polyethelene plastic and aluminum foil, no tree bark.
Zork comes in bright colors, is easy to remove and just as easy to pop back in to a partly finished bottle, although in the Australian Pink Knot Rose featured in today's tasting, it had a disconcerting tendency to pop back out of the bottle after a few moments.
It's fun, requires no corkscrew, and it somewhat avoids the downscale image that still attends metal screwcaps, although its bright colors and obvious plastic construction might remain a disincentive to those who prefer a little gravitas in their wine. The manufacturers don't address cellaring, but given the iffy performance of other plastic synthetic wine-stoppers to date, and the roster of mostly light, early-drinking wines now being packaged under Zork, I'd be wary of its use in more ageworthy wines before a lot more data is in.
Still, there's something cheeky and fun about its in-your-face colors and peel-and-pop style. I'll have no worries about picking up modest wines under Zork, and you shouldn't either. I can almost guarantee that you won't be eaten by a grue.
WEB LINKS:
The Zork Website is stylish and a bit commercial, including video presentations demonstrating Zork and how to use it, plus some technical and sales information and lists of current wine-industry clients.
http://www.zork.com.au/index.html
Nostalgic for the original Zork I, Zork II and Zork III? The games are still available for free download from Infocom:
http://www.infocom-if.org/downloads/downloads.html
---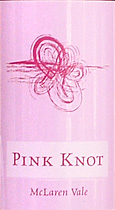 Pink Knot 2005 McLaren Vale Rose Wine ($10.99)
Once you've mastered the simple intricacies of the bright-pink Zork stopper, this Australian rose (they don't use the accented French "rosé") pours out a clear, bright pink, literally the color of a rose. Fresh and floral aromas mingle juicy strawberries and the heady scents of summer garden flowers. Juicy and fresh on the palate, it offers light strawberry flavors; its gentle sweetness is well balanced by crisp acidity. A little more sweet than a classic Provence rosé, it's refreshing nonetheless, and might make a good "bridge" wine for those looking to move beyond White Zinfandel. U.S. importer: Precept Brands, Seattle. (July 22, 2006)
FOOD MATCH: A natural for sipping by itself on a hot summer day, its fruit and light sweetness will work with dinner salads and lighter meats, poultry or fish. It was fine with natural pork chops braised with onions and fresh garden tomatoes.
VALUE: No complaints in the $10 range.
WHEN TO DRINK: Rosé benefits from being drunk up as soon as possible; enjoy this one this summer and fall, then wait for the 2006 rosés to arrive.
WEB LINK:
Here's the U.S. importer's page on the Davey Family Australian wines, Pink Knot, Red Knot and White Knot:
http://www.preceptbrands.com/wines/RedKnot.asp
To visit the Daveys' Red Knot Website, click here, and be prepared to affirm that you're at least 21:
http://redknotwine.com/
FIND THIS WINE ONLINE:
Find vendors and compare prices for Pink Knot on Wine-Searcher.com:
http://www.wine-searcher.com/find/Pink%2bKnot/-/-/USD/A?referring_site=WLP