Wine vocabulary - Federspiel
One of the most intriguing things about wine, or one of the most profoundly frustrating, depending on your point of view, is the almost infinite level of detail involved in describing the stuff.
If you hold to the "profoundly frustrating" position and would really rather just get to the point, feel free to skim on down to today's tasting note.
Still here? Okay, then. Let's spend a few minutes today on a virtual visit to Austria's Wachau region, the beautiful, steeply terraced hillsides on the north bank of the Danube about an hour west of Vienna.
The Wachau, perhaps Austria's greatest wine region, is best known for its Grüner Veltliners and Rieslings. It's also the home of one of the most precisely limited categorical systems in the world of wine. The regional winery association, "Vinea Wachau Nobilis Districtus," has developed its own system for classifying wines based upon their "must weight" or sugar content of the wines at harvest, an indication of ripeness.
Specifically, the rich wines made from the ripest grapes (over 19 degrees KMW in the Austrian must-sugar measurement system) are designated "Smaragd" ("Shmah-rahg'd," which means "emerald" and is also the name of a local emerald-green lizard). The lightest wines from the least-ripe grapes (15 degrees KMW) are called "Steinfeder" ("Shtine-fay-der," literally "stone feather," a kind of grass). And the in-between category - as in today's featured wine, with at least 17 degrees KMW) - is "Federspiel," (meaning "falconry").
This hierarchy is a sort of first cousin to the German Qualitätswein system, and you'll often see the Wachau classification explained in those terms (Smaragd = Auslese, Federspiel = Kabinett and Steinfeder = Qualitätswein). But the system - and the nature of the wine - is sufficiently different to make that a bit misleading. To some extent, the German categories vary by sweetness while the Austrian wines (which unlike the Germans, legally must be fermented to dryness) vary in terms of body and alcohol; but there are too many exceptions for this to be a useful road map. Still, Hugh Johnson likens Smaragd to "a dry Spätlese," and by that standard, "dry Kabinett" is probably as good a translation for "Federspiel" as any.
But there's no need to over-analyze. Today's tasting is a 2002 Federspiel from Freie Weingärtner, a fine, affordable Austrian Riesling that's both food-friendly and refreshingly quenching on a hot summer day.
---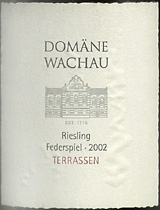 Domäne Wachau 2002 "Terrassen" Wachau Riesling Federspiel ($11.99)
This wine from Freie Weingärtner shows a clear, light brass color. Characteristic aromas of apple and pine add a distinct, minerally touch of Riesling "petrol." Mouth-filling flavors follow the nose, fresh and clean; steely acidity wraps it all up in a long finish. U.S. importer: Vin Divino Ltd., Chicago. (May 24, 2006)
FOOD MATCH: A versatile food wine with lighter meats, seafood or a range of vegetarian dishes. It was fine with alder-smoked salmon accompanied by wasabi-laced mashed potatoes.
VALUE: Difficult to beat for value in the $10 to $12 range.
WHEN TO DRINK: Riesling is one of the most ageworthy white varieties; even with this lighter-styled Federspiel, you needn't worry about cellaring it for years.
PRONUNCIATION:
Wachau = "Vah-How," with a guttural German "ch."
Federspiel = "FAY-dehr-shpeel"
Riesling = "REECE-ling"
WEB LINK:
The winery's content-rich Website is entirely in German, but even if you don't speak the language, it's worth a visit for the photos alone.
http://www.fww.at/
FIND THIS WINE ONLINE:
Look up prices and locate sources for Weingärtner Wachau Riesling on Wine-Searcher.com:
http://www.wine-searcher.com/find/
Weingartner%2bWachau%2bRiesling/-/-/USD/A?referring_site=WLP