Too darn hot
We're midway through July, typically the hottest, muggiest part of summer in much of the Northern Hemisphere, and the weather around here, at least, is living up to its seasonal role.
It's too darn hot to do much of anything, maybe even too hot for wine. On second thought, let's not get unrealistic about this. But still, it's hot enough to prompt one of our periodic re-evaluations of the conventional wisdom about wine.
According to the Book of Wine Snobbery Laws, red wine must be served only at room temperature, while white, rosé and sparkling wines may only be properly served cold.
Laws, as I've said before, are made to be broken, and there's no better time to break this one than a torrid summer day when the temperature rises to the middle 90s (that's the middle 30s to those of you in the rest of the world).
Bear in mind that the "room temperature" rule was crafted by wine enthusiasts in Europe before the age of central heat, when it wasn't uncommon for sweaters and scarves to be appropriate wear for dinner. So take my word for this: It's all right to put your bottle of red wine into the fridge for 30 minutes to an hour before dinner, just long enough to bring it down to something like "cellar temperature," the natural chill of underground wine cellars and caves.
Realistically, you don't want to serve red wine ice cold. Not good red wine, anyway. An icy chill will rob the wine of the flavor nuances you expect in a red, and will throw its acidity and tannins out of balance. This is why "don't serve reds cold" isn't really bad advice. But ice cold is one thing, and a light, refreshing chill is quite another. Try it yourself if you don't believe me: A half-hour or so before dinner tonight, pour two glasses of red wine. Put one on the table. Chill the other. Then try them side-by-side. I think you'll find the cooler wine more pleasantly refreshing, with no loss of flavor. And if you don't like it, it won't take long for it to warm up again.
Good white wines shouldn't be served too cold, either. But that's another story for another day. Meanwhile, here's today's tasting, a fine Italian sparkler that goes down well with a chill.
---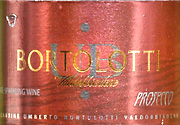 Bortolotti Spumanti Prosecco Valdobbiadene Extra Dry ($16)
I last reported on this fine Prosecco from Cantine Umberto Bortolotti as a bubbly fine enough for New Year's toasting at a fraction the price of Champagne. We return to it in midsummer as a stylish midsummer table wine and hot-weather quaffer. It's a clear, light straw-color wine with a greenish hue and a persistent stream of bubbles. Its aromas are light and fresh, tangy apples and citrus. On the palate it's crisp and dry, gently tart lime and green-apple flavors with a refreshing note of prickly carbonation, trailing off to a clean, dry citric snap in the finish. U.S. importer: Vintner Select, Mason, Ohio, and other regional importers. (July 13, 2006)
FOOD MATCH: A natural with fresh summer garden vegetables, it was a delight with an improvised pasta dish of baby artichokes and thin-sliced new potatoes over farfalle pasta with onions and garlic, fresh plum tomatoes, Pecorino Romano and a basil chiffonade.
VALUE: You can find cheaper Prosecco, but this one justifies its mid-teens price with classy elegance at a fraction the price of Champagne. Shop around, as many vendors offer Bortolotti at a lower price than I paid.
WHEN TO DRINK: Freshness is a virtue with Prosecco, particularly with this non-vintage model (although a coded reference on the back label suggests it was shipped as recently as December 2005). Best drunk up fresh, then wait for the next shipment.
PRONUNCIATION:
Prosecco = "Pro-sec-co"
Valdobbiadene = "Vahl-doh-b'ya-day-neh"
WEB LINK:
The Bortolotti Website is published in Italian, German, French and English. Here's the English home page:
http://www.bortolotti.com/lineaub.asp?language=uk
FIND THIS WINE ONLINE:
Find vendors and compare prices for Bortolotti Prosecco on Wine-Searcher.com:
http://www.wine-searcher.com/find/Bortolotti%2bProsecco/-/-/USD/A?referring_site=WLP