Argentine immigrant wine
In the U.S., we're so accustomed to thinking of our own melting-pot blend of immigrant cultures that we tend to forget the same is true of many of our American neighbors. From Hudson Bay in the north to Tierra del Fuego in the south, the Western Hemisphere is a melting pot of heritages from Europe and beyond.
This is certainly true of Argentina, which took in just about as many Italian immigrants during the 19th century as arrived in the U.S. through Ellis Island. To this day, Argentina's Latino character boasts a strong Italian accent, and the same goes for the country's food and wine.
Today, staying on the South American theme that we began with Wednesday's featured Chilean red blend, let's have a look at an intriguing Argentine wine, a 50-50 mix of the French-immigrant Syrah and the less-known Bonarda, a grape that's very Italian indeed.
Bonarda is widely grown in Northern Italy, but somewhat confusingly - all right, a lot confusingly - the same name is used for at least three different grapes. Bonarda Piemontese, as the name implies, is grown in the Northwest, where it had long fallen out of fashion but has been coming back in modern times, often in a blend with Barbera. Bonarda is also a synonym for Uva Rara ("rare grape") in Lombardy; and in Lombardy's Oltrepò Pavese region it's a synonym for Croatina, an alternate name that implies a Croatian origin. Some experts speculate that this Bonarda may be the same grape as Charbono, a historic but now fairly uncommon Northern California variety with Italian roots.
Argentina's Bonarda is thought to be the Croatina variety, and - as in Italy - it turns up more often in blends than as an all-varietal wine. In blends, it brings a dark color and ripe fruitiness to the party, and those are good things.
A Syrah-Bonarda blend is a bit unusual, not least because Syrah doesn't have much of a historical presence in Argentina or Italy. This wine from the Susana Balbo winery makes a good argument for the recipe, though. The smoky, plummy Syrah fruit comes through in a wine that demonstrates Syrah's affinity for grilled meats and barbecue; credit the Bonarda, perhaps, for the deep color, berrylike fruit and good acidity and tannins that enhance its structure. Balbo's "Crios" ("Youngsters") line of wines includes its less-pricey selections, meant for immediate enjoyment.
---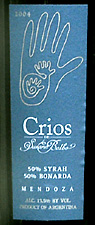 Crios de Susana Balbo 2004 Mendoza Syrah-Bonarda ($17)
This is a very dark reddish-purple wine, almost black, shading to a bright garnet edge. Black plums and blueberries combine in a fruit-forward aroma with a whiff of smoke. Dark-fruit and berry flavors are consistent with the nose, extracted but fresh; it's built on a sturdy core of mouth-watering acidity and soft, palatable tannins. U.S. importer: Vine Connections, Sausalito, Calif. (July 10, 2006)
FOOD MATCH: Its fruit-forward, slightly smoky and structured character make it a natural with grilled meat or barbecue; it was fine, too, with a flavorful combination of bite-size chunks of pork spareribs braised with onions, garlic and fresh tomatoes.
VALUE: In a world where cheap wine is getting harder to find, the mid-teens is not an inappropriate neighborhood for a wine of this quality. Note, however, that my local price was on the high side; most online vendors offer it in a range from $12 to $16.
WHEN TO DRINK: Although Bonarda isn't considered a wine for aging, and it's not likely to evolve in the cellar, the Syrah component and the wine's good structure and tannins should ensure several years of useful life.
PRONUNCIATION:
Bonarda = "Boe-NAHR-dah"
WEB LINK:
The winery Website is available in English and Spanish, and includes extensive information about the winery and all its wines:
http://www.dominiodelplata.com
Here's an article about Susana Balbo and her winery on the importer's Website:
http://www.vineconnections.com/wines/susana_balbo.html
FIND THIS WINE ONLINE:
Look up vendors and compare prices for Crios Syrah-Bonarda on Wine-Searcher.com:
http://www.wine-searcher.com/find/Crios%2bSyrah/-/-/USD/A?referring_site=WLP