This article was published in The 30 Second Wine Advisor on Monday, July 10, 2006.


Mosel made easy or Mosel made stupid?

Riesling, according to its many defenders, may be the most noble of wine grapes. Boasting a heritage that goes back to medieval times in Germany's Rhine and Mosel river valleys, it claims a history, at least in legend, to Charlemagne and beyond, although more reliable historical evidence traces it, as the cultivated descendant of a regional wild vine, to the 1400s.

Although its history stems from the Rhine, many Riesling partisans argue that the impossibly steep, slatey slopes of the Mosel are the source of the most intense, pure and transparent examples of the grape, remarkably ageworthy whites that memorably combine fruit, minerals and steel.

Some people take to Riesling like a fish to, um, Riesling, but many wine enthusiasts - including me - find the grape a little difficult to get to know, simply because its style is so different from the French and Italian table wines (and their New World equivalents) that we grew up with.

But it's worth the effort, and I certainly keep trying. Which brings us to today's featured wine. "Dr. L." is an affordable, large-production Mosel Riesling from one of the valley's most respected producers, Ernst Loosen ("Low-zen"), who was named last year's "Man of the Year" in wine by the British magazine Decanter. Presented in the traditional tall, slope-shouldered green glass bottle that signifies the Mosel (Rhine bottles, in contrast, are almost invariably brown), it's rated as a Qualitätswein ("Quality Wine"), the lower end of the upper tier in Germany's complicated wine-classification system.

The 2005 vintage arrived here recently, and it's a fresh, light and sippable summer quaffer indeed, a fine bargain if you can get it for $10 or less. But does it offer a good education in the Mosel? Therein lies a heated debate. For some wine enthusiasts, the benefits that I just enumerated are sufficient to justify any wine. What's the matter with a good, clean quaff? But some hard-core Riesling aficionadoes demur, pointing out that Mosel Riesling's glory is its uncanny ability to reflect vineyard terroir. Turning grapes from classic vineyard soil into an essentially anonymous sipping wine amounts to vinous perversion, they say, and such a crime deserves punishment, not praise.

Like so many other wine-geek debates - Old World vs. New, terroir vs. fruit, nature vs. technology - this one may never be resolved to everyone's satisfaction. But discussing such issues can be both fun and educational. For that reason, fully conscious of the controversy, we've declared "Dr. L" Riesling Wine of the Month in our Netscape WineLovers Community, hoping to kick off a round of tastings and debate about this and similar "training wheels" wines and what you think about them. To participate in the forum discussion, click
http://community.netscape.com/winelovers?nav=messages&tsn=1&tid=4575

Now, here's my tasting report. Where's yours?
---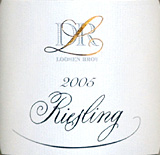 Loosen Bros. 2005 Riesling "Dr. L" Mosel-Saar-Ruwer ($12.99)
This clear, light straw-color wine offers a fresh, clean scent of ripe pears. It's fruity pear juice on the palate too, juicy and fresh, with just a touch of sweetness well balanced by zippy acidity; there's a prickly hint of barely perceptible carbonation on the tongue. Riesling fanatics might dismiss this as an overly simple, and it lacks the classic Mosel minerality. Still, it's a splendid summer sipping wine and food companion, and a refreshing quaffer at only 8.5% alcohol, well worth the toll if the price is right. U.S. importer: The Country Vintner, Oilville, Va. (July 9, 2006)
FOOD MATCH: This is a versatile food wine that marries well with a broad range of flavors. It was startlingly good with an offbeat dish of duck breast in a savory and spicy, not sweet, blueberry and juniper sauce.
VALUE: Overpriced at my source (Louisville's Whole Foods Wine Market), it's widely available for $10 or less, at which point it's a fine choice for summer sipping if not exactly a classic Mosel.
WHEN TO DRINK: Riesling is long-lived, and the sturdy metal screwcap will keep it clean, but I'm not sure I see the materials here for a wine that will evolve significantly with cellar time.
WEB LINK:
The winery's English-language Web pages appear at this link:
http://www.drloosen.com/
For the German site, visit
http://www.drloosen.de/
FIND THIS WINE ONLINE:
Look for vendors and compare prices for Loosen's "Dr. L" on Wine-Searcher.com:
http://www.wine-searcher.com/find/Loosen%2bDr.L./-/-/USD/A?referring_site=WLP
WineLoversPage.com