This article was published in The 30 Second Wine Advisor on Friday, July 7, 2006.


World Cup wines

After many years of watching the quadrennial World Cup games with slight interest and even less comprehension, something unexpected happened to me this year: Suddenly, early during the monthlong games in Germany, like a light bulb clicking on, I started to get it.

I won't claim that I've become a soccer expert with a clear understanding of nuances like the rules of offsides or corner kicks or what all those funny lines and squares on the field are for, but I actually began to enjoy the games.

By last week, when I should have been working, I had spent way too much time glued to the television instead; and there was no way to tear me away from the semifinals on Tuesday and Wednesday as Italy beat Germany with two incredibly exciting goals in the last three minutes of overtime, and France edged Portugal in a 1-0 heartbreaker that helped me understand why, in soccer, a low-scoring game is not boring.

I guess you know where I plan to be on Sunday afternoon. No, not Berlin, where the final is being played. But nobody had better interrupt me during the game on television.

I love both countries and both teams, so it's not going to be easy to decide which shade of blue to cheer for. My heart says Italy's Gli Azzurri, but there's a lot to like about France's Les Bleus. Maybe I'll yell for both teams, depending on who has the ball.

From a wine lover's standpoint, though, getting around to the point of this column, it's particularly nice that the finalists - all four of them, in fact - represent many of the major wine-producing countries of Europe.

Just to enhance the World Cup mood, we opened rustic country red wines from both France and Italy with dinner tonight. Let's wrap up this pre-game report with short-format tasting note on both wines. If I had scored them on points, it would have been a draw, with no extra time or penalty kicks. Both went well with a Mediterranean-style dish of duck breast, green peppers, onions and mushrooms in a light bechamel over penne pasta.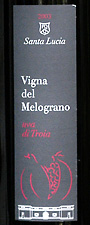 Santa Lucia 2003 Vigno del Melograno Uva di Troia Castel del Monte Rosso ($14)
The Italian wine, my second Uva di Troia in recent weeks, is a sturdy red from Puglia's Castel del Monte. It's a clear, dark ruby color that shows glints of red against the light. Forward aromas of plums and spice add a perceptible whiff of the characteristic violets of the Uva di Troia grape. Ripe and full, black-fruit flavors are well balanced by mouth-watering acidity; sweet oak and soft tannins persist in a long finish. Some oak presence and forward fruit sketch a wine in a somewhat "international" style, a common trait from shipper De Grazia. But it's well-handled, an appealing, food-friendly wine. U.S. importer: Vintner Select, Mason, Ohio, and other regional importers; from Marc De Grazia. Website: http://www.vinisantalucia.com (July 6, 2006)
Find it online on Wine-Searcher.com:
http://www.wine-searcher.com/find/Lucia%2bMelograno/-/-/USD/A?referring_site=WLP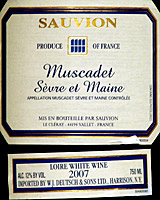 La Sauvageonne 2001 "Les Ruffes" Coteaux du Languedoc ($9 in 2004)
The French entry, purchased during wine maker Gavin Crisfield's visit here and last tasted on Feb. 10, 2004, is a very dark reddish-purple color, almost black. An unoaked blend of 40 percent Syrah, 30 percent Grenache, 15 percent Cinsaut and 15 percent Carignan, it's holding up well after 2-plus years, retaining its original red-fruit aromas but showing a bit more smoke and meat nuances and more than a little more "horsey" Brettanomyces wild yeast character. It's still a delight on the palate: red and black plums, "sweet" fruit and earth and zippy acidity in balance, juicy fruit and lemons in a long finish. Old World and rustic, it's not for those who demand a "squeaky clean" wine, but I like it, and it's great with the duck dish. U.S. importer: Vintner Select, Mason, Ohio, and other regional importers. (July 6, 2006)
Find it online on Wine-Searcher.com:
http://www.wine-searcher.com/find/Sauvageonne%2bRuffes/-/-/USD/A?referring_site=WLP

WineLoversPage.com