Supply, Demand and Pinot Noir
Sometimes Mother Nature simply doesn't cooperate when consumers wish they could have more of a popular wine. Add in the vagaries of the marketplace - time in shipping, inventory held up in distribution - and you can run into some mighty strange situations when you're looking for a particular wine.
So it has been, for me, with the highly regarded and pleasantly affordable Pinot Noirs from Oregon's Henry Estate.
A few months ago, I ran across the Henry Estate 2003 "Umpqua Cuvee" Oregon Pinot Noir ($15), enjoyed it, praised it, and immediately got quite a bit of E-mail from West Coast readers, in particular, who asked, "What took you so long to find out about this?"
As it turned out, while I was delightedly discovering the 2003 Umpqua Cuvee in Louisville, it was already sold out at the winery, as was the 2004. Indeed, the Umpqua Cuvee was being discontinued, to be replaced by a Henry Estate Pinot with an Oregon appellation. (Umpqua is the wine-growing valley in Southwestern Oregon where Henry Estate is located. It's a bit warmer than the somewhat more familiar Willamette Valley to its north.)
The winery, wrote Sales Director Doyle W. Hinman, was "caught off guard" with unprecedented growth of demand, and was scrambling to keep up, adopting strict allocations of its wines. "Our plans are to increase our production of Pinot Noir depending on the success of fruit set and other grape 'mechanics,' Hinman said. "We are also counting on our ability to procure quality Pinot Noir grapes from independent growers that know how to grow Pinot Noir grapes without over-cropping."
Be that as it may, the Henry Estate 2004 Oregon Pinot Noir finally turned up here, and naturally I grabbed the first bottle I saw. For the record, I found it at a local retailer in mid-June, by which time the winery was already sold out. The 2005 Oregon Pinot is scheduled for release July 1, Hinman said. At this rate, I figure it will be next April before I see it here.
My advice, though, is simple: If you see any Henry Estate Pinot (or, one assumes, any of their Chardonnay, Gewurztraminer or Riesling), buy it. I've found both Pinots consistently pleasing. Not finesseful and complex at a Grand Cru level, no, but showing delightful Pinot fruit and velvet in a style that reminds me as much of a well-made, modern villages Burgundy as of the New World.
Hinman also said the winery still has a good supply of its higher-tier 2000 Barrel Select Pinot Noir, available in a three-bottle set for $75 plus $9 shipping. I'd certainly be willing to give it a try at that price ... if any of it ever gets over this way.
---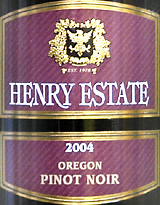 Henry Estate 2004 Oregon Pinot Noir ($16)
This is a clear ruby wine, not too dark, as is typical of Pinot Noir. Fresh cherry aromas are delicious yet delicate. On the palate it's fresh and ripe, juicy cherry fruit and snappy acidity with a light but velvety texture. Although it's not overly complex - at least at this stage in its development - it's quaffable and appealing, with a style that brings a hint of Burgundy's everyday reds to Oregon. (June 28, 2006)
FOOD MATCH: I've often praised Pinot Noir as one of the most versatile of red wines, and this would would certainly work well with a range of dishes from red meat to poultry, pork and even salmon, not to mention vegetarian options from mushrooms to strong cheese. But beef is still its natural partner, and its affinity for a rare rib eye is hard to beat.
VALUE: Fine Pinot Noir for the price.
WHEN TO DRINK: There's no reason not to enjoy it soon, but its fruit and balance suggest that it couldn't hurt to try an experiment in cellaring it for a few years, with the understanding that Pinot can move up and down unpredictably with age.
WEB LINK:
The Henry Estate Website is loaded with information about the winery and its wines, including online sales, a wine club and international distributor information.
http://www.henryestate.com/

FIND THIS WINE ONLINE:
The winery is out of all Pinot Noir except the 2000 Barrel Select, but as noted, the wines may still be available at retail. To locate regional distributors in your area, click this page:
http://www.henryestate.com/distributers.asp
Compare prices and find online vendors for Henry Estate Pinot Noir on Wine-Searcher.com:
http://www.wine-searcher.com/find/Henry%2bPinot/-/-/USD/A?referring_site=WLP
---