Serious Pinot Gris
Last week, I argued the proposition that much of the Pinot Grigio grown in the hilly Collio, Colli Orientale and Trentino-Alto Adige regions of Northeastern Italy exceeds expectations for a grape variety that's hugely popular but all too often made in an insipid mass-market style.
Today, let's turn to Pinot Gris - which, you'll remember, is the identical grape using a French moniker - for a look at another region that can handle it with exceptional competence: Alsace, on the West Bank of the Rhine River, a picturesque but historically embattled region that's moved between Germany and France as a spoil of war so many times that it's sometimes hard to tell at a glance which country you're in. German family names abound in the region, often coupled with French given names, like today's featured wine from Lucien Albrecht.
Alsatian wines, indeed, are in a category all their own, boasting a style that - to my taste buds, at least - is neither characteristically French nor typically German but uniquely Alsatian. The wines are almost always white (and the few offbeat reds I've tried have rarely been compelling), and they're typically intense, dry or nearly so, and blessed with a lovely, stony minerality that many wine enthusiasts crave. The King of Alsatian varieties is surely Riesling, but other varieties earn legitimate places in the royal court, particularly Gewürztraminer and, getting to the point of today's sermon, Pinot Gris.
For many years Alsatian producers labeled Pinot Gris as "Tokay" or "Tokay Pinot Gris" on the basis of a purported medieval Hungarian connection (mirroring a similar Italian story about Tocai Friulano), but the T-word is being phased out after the Hungarians won exclusive rights to it in a long-running, controversial dispute in the European courts.
The name notwithstanding, the wine's the thing, and Alsatian Pinot Gris is almost always a safe choice when you're looking for a serious example of this not-always-serious grape. Today's tasting, the recently arrived 2005 "Cuvée Romanus" from Lucien Albrecht, is named after Romanus Albrecht, the family's first recorded wine maker, who lived in 1425.
---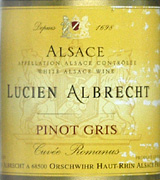 Lucien Albrecht 2005 "Cuvée Romanus" Alsace Pinot Gris ($16)
Transparent straw color. Limes and honeydew melons, fresh and snappy aromas and flavors, with delicate notes of orange blossom and mint on the nose and a fine "rainwater over rocks" minerality on the palate. A slight touch of sweetness is nicely balanced by mouth-watering acidity in a rather full-bodied flavor, with tart and juicy limes in a very long finish. A very impressive wine, demonstrates the potential of serious Pinot Gris. U.S. importer: Pasternak Wine Imports, Harrison, N.Y.; Martin Sinkoff Selections. (June 27, 2006)
FOOD MATCH: It served well with a diverse collection of small bites - Hainanese chicken and lettuce wraps; fresh figs and mozzarella wrapped in prosciutto, and udon noodles in a light mix of hoisin sauce with a peanut and sesame oil and lime juice vinaigrette. The stunning match on the plate, though, was with chicken breast scented with fresh ginger and lemongrass, which beautifully echoed the wine's citric and herbal flavors.
VALUE: No complaint about a mid-teens price for a white wine of this quality.
WHEN TO DRINK: Drink up while it's fresh and delicate; a synthetic "cork" also argues against keeping longer than a year or two.
WEB LINK:
The U.S. importer offers a fact sheet about Lucien Albrecht and his wines at this link,
http://www.pasternakwine.com/brandPage.asp?brandID=127
with links there to PDF files on the various wines including the Cuvée Romanus. The winery Website is available in English, German and French. Click the national flag of your choice at
http://www.lucien-albrecht.com/

FIND THIS WINE ONLINE:
The U.S. importer provides state-by-state contact information for its sales directors here:
http://www.pasternakwine.com/findourwines.asp
Compare prices and locate vendors for Lucien Albrecht Pinot Gris on Wine-Searcher.com:
http://www.wine-searcher.com/find/Albrecht%2bGris/-/-/USD/A?referring_site=WLP
---