Pinot from where?
In the unlikely event that you think I've been kidding about the intense market pressure on Pinot Noir, the great grape of Burgundy that the movies turned into the next big mass-market thing, here's the most startling evidence yet: Mark West, a Northern California "negociant" (a winery without vines, selling wines that it makes from purchased bulk wine, juice or fruit) is now hawking a Pinot Noir with a California-look label, made from grapes grown on the French Mediterranean island of Corsica.
That's a long way to go to get modest wine to be sold in the lower teens, but the demand for Pinot in a globalizing economy obviously makes the numbers work.
Mark West, a producer better known for its California-grown Pinots, makes its wine in a commercial facility in the Sonoma County town of Graton. Its 2004 Pinot Noir is all but indistinguishable from its other orange-labeled products on the shelf ... unless you take a close look at the fine print, "Pinot Noir Appellation Vin de Corse."
The back label provides the English translation, "Sourced from the island of Corsica." The winery Website tells more: "In 2004 a revolution grew out of a desperate need for Pinot Noir. California simply didn't have enough vines planted to meet growing demand. Mark West Winemaker Alex Cose boldly suggested Corsica for our next vineyards, 'The wines have the same fruit and texture as those I make in California.' He had our attention."
Corsica, historically most famous as the birthplace of Napoleon Bonaparte, is perhaps best-known to followers of offbeat regional and country wines for the Cannonau grape, a fruity red variety that locals boast may have been the progenitor of Grenache. It is decidedly not known for Pinot Noir, but - says the Mark West Website - the Burgundy grape was first planted there in 1986, and there are now about 500 acres of it, some in coastal vineyards with a climate not unlike California's Central Coast. That's the source of Mark West's grapes, which are vinified in Corsica in stainless steel tanks, then shipped to California for aging in French oak, bottling and sale.
Upon tasting, it's Pinot all right, although I can't honestly declare it knock-your-socks-off Pinot; shy in the aroma, varietally correct if simple in flavor, it's a decent-enough example of the grape if you've just got to do the Sideways thing.
---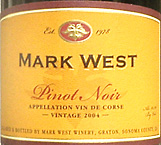 Mark West 2004 Pinot Noir Appellation Vin de Corse ($13)
This clear, dark-garnet wine offers a varietally appropriate if rather faint red-fruit aroma. On the palate it's simple but fresh, clean if not awe-inspiring red-berry Pinot fruit with notes of oaky smoke and spice. Made from grapes grown and vinified in Corsica, then shipped to Mark West's production facilities in Sonoma County, California, for oak aging, bottling and sale. U.S. importer: Mark West Winery, Graton, Calif. (June 17, 2006)
FOOD MATCH: Fine with grilled bratwurst and smoked sausages at a summer cookout.
VALUE: Competitive with premium mass-market Pinots in the lower teens, but I wouldn't pay more. Note, however, that I paid near the high end for this bottling, which is available from some Internet vendors for as little as $8.
WHEN TO DRINK: Ready to drink and safe to hold for a year or two, but not a candidate for cellaring.
WEB LINK:
Mark West's Website is primarily a creative but rather sales-oriented marketing pitch for its California wines.
http://www.markwestwines.com/
You'll find a sales poster for the Vin de Corse at this link (in Adobe Acrobat PDF format):
http://www.markwestwines.com/PDFs/2004_MWW_Vin_de_Corse_Pinot.pdf
FIND THIS WINE ONLINE:
Compare prices and locate vendors for Mark West Pinot Noir on Wine-Searcher.com:
http://www.wine-searcher.com/find/Mark%2bWest%2bPinot/-/-/USD/A?referring_site=WLP