Whassamadda wit' Pinot Grigio?
It's funny how entire wine-grape varieties move in and out of wine lovers' respect. As we've discussed quite a bit lately, thanks to the impact of the wine-related movie Sideways, Pinot Noir is way up, while the grape that the character Miles called "#@&%ing Merlot" is down. Chardonnay grapples with an "Anything But Chard" sentiment, while such downscale grapes as Concord and Thompson Seedless remain in permanent exile from most wine enthusiasts' fancy.
And then there's Pinot Grigio.
This Italian white variety (which wears the French moniker Pinot Gris in most of the rest of the world) has enjoyed a tremendous boom in recent years as an inexpensive, mass-market quaffer. This development has led some of the more "industrial" producers to make a lake of the stuff in an insipid, slightly sweet style, devoid of varietal character or flavor interest but easy to drink. Naturally this trend has earned the scorn of wine geeks, who've pretty much signed off from the entire variety for the duration.
But all Pinot Gris/Grigio is not created equal, and a wholesale PG-exclusion policy makes little sense. Some of Oregon's Pinot Gris makes a splendid match with Pacific wild salmon, for instance; and fans of Alsatian wines would argue that the grape may reach its apogee along the stretch between the Vosges mountains and the Rhine.
In northern Italy, my secret - and yes, it's a generalization too - is, "Head for the hills." A great deal of Pinot Grigio is grown on the Veneto plain, and a lot of it goes into the kind of drinkable, forgettable wine mentioned above. But move up into the Alpine Alto Adige region, or the pretty hills of Colli Orientale and Collio (which, not coincidentally translate as "Eastern Hills" and just-plain "Hills"), and you'll find Pinot Grigio to reckon with. Like today's tasting from Renato Keber in Collio, a mouth-filling, aromatic white wine indeed. Nothing insipid here!
The moral of today's sermon? As with so many simple rules-of-thumb - about wine and about many other things - those who place too much reliance on strict rules miss a lot.
---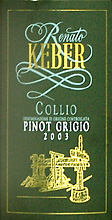 Renato Keber 2003 Collio Pinot Grigio ($16)
The rich color of this clear golden wine shows an almost subliminal touch of reddish-bronze, a signature of ripe, fine Pinot Grigio. Its luscious aromas focus on pears, a clean, appealing fruit character that carries over into a full-bodied, balanced pear and melon flavor nicely shaped by snappy lemon-lime. No mere "glass of white wine," this is serious Pinot Grigio from northeastern Italy's Collio hills. U.S. importer: Vintner Select, Cincinnati, from Marc de Grazia. (June 17, 2006)
FOOD MATCH: A handy food match with a variety of dishes, it served well with a summer party buffet that included grilled chicken kebabs, bratwurst and even grilled tofu.
VALUE: If more forgettable Pinot Grigios can command $10 or more, it's hard to quibble with the middle teens for a wine of this quality.
WHEN TO DRINK: Not really a wine to age, although the good body and luscious fruit will certainly hold it for a year or two under reasonably good storage conditions.
PRONUNCIATION:
Pinot Grigio = "Pee-noe Gree-joe"
Collio = "Cole-yoe"

WEB LINK:
Here's a link to distributor Marc De Grazia's page on Renato Keber, including links to many of his wines including the 2004 Pinot Grigio.
http://www.marcdegrazia.com/mdg/ing/scheda_produ.jsp?KProduttori=96&lingua=ING
FIND THIS WINE ONLINE:
Query Wine-Searcher.com for prices and vendors for Renato Keber's Pinot Grigio:
http://www.wine-searcher.com/find/Keber%2bGrigio/-/-/USD/A?referring_site=WLP