More Merlot
Continuing the discussion I started on Monday about our Wine Tasting 101 topic on Merlot this month, I realize that the memorable insult in Sideways had such an impact that I almost feel a need to apologize when I post a Merlot tasting report.
Almost, but not quite.
After all, a big part of being an open-minded wine enthusiast is to question the conventional wisdom and, when confronted with a wine rule or custom, check it out. While some wine rules ("don't sip good wine from a coffee mug") make more sense than others ("don't drink red wine with fish"), experience remains the best teacher. An appropriate skepticism about the things you're told can pay dividends ... in wine as in life.
So, putting the character Miles's snarky comment about Merlot out of my head, I opened a relatively modest California Merlot the other night, basing my choice on a trustworthy wine merchant's advice ... and enjoyed a pleasant surprise. The 2002 "Keltie Brook" Merlot from California's North Coast (a catch-all appellation for fruit from Napa, Sonoma, Mendocino and Lake counties) might not qualify as a sought-after "cult" item, but this second label from the MacRostie winery in Napa, made from purchased fruit, boasts balance and a good acidic structure that lifts it well above the soft, plushy "chocolate-covered-cherry" character that makes mass-market Merlot popular with everyone but wine geeks.
---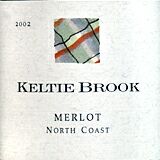 MacRostie 2002 "Keltie Brook" North Coast Merlot ($14)
Dark blackish-purple, garnet edge. Plums and cherries, pleasant fresh fruit on the nose and palate, nicely balanced by snappy acidity. Well-made, nothing complex, but balance and acidity make it a much better table wine than your average Merlot. (June 7, 2006)
FOOD MATCH: Just about any pork, veal or poultry dish would do; it was fine with pork country-style spareribs scented with fennel seed in a pilaf-style dish with orzo.
VALUE: Not at all unreasonable at $14, which was a dollar below the winery price.
WHEN TO DRINK: Not really meant for aging, but it's not going anywhere in a year or two on the wine rack.
WEB LINK:
The winery Website features information on all the MacRostie wines including the Keltie Brook line, and offers online sales where the law permits.
http://www.macrostiewinery.com/
FIND THIS WINE ONLINE:
Compare prices and locate vendors for Keltie Brook Merlot on Wine-Searcher.com:
http://www.wine-searcher.com/find/Keltie%2bMerlot/-/-/USD/A?referring_site=WLP