This article was published in The 30 Second Wine Advisor on Wednesday, June 7, 2006.


Disappointing book on American wine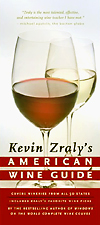 Order Kevin Zraly's "American Wine Guide" from Amazon.com in paperback for $9.97, a 23 percent discount.

When I heard that Kevin Zraly would be publishing a new pocket-size guide to the wines of the United States this month, I was so excited that I got right on the horn and nagged the publisher to rush me out an advance copy for review.

It looked like a great concept whose time had come, as interest in American wines is on the rise. Despite angry opposition from distributors, the U.S. Supreme Court's 2005 ruling on wine shipping holds potential to open new markets for small wineries in "non-traditional" wine-producing states (i.e., everything east of California, Oregon and Washington).

Moreover, wine production east of the Rockies is enjoying a significant, if little-publicized, boom. The number of U.S. commercial wineries has expanded sevenfold in the past 30 years, from fewer than 600 bonded wineries in 1975 to more than 4,000 today. And for the first time in history, there are now commercial wineries in all 50 states. California still makes 90 percent of the nation's wine, and New York, Washington and Oregon make much of the rest, but even in the non-traditional states, the chances are good that there's a winery not far from you.

The market was ready for one really good consumer guide to all this activity, and Zraly - known both as the longtime wine guru of the Windows on the World restaurant atop the ill-fated World Trade Center and as a respected wine educator whose "Windows on the World Complete Wine Course" is one of the most popular and highly recommended starter books on wine - seemed to be a good choice to write it.

Sadly, however, this is not one really good guide. Quick, casual and lightweight, it appears to have been rushed out with minimal effort and limited research.

A slender cardboard-bound volume sized to fit a (largish) pocket, it begins with a brief outline of wine tasting and short history of American wine, neither going into more depth than a magazine article. The "meat" of the book, a state-by-state listing of each state's winery situation, is disappointingly brief, generic and carelessly researched. Most states are disposed of in a single page, with ample white space and colorful wine-label images. Contents are generally limited to a state wine website (most of them pointing back to the useful but generic AmericanWineries.org), the number of wineries in the state, each state's oldest winery, largest winery and two or three "well-known wineries," a listing and tiny map of American Viticultural Areas (AVAs), if any, the number of acres under vine, and a short list of "top grapes."

There's no complete listing of wineries and no contact or location information for those shown; no wine-tasting reports or any consumer advice at all. And frankly, a quick read revealed an abundance of errors. Kentucky's first vineyard is shown as Lover's Leap in Lawrenceburg, founded in 2000, which seems odd considering that I visited, and wrote about, Broad Run Vineyards in 1998, at which time it was selling 1993 and 1995 vintage wines. It's still extant. Indiana's "well-known wineries" omits Huber Orchard & Winery in Starlight, one of the state's oldest and largest.

Kevin, I'm disappointed in you. This book could have been so much, but in fact it's so little. It reminds me of nothing so much as a student's term paper based on a quick read of Cliff's Notes plot summaries.
---
BUY THE BOOK ONLINE:
Chances are that I've talked you out of buying this book, but I'm here to give you my honest opinions, not to sell you books. I found this item disappointing, particularly from a wine educator of Zraly's caliber, and it would be wrong to pretend otherwise. That being said, though, if a pocket listing of basic information about each state's wine industry is useful to you, it doesn't require a major investment to pick up a copy. Kevin Zraly's "American Wine Guide" from Amazon.com in paperback for just $9.97, a 23 percent discount from its book store list price:
http://www.amazon.com/exec/obidos/ASIN/140272585X/robingarrswineloA/
As always, if you should choose to buy this book through this direct link, we'll earn a small commission that helps cover the costs of distributing this E-letter and maintaining WineLoversPage.com.
WineLoversPage.com