Merlot - Was Miles right?
"If anyone orders Merlot, I'm leaving. I am not drinking any #%*$ing Merlot!"
Perhaps the most widely quoted wine-related line from the movies since Dracula's legendary "I never drink ... wine," this laugh line by the twitchy, neurotic character Miles in Alexander Payne's 2004 comedy "Sideways" has been blamed for knocking sales of Merlot, well, sideways almost as much as the wine-country road movie set the market for Pinot Noir on fire.
As I wrote in the April 18, 2005 Wine Advisor, Miles didn't really hate Merlot. The most mythic bottle in his collection was 1961 Cheval Blanc, a great Bordeaux that's one-third Merlot and two-thirds Cabernet Franc, another grape that Miles said he didn't like.
Indeed, Merlot is a classic French wine grape (its name is said to stem from a medieval French word for "blackbird"), and it's a major player in the Bordeaux varietal blend. But wine "geeks" like Miles and, well, like a lot of us, I guess, tend to shun Merlot because it has become one of the most popular cheap, mass-market wine varieties. And in its least-common-denominator form, there's a lot not to like. Much of it is sourced from greedily over-produced vineyards and vinified in a crowd-pleasing style, soft, sweetish and blowzy.
And even when it's made well, Merlot arguably shines best in blends - as it is most often used in Bordeaux - where its strengths and weaknesses play off against other varieties in a thoughtfully composed cuvée.
Still, it would be foolish to shun all Merlot just because of a funny line in a movie. In an effort to rehabilitate its reputation, we're taking on Merlot as the topic for June in our interactive wine-education feature, Wine Tasting 101. You're invited to taste and talk about the Merlot of your choice, starting with a California or U.S. West Coast Merlot if you can get it. Those in other parts of the world who can't easily find American Merlot are welcome to substitute any Merlot from other cool-climate regions, but we are encouraging all-varietal (or at least varietally labeled) Merlot rather than Bordeaux-style blends.
---
Now, having said that, I turn around and present a tasting report on, um, a Bordeaux-style blend, a fine Meritage from an unexpected quarter, Virginia in the Eastern U.S.
While its 40 percent Merlot component makes it at least marginally appropriate for today's topic, I actually chose an Eastern wine to salute this weekend's NiagaraCool gathering in Western New York, where I'll join a crowd of regional wine enthusiasts in touring a few wineries in the Chatauqua and Lake Erie wine regions and then opening quite a few bottles from the Eastern U.S. and Canada. If you're in or around Buffalo, Niagara Falls or Niagara-on-the-Lake and environs and would like to join us, see the discussion in our online forum at this link,
http://www.wineloverspage.com/forum/village/viewtopic.php?t=380
The wine in question is a classic Bordeaux-style blend of four varieties - Merlot, Cabernet Sauvignon, Cabernet Franc and Petit Verdot - made in a small vineyard near Charlottesville, Va. The wine's a good one, and it signals the start of a gradual change in the availability of local and regional wines in the U.S. in the confused state-by-state aftermath of the Supreme Court's 2005 decision about interstate wine shipping: This small-production Virginia winery now has a distributor and is getting onto retail shelves in a few other states (I found it at Whole Foods Wine Market in Louisville), and their Website now offers online sales wherever the law allows.
---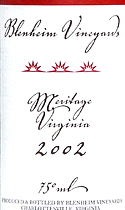 Blenheim Vineyard 2002 Virginia Meritage ($19.99)
This is a dark, blackish-purple wine, garnet at the edge. Fresh, rather delicate fruit aromas, cherries and a pleasant hint of cranberry. Flavors follow the nose, a bit more fruit-forward; cherries and berries and subtle spice are nicely shaped by mouth-watering acidity. Wine maker Brad McCarthy has blended 40 percent Merlot and 32% Cabernet Sauvignon from the Redlands Vineyard and 22% Cabernet Franc and 6% Petit Verdot from the Blenheim Vineyard. The wine comes in at a sturdy but not outrageous 13.2% alcohol. (June 2, 2006)
FOOD MATCH: Should be fine with just about any red meat or poultry. It made a pleasant match with a light summer dinner of thin-sliced bresaola (Italian air-dried beef) wrapped around a blend of ricotta and mild goat cheese with chopped roast red peppers.
VALUE: It might seem a little cheeky for a little-known producer in a less-familiar wine region to ask $20 for a red wine, but in fairness, this one's competitive in quality with California Meritage wines at a similar or even higher price point.
WHEN TO DRINK: It's relatively light and fruit-forward, a combination that confers immediate drinkability, and this bottle has already been kicking around for a couple of years (the current release at the winery is 2004). That said, however, balance and good acidity and a grape blend known for ageworthiness suggest that it may have potential to evolve with cellar time.
WEB LINK:
Blenheim's Website offers basic information about the winery and where to find the wines.
http://www.blenheimvineyards.com/
FIND THIS WINE ONLINE:
Compare prices and locate vendors for Blenheim's Virginia wines on Wine-Searcher.com:
http://www.wine-searcher.com/find/Blenheim%2bVirginia/-/-/USD/A?referring_site=WLP