Perennial summer value
Here's an excellent response to our Netscape WineLovers Community poll on your favorite summer sipping wine: Domaine de Pouy, a crisp and snappy white from the Gascogne region in Southwestern France, is now on retail shelves hereabouts with the fresh 2004 vintage, and it's a fine potable for a hot summer day, with or without a meal.
Gascogne ("Gascony" in English) may be better known as the home of the character D'Artagnan in Alexandre Dumas' classic "Three Musketeers" than it is for wine, but it's a big name in libations, being the home of Armagnac, a fiery spirit that some aficionadoes prefer even to the fabled Cognac.
Armagnac, like Cognac and all other brandies, is distilled from grape wine, and the base wine used in both regions is a simple, acidic, neutrally flavored white made from varieties that, in the wine universe, are lightly regarded. Ugni Blanc (known in Italy as Trebbiano) is the top grape; Colombard is another. Ugni Blanc in particular is so heavily planted that it is the No. 1 variety in France in vineyard acreage, but virtually all of it goes into brandies. Only a small amount ends up in consumer wine, most of it forgettable.
Domaine de Pouy is an exception, a perennial value favorite that the producer, P. Grassa Fille & Fils (particularly the winemaker fils, Yves Grassa) makes primarily for U.S. sale through importer Robert Kacher. A blend of 80 percent Ugni Blanc and 20 percent Colombard, it's handled with exceptional care, cool-fermented to retain its fruit, kept three months on its yeast lees to impart complexity, never touched by oak and closed with a synthetic stopper.
---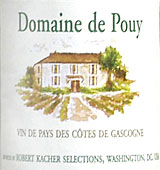 Domaine de Pouy 2004 Vin de Pays des Côtes de Gascogne ($11)
This is a clear, straw-color wine with fresh citrus aromas of lemon, lime and a touch of grapefruit. Crisp, clean and tart flavors, juicy citrus and zippy acidity, food-friendly and refreshing. A surprising tangy-citric aftertaste hung on and on, an odd but not entirely unpleasant phenomenon. U.S. importer: Robert Kacher Selections, Washington, D.C. (May 28, 2006)
FOOD MATCH: An excellent seafood match, it went beautifully with fish cakes fashioned from leftover halibut and shredded potatoes.
VALUE: It wasn't a bad value even at the $11 price I paid, but that's the highest price I've ever seen anywhere for Domaine de Pouy. It is widely available under $9 and, in a few markets, as low as $6, at which point it's worth buying by the case.
WHEN TO DRINK: Buy the current vintage and enjoy it soon; freshness is a virtue, and cellaring will take it nowhere, particularly with its synthetic "cork." Drink up the 2004 this year, then watch for the '05.
PRONUNCIATION:
Gascogne = "Gahs-co-n'yuh"
WEB LINK:
U.S. importer Robert Kacher has a short article about producer Yves Grassa at the following link, with a link there to a short fact sheet on the wine.
http://www.robertkacherselections.com/winery.php?wineryid=30
FIND THIS WINE ONLINE:
Compare prices and locate vendors for 2004 Domaine de Pouy on Wine-Searcher.com:
http://www.wine-searcher.com/find/Pouy/2004/-/USD/A?referring_site=WLP