Marilyn Merlot
This Wednesday, June 1, 2006, would have been the 80th birthday of Norma Jeane Mortenson of Los Angeles, better known to the world as Marilyn Monroe. The date is mirrored in the smaller world of wine as 20th anniversary of the birth of a wine-marketing concept that, from a business standpoint, has shown similarly beautiful "legs:" Marilyn Merlot.
Wine producers Bob and Donna Holder, who say they came up with the idea at a dinner party at their Napa Valley home, acquired an exclusive license to use Marilyn's name and image on wine and launched the first vintage in 1985. The 2004 vintage, to be released internationally on Wednesday, is the 20th. Each vintage has borne a colorful portrait of the starlet. This release features a 1953 Sam Shaw photo portrait from the movie "How to Marry a Millionaire," in which she starred with Betty Grable and Lauren Bacall. (One bottling, the 2002 "Velvet Collection," features a nude image rendered marketable with a vinyl peel-off-the-bikini label that can be removed for the collector's private enjoyment.)
The combination of the celebrity connection, the punning label and a wine of at least arguably ageworthy stature came together in what has proved to be an all but perfect commercial storm, prompting it to succeed where scores of velvet-flocked Elvis labels have failed. They're beloved by both wine and celeb-curio collectors, who snap them up quickly after release. Older bottles of Marilyn Merlot have appreciated rapidly in value, without much relation to the quality of the vintage or even, perhaps, the actual evolution of the wine in the bottle.
The winery asks $3,800 for a single bottle of the inaugural 1985 vintage, for example; all the vintages before 1990 sell at the winery for four-figure price tags, and even the relatively recent 2002 has jumped up to $200. A "vertical" set, one bottle from each vintage 1985 through 1996, goes for a cool $8,000. Auction prices, if a little more realistic, nonetheless play in the same ballpark. (The producers, it should be noted, pay royalties on sales to the Lee Strasberg Theatre Institute in New York and Los Angeles and the Anna Freud Centre in London.)
But never mind Marilyn, how about the wine? It's hard - no, impossible - to make the case that it justifies those celestial prices for older bottles; but the new edition sells at the winery for a more affordable $26 for a standard bottle, and I find it competitive if not head-and-shoulders above the competition at that price point.
It's a blend of 90 percent Merlot, 10 percent Cabernet Sauvignon, purchased under long-term contracts from growers in Napa's Beckstoffer and Yount Mill vineyards and made by wine maker John McKay for the Holders' Nova Wines Inc. at Napa Wine Company, a small-winery production company in Oakville, Calif. It's held for 12 months in small oak barrels, one-fourth of them new.
The 2004 is made in a luscious, crowd-pleasing style, but there's plenty of good acidic structure and soft tannins to raise it well above the mass-market level and provide ageworthiness. Some wine enthusiasts will certainly buy it and drink it, but it's fair to guess that a surprising portion of the production run will remain unopened and held in hope of appreciation and resale.
Marilyn wines are widely available at retail in the U.S. and from the winery Website, but they don't appear to be exported. The winery also makes a modestly priced Merlot labeled Norma Jeane ($10.50 retail), a limited amount of Marilyn Cabernet, and a high-end "Velvet Collection" it a presentation package featuring a magnum bottle of the 2002 Merlot in a velvet-lined box ($250). (DISCLOSURE: In order to be able to report on the wine before its release, I accepted a winery sample of the 2004 Merlot. My tasting report is below.)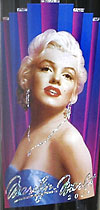 Nova Wines 2004 Napa Valley "Marilyn Merlot" ($26)
This is a very dark ruby wine, black at the center and dark purple at the rim. Pleasant, accessible aromas offer the standard profile for New World Merlot: juicy black cherries, dark chocolate and a whiff of vanilla. Ripe and fruit-forward, the first taste follows the nose, luscious and almost soft, but it gains structure from fresh, mouth-watering acidity and gentle but perceptible tannins. (May 27, 2006)
FOOD MATCH: An amiable companion with a wide range of meats and cheeses, it was a fine match with char-grilled Cornish hens.
VALUE: Viewed objectively, it's not drastically over-priced in the $20s, but with a good range of quality Merlots available for the same price or less, it's hard to believe that the celebrity quotient doesn't boost the asking price by a buck or three.
WHEN TO DRINK: Structure, acidity and tannins suggest that it should age reasonably well, although fruit-forward California Merlots in general don't strike me as candidates for long-term cellaring. Ready to enjoy now as an approachable Merlot, although the primary reason for keeping it, frankly, would be to take advantage of its interest as a collectible celebrity-reated curiosity.
WEB LINK:
Here's a link to the Marilyn Merlot Website:
http://www.MarilynWines.com
FIND THIS WINE ONLINE:
Compare prices and locate vendors for many vintages of Marilyn Merlot on Wine-Searcher.com:
http://www.wine-searcher.com/find/Marilyn%2bMerlot/-/-/USD/A?referring_site=WLP