This article was published in The 30 Second Wine Advisor on Wednesday, May 24, 2006.


New from Laurel Glen

One of my oldest wine-industry pals, and perhaps not coincidentally one of the California wine makers I most admire, is Patrick Campbell of Laurel Glen Vineyards in Sonoma, a philosopher-winemaker who I've known through our online forums since some time back in the 1980s.

I've always been impressed by Patrick's thoughtful approach to quality and his commitment to making wines that reflect the land in which they're grown ... and his consumer-friendly approach to keeping the prices of his wines rational for their value. His flagship wine, Laurel Glen Sonoma Mountain Cabernet Sauvignon, has long ranked among California's most celebrated Cabernets, but - while it's certainly priced for a special occasion - it has never joined the cultish race for triple or even quadruple digits that we see in some CalCabs that can't match its quality.

Better still, the bulk of Laurel Glen's portfolio, from the more affordable Counterpoint Cabernet to the lovable under-$10 REDS, not to mention his growing collection of fine Argentine red wines, consistently rank among my favorites for quality and value.

So naturally I was delighted when a bunch of recent Laurel Glen releases recently reached the market. I quickly tasted the first three - the 2004 REDS, a 2003 Malbec - first of that variety bottled under the Terra Rosa label - and a 2004 Val de Pena, a new label for a higher-end single-vineyard Argentine red.

Hmmm.

Make no mistake: These are good wines. But I sensed a consistent new direction in them, one that struck me as odd for Patrick Campbell. They were big wines, hot and alcoholic; fruit-forward and, at least in the case of the Argentines, surprisingly touched with the distinct presence of new oak.

I immediately sent Patrick a whining E-mail, asking, "What's up with this? It's almost as if you're trying for Parker or Spectator points!"

Unfailingly civil, he didn't "flame" me back, other than to reassure me that Laurel Glen is "certainly not consciously making wines to assuage the P/S palates" and, indeed, doesn't even send samples to the usual suspects. "Good wake-up call ... thanks," he said, with civility that I probably didn't deserve.

"Yeah ... They all three are higher in alc than I would like, and largely it's a function of the vintage, particularly in the REDS. 2004 was a very ripe year in Mendoza, so vintage is a factor as well," he went on, adding that with the Argentine wines, "We are finding that Malbec harvested under 14 percent seems rather green. This is a conclusion based only on eight years' experience, so the jury is still out, but the evidence is trending that way. I would prefer to have a lower alc, but with Malbec we might just have to settle with a higher alc in order to achieve balance and fruit purity. But you have spurred me into doing a couple of experiments for next year."

As for oak, he added, "I think we overdid it a bit with the Vale la Pena, but I think the other two are in good balance. Next time I drink them I'll really pay attention. As you know, we are usually quite cautious with our use of oak."

I can't ask for a more candid response than that. Now that I know we're not seeing a trend here, I'm comfortable ... and looking forward to trying the newly released 2002 Laurel Glen Estate and Counterpoint Cabernets before long. I'll keep you posted on that.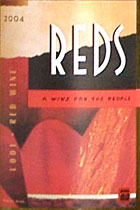 Laurel Glen 2004 "REDS" Lodi Red Wine ($9)
Past vintages of this perennial value favorite have been made from a wild old-vines blend of Southern French varieties and Zinfandel from scattered California vineyards. The past couple of vintages have switched to a Lodi appellation and a Zinfandel, Carignane and Petite Sirah blend with Zin dominant. That's OK. It's a good old-fashioned Zin blend. But purely in terms of personal taste, I loved it more when it tasted like a rustic Languedoc red. This iteration is inky blackish-purple in color, with berries, anise and raspberry cordial on the nose and palate. It's mouth-filling and rather hot; the potent 14.5% alcohol shows. Still a good, sturdy sipping wine, but the alcohol makes it more iffy as a food companion than past REDS. Packaged under a Stelvin-type metal screwcap; the wacky corks bearing the images of old Reds from Lenin to (Groucho) Marx are gone. (May 20, 2006)
FOOD MATCH: Oven-fried chicken.
WEB LINK: http://www.laurelglen.com/reds.html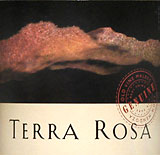 Terra Rosa 2003 Mendoza Old Vine Malbec ($10.99)
This is an inky blackish-purple wine, a tooth-stainer in the old-fashioned Malbec style. Plummy black fruit and subtle spice aromas lead into a warmly alcoholic flavor (The label notes "Alc. 14.5%" in almost impossible-to-read 1-point gray-on-black type.) Ripe and juicy fruit and firm acidity carry it well, but it's one big wine, fruit-forward and powerful, carrying perceptible but relatively discreet oak. Packaged with a metal screwcap. U.S. importer: Laurel Glen Winery, Santa Rosa, Calif. (May 22, 2006)
FOOD MATCH: A big wine that needs robust fare, and finds it in Italian-style dried-beef bresaola, shredded over linguine in a "pink" ricotta cream.
WEB LINK: http://www.laurelglen.com/terra-rosa.html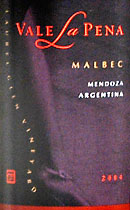 Laurel Glen Vineyard 2004 "Vale la Pena" Mendoza Malbec ($30)
This new Laurel Glen Argentine label arrived amid considerable hoopla, perhaps building unreasonable expectations. I liked it, but I wanted to love it and couldn't quite muster that level of passion. Clear, dark garnet with a reddish-violet edge, it offers attractive aromas of red-berry fruit and a whiff of woodsmoke, with just a hint of characteristic Malbec earth. Flavors are consistent with the nose, fruit and a touch of earthiness; crisp acidity and somewhat raspy tannins provide structure, while oak first presents itself as bitter chocolate but opens into more overt wood; 14.5% alcohol finishes with a whack of heat. Packaged under natural cork. U.S. importer: Laurel Glen Vineyard, Santa Rosa, Calif. (May 15, 2006)
FOOD MATCH: A melange of artisanal cheeses over farfalle pasta, a "grown-up macaroni'n'cheese," played interesting flavor games, but in retrospect, char-grilled rare beef would probably have made a more inspiring match.
WEB LINK: http://www.laurelglen.com/vlp.html
BUY THESE WINES ONLINE:
For information on distributors or to purchase direct from Laurel Glen, click to the winery's online store,
http://www.laurelglen.com/purchase.html
To check prices and find online vendors, enter the wine name into the databases at Wine-Searcher.com,
http://www.wine-searcher.com?referring_site=WLP
WineLoversPage.com