Uncorking New York
Think of wine in the United States, and chances are you'll immediately visualize the West Coast: sunny California and perhaps the rainy but mild Pacific Northwest. Wine-related thoughts about New York State are not likely to pop into your head.
This might not be entirely fair, as New York, in spite of its failure to register as more than a blip on most wine lovers' radar, is actually the third-largest wine-producing state in the nation (after California and Washington State), with sales approaching nearly a half-billion dollars in 2004; and its commercial wine-making history goes back just about as far as California's, dating to the middle of the 1800s.
Why is such a major wine producer so little-known? A combination of factors have held back the Empire State on the national wine scene ... but watch for this to start changing.
If the climate in California's wine regions is somewhat like that in Mediterranean France, Spain and Italy, New York's is more like Germany; indeed, New York's long, narrow and deep glacial-cut Finger Lakes even look a bit like the Mosel or the Rhine.
Until recent decades, that continental-style climate, with its freezing winters, has held back the development of Vitis vinifera vineyards, the familiar wine grapes that dominate the fine-wine market. New York has been better known for Vitis labrusca, strong flavored grapes normally used to make sweet, syrupy wines that more closely resemble Welch's grape jelly than Cabernet Sauvignon or Zinfandel; even the more ambitious wineries typically compromised on "French-hybrid" grape varieties, designed to withstand fierce winters that can kill vinifera but that only rarely yield world-class wines.
Eventually, though, a few pioneers, including Dr. Konstantin Frank and Hermann J. Wiemer in the Finger Lakes, fought the odds to grow classic European wine grapes and, particularly when they specialized in varieties appropriate to colder climates, such as Riesling, Pinot Noir and Chardonnay, they won competitions and earned a growing reputation.
But even as the wines got better, another problem stood in the way: In contrast with California's liberal wine sales and shipping policies, New York law forbade the state's wineries to ship wine out to consumers, as it denied its own citizens the right to buy wine across state lines. As a result, and in the absence of any real national demand to move New York wines into traditional distribution channels, the state's wines were (and largely remain) unknown in the rest of the world.
But last year's Supreme Court decision on wine shipping, which banned disparate treatment of in-state and external wineries in interstate commerce, may have opened the gates. Thanks to enabling legislation passed over the wails of the distribution lobby, New York wineries are now free to ship wine direct to consumers in other states where the law allows; and to the extent that this change increases visibility and demand for the wines, wider distribution is likely to follow.
NIAGARA WINE GATHERING:
I'll be exploring New York wines myself in June, as I attend the annual "NiagaraCool" gathering of Eastern wine enthusiasts in Niagara Falls, taste a lot of local wines and tour some wineries in the region.
The gathering, like the similar annual "MoCool" wine-lover gathering in Michigan in August, is strictly social, non-profit and non-commercial, with participants agreeing to share the actual costs of wine touring and a Sunday wine-and-food picnic. If you live within reach of the Niagara Falls and Buffalo area (on either side of the U.S./Canadian border) or will be traveling in the region the weekend of June 10-11, you're welcome to participate. Check out the details on our WineLovers Discussion Group,
http://www.wineloverspage.com/forum/village/viewtopic.php?t=380
or, if you prefer, send me E-mail at wine@wineloverspage.com
---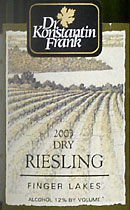 Dr. Konstantin Frank 2003 Finger Lakes Dry Riesling ($15.99)
This is a pale, transparently clear but distinctly golden wine. White fruit and stoney slate aromas display the odd but pleasant minerally scent that Riesling-lovers call "petrol." Its full, ripe flavor hits the palate with a surprising burst of tangerine, shaped by firm, steely acidity. Rich in texture but fully dry, its tangy citrus flavors linger in a very long finish. Excellent Riesling; it would be intriguing to see it served "blind" in a flight of Rieslings from Germany, Austria and Alsace. (May 14, 2006)
FOOD MATCH: Almost too rich for more delicate seafood and fish, this one seems made for veal and pork dishes. It went very well with simple veal burgers made in the style of Italian polpette meatballs.
VALUE: With the exception of a few dessert wines and a handful of sought-after producers, Riesling in general remains a good buy around the world. No complaints about value at this mid-teens price.
WHEN TO DRINK: Riesling is one of the most long-lived of whites, and this wine's good fruit and sturdy structure suggest it would fare well in the cellar. It would certainly be safe to keep it five years or more under good storage conditions.
WEB LINK:
The Dr. Konstantin Frank Vinifera Cellars Website offers online sales and a wine club (shipping limited to states where the law allows), plus information about the winery and its wines.
http://www.drfrankwines.com/
FIND THIS WINE ONLINE:
Find prices and online vendors for Dr. Konstantin Frank wines on Wine-Searcher.com:
http://www.wine-searcher.com/find/Konstantin%2bFrank/-/-/USD/A?referring_site=WLP