Remember Sideways?
Alexander Payne's wacky romantic comedy about wine is yesterday's news now - you can own the DVD for only about 10 bucks - but the publicity lift that it gave Pinot Noir just keeps on keeping on.
Last month, based on its annual Restaurant Wine Poll, Wine & Spirits magazine declared that the great grape variety of Burgundy has "officially entered the big leagues," jumping from 10 to 14 percent of wine-list favorites at 300 top U.S. eateries.
For the last five years, said Wine Business Insider, commenting on the Wine & Spirits report, "Pinot Noir has been tracking upward, hand-sold by sommeliers. This year, the 40 percent increase in Pinot Noir's share is largely attributable to the continuing influence of the 2004 movie Sideways."
As the national palate becomes more sophisticated, the magazine's Editor Joshua Greene opined, "... most end up at Pinot Noir. The current popularity of the variety shows a significant maturation in Americans' taste in wine."
You think? Call me a cynic, but I'd say the Sideways-generated Pinot boom has more to do with the impact of movies on popular culture than any kind of seismic shift in the national maturity level; if the effect was borne on sophistication, then fine Burgundies wouldn't still have to be hand-sold.
Other highlights from the report, which is available on the Wine & Spirits Website only to paying subscribers:
• Merlot, roundly dissed in Sideways, declined to 6.5 percent of the most popular restaurant varieties, its lowest rank since 1991.
• The Chardonnay boom appears over, too, as it dropped to 16.2 percent, down from 24.8 percent in 2001.
• These 10 restaurant wine brands ranked most popular in the poll, a market-driven listing that varies markedly from retail-shop favorites:
Cakebread Cellars
Sonoma-Cutrer Vineyards
Kendall-Jackson Vineyards
Silver Oak Wine Cellars
Jordan Vineyard & Winery
Duckhorn Vineyards
Stag's Leap
Caymus
Santa Margherita
Rombauer Vineyards
Speaking of Pinot, today's featured wine is a decent item from Oregon that gives a sample of the grape's potential at a midrange price.
---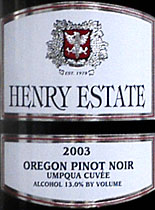 Henry Estate 2003 "Umpqua Cuvee" Oregon Pinot Noir ($15)
This is a clear ruby-color wine, on the light side as is typical of all but the most extracted Pinot. Also typical of Pinot are the rather delicate aromas; red cherries and spice are pleasant but subtle, far from fruit-forward. It's a bit more assertive on the flavor side, crisp and bright, tart cherries and zippy acidity. (March 20, 2006)
FOOD MATCH: It would work fine with steaks or chicken from the grill, but Pinot's also a masterful match with mushrooms, and it went beautifully with a quick, meatless batch of white mushrooms and porcini over conchiglie (baby shells) pasta.
VALUE: It's actually a fair value at the mid-teens price I paid at the decidedly non-discount Whole Foods Wine Shop, but Wine-Searcher.com suggests a street price closer to $10. (The winery Website shows it at $39 plus $9 shipping, which seems almost certain to be a mistake. It would certainly be a mistake to buy it at that price.)
WHEN TO DRINK: Ready to drink and showing very well. Pinot is unpredictable in the cellar, and this lighter style isn't really designed for aging, but there's no hurry to drink it up.
WEB LINK:
The Henry Estate Website is loaded with information about the winery and its wines, including online sales, a wine club and international distributor information. Comparison-shop with care before you buy, though, as the winery's online prices appear shockingly high.
http://www.henryestate.com/
FIND THIS WINE ONLINE:
Compare prices and find online vendors for Henry Estate Umpqua Pinot Noir on Wine-Searcher.com:
http://www.wine-searcher.com/find/Henry%2bUmpqua%2bPinot/-/-/USD/A?referring_site=WLP
---
TALK ABOUT WINE ONLINE:
I've posted today's column in our Netscape WineLovers Community, where you're welcome to read the replies and add your own comments or questions at this link:
http://community.netscape.com/winelovers?nav=messages&tsn=1&tid=4390
For more advanced wine-enthusiast discussions on this or any wine-related subject, you're welcome in our non-commercial WineLovers Discussion Group, where today's article is featured at this link:
http://www.wineloverspage.com/forum/village/viewtopic.php?t=1089
To contact me by E-mail, write wine@wineloverspage.com. I'll respond personally to the extent that time and volume permit.
PRINT OUT TODAY'S ARTICLE
Here's a simply formatted copy of today's Wine Advisor, designed to be printed out for your scrapbook or file or downloaded to your PDA or other wireless device.
http://www.wineloverspage.com/wineadvisor1/print060512.html