Who's Assisi?
Pronounce the name of this pretty Umbrian village as most Americans do - "a sissy" - and the puns become almost inevitable. Let's not even go there today. The Italian Trade Commission's Website, ItalianMade.com, takes a much more elevated view of the wines of the region:
"Two antithetical records characterize Assisi: It is, on one hand, one of the most important spiritual centers of Christianity thanks to Saint Francis of Assisi and, on the other, it is a center of culinary pleasures par excellence. It is sufficient here to taste a bottle of great Assisi wine to suddenly realize how thin the line is that separates spirit from matter."
The regional DOC regulations for Assisi Rosso call for 50% to 70% Sangiovese, 10% to 30% Merlot and up to 40% of "other local red varieties." Sportoletti's rendition, according to the importer's Website, apparently pushes the limits of the regulation in the direction of an "international" style with as little Sangiovese (50%) and as much Merlot (40%) as they can get away with; the remaining 10% is Cabernet. The wine also spends four months in French oak.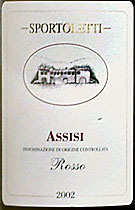 Sportoletti 2002 Assisi Rosso ($17.49)
This is a very dark blackish-purple wine with a garnet edge. There's lots going on in the aroma - cherry-berry fruit with subtle herbal notes, undertones of smoke and raw beef, and a hint of the high-toned volatile acidity that's commonplace in Italian reds. Juicy and fresh on the palate, forward black fruit is nicely structured by mouth-watering acidity and a pleasant touch of bitterness in the finish. Excellent food wine. U.S. importer: Winebow Inc., NYC; Leonardo Locascio Selection. (May 4, 2006)
FOOD MATCH: Fresh local lamb chops pan-seared with garlic and fresh rosemary make a perfect match; any grilled red meat or poultry should be fine, and pasta with a tangy tomato-based marinara should suit as well for a meatless option.
VALUE: I'd like to see this closer to the lower teens, but can't really quibble about the price for a wine of this quality, particularly against the strong Euro.
WHEN TO DRINK: The Sangiovese and Merlot blend ought to hold it in the cellar for a couple of years, but I don't see it improving. Drink soon, while it's still fresh. Note also that this 2002, though still available at local retail, is two years behind the current release.
PRONUNCIATION:
Assisi = "Ah-SEE-zee"
WEB LINK:
The U.S. importer has an informative fact sheet about Sportoletti Rosso - with some startling reviews of other vintages from the Usual Suspects, including a Parker comment on the 2001 ("...a seductive, delicious, hedonistic Italian red with gobs of sweet black cherry and currant fruit presented in a forward, plump, lush, succulent style...") that's almost an unintentional self-parody:
http://www.winebow.com/wine_basicinfo.asp?ID=375&producer=59
The winery Website is available in both Italian and English:
http://www.sportoletti.com/
FIND THIS WINE ONLINE:
Look up prices and locate sources for Sportoletti's wines on Wine-Searcher.com:
http://www.wine-searcher.com/find/Sportoletti/-/-/USD/A?referring_site=WLP