Marilyn Merlot and the Naked Grape
"What do we expect from the label on a bottle of wine? Obviously it must communicate. A label that doesn't tell us what's in the bottle fails the functionality test and inspires no confidence in the consumer.
"But is it enough simply to impart necessary information about the wine? Once a label has done its duty by telling us who made the wine, where it's from and, in most cases, what grapes it contains, is there any need for more?
"Some wine enthusiasts would say no ... But in an age when even middle-size wine shops offer the consumer a choice of hundreds or even thousands of selections, it's hard to blame the folks who market wine for coming up with tricks to make their offering stand out."
I'm quoting myself today, having penned that mini-essay on the wine label as the foreword for my online pal Peter F. May's new book, "Marilyn Merlot and the Naked Grape," which just arrived for review and will soon be available for sale.
Peter, as I note in the foreword, is an Englishman with extensive expertise in a couple of wine roads less taken: The unusual South African wine grape, Pinotage, and the offbeat wine label. His popular wine-label Website, Unusual Wines (Diversity in Wine), has become the Web's No. 1 resource on the topic of weird and wacky wine labels from all over the world.
I'm delighted to report that he has brought all this - and more - to print in his new book. Whether you're a committed wine enthusiast or a novice with a sense of humor, I think you'll find it as refreshing as a chilled glass of Mosel Riesling and as sprightly as a chilled glass of sparkly Prosecco. I want a copy for my wine cellar, another for the coffee table, and perhaps a third for reading during those quiet moments in the ... well, you know.
Now that I've had the opportunity to enjoy the book in its finished form, I'm even more impressed. It's compact in format (about 6 inches square), but admirably fully packed, with 256 slick pages containing full-color reproductions of more than 100 offbeat wine labels, each facing Peter's thoughtful and witty comments on the label and, as a bonus, his brief tasting reports on the wines. It's full of chuckles, but with the laughter comes a healthy dose of serious wine education.
BUY THE BOOK ONLINE:
The formal publication date is June 1, but "Marilyn Merlot and the Naked Grape" may be pre-ordered from Amazon.com for shipment on arrival for $11.02, a 34 percent discount. Purchases made using this exact link,
http://www.amazon.com/exec/obidos/ASIN/1594740992/robingarrswineloA/
will return a small commission to us at WineLoversPage.com.
Now, to suit today's tasting to the topic, here's my report on the current vintage of Charles Back's "Goat-Roti," a South African Rhone-style blend that affectionately mocks the French "Côte-Rotie." This wine, and Back's popular, more modestly priced "Goats Do Roam" ("Côtes-du-Rhône"), drew more jeers than cheers from the French wine industry, which sought unsuccessfully to bar the South African wines' names from trade, providing Back the kind of publicity that money can't buy. (Back's Fairview Wines also makes a "Goat Door" and "Bored Doe." I'll leave it to you to puzzle out the puns.)
---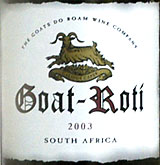 Goats Do Roam 2003 Western Cape "Goat-Roti" ($16.99)
This is an inky dark blackish-purple wine with a garnet edge. Ripe, spicy raspberry aromas add just a whiff of cocoa. Warm and full in flavor, ripe berry fruit is shaped by tart acidity and husky tannins; 14.5% alcohol adds body and warmth. The blend changes annually; the importer's spec sheet indicates that the '03 is a blend of 85% Syrah, 12% Mourvèdre and 3% Viognier. U.S. importer: Vineyard Brands, Birmingham, Ala. (April 27, 2006)
FOOD MATCH: Like its real Rhone cousins, this earthy red blend would go well with all manner of grilled or roast meats and poultry; it was fine with a rather offbeat combination of leftover duck-leg confit and smoked pork ribs, shredded and converted into a pasta topping with a bit of fresh tomato sauce.
VALUE: Goat-Roti sells for about one-fifth the price of a good Côte-Rotie, and in fairness, a similar disparity separates the wines in quality. But it's earthy, robust and even a little "Rhone-like," and certainly competitive at its mid-teens price point.
WHEN TO DRINK: Like the Côtes-du-Rhône that it somewhat resembles, this wine is meant for drinking now, but certainly won't be harmed by a year - or several - in the wine rack or cellar.
WEB LINK:
The Fairview Website contains plenty of information about the winery and all its pun-loaded wines; the Goat-Roti fact sheet features the 2004 vintage, which is now in the market.
http://www.goatsdoroam.com/
FIND THESE WINES ONLINE:
Find vendors and compare prices for Goat-Roti on Wine-Searcher.com:
http://www.wine-searcher.com/find/Goat%2bRoti/-/-/USD/A?referring_site=WLP