Sincerest form of flattery
It's hard to believe that it has been a full generation since Cloudy Bay first burst on the wine world's consciousness in 1985. As recently as the middle '80s, New Zealand was almost unknown as a wine region, and the Sauvignon Blanc grape wasn't much more of a contender, a variety so widely dismissed as lackluster that Robert Mondavi had re-named it "Fumé Blanc" in hope of fooling people into thinking it something else entirely.
Within a few years, Cloudy Bay's once-unique Marlborough style - grapefruit and green peppers and gooseberries and more than a hint of spraying tomcats - had attracted a cheering horde of fanciers. In Great Britain and the U.S., each new vintage flew off the shelves almost as soon as it arrived, and its retail price, in dollars or pounds sterling, quickly rose through the teens into the 20s. Recent sightings have even reported it over $30 in some particularly rapacious U.S. markets.
And of course, as most hot new products do, it soon spawned a school of imitators. Some wine "geeks" were dubious - particularly those with taste buds weaned on Euro-style wines who preferred the relatively austere and food-friendly acidic character of Sancerre and Pouilly-Fumé from the Loire or the rich but terroir-driven Sauvignon Blanc-Semillon white blends from Bordeaux. But the big-name critics raved about the fruit-forward, bold and bright New Zealand, and producers responded. Once-sleepy Marlborough was soon carpeted with vineyards, most of them turning out Cloudy Bay taste-alikes.
The marketplace being what it is, it will come as no surprise that the phenomenon soon leaped national boundaries. In judging wine competition, I've tasted Sauvignon Blancs from Northern Italy, Croatia and Slovenia that I could have sworn were Kiwi; even a few Sancerres lately - particularly from overripe 2003 - have shown suspicious jalapeño and catbox aromas. And now comes this clean, fresh and very New Zealand-like entry from South Africa. Bottled under screw cap and priced to sell at just over $10, it's a great buy if you like your Sauvignon Blanc in Technicolor. But let the record reflect that it's yet another Mondovino moment in the internationalization of wine.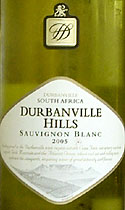 Durbanville Hills 2005 Durbanville Sauvignon Blanc ($11.99)
This is a transparent and very pale straw color wine from South Africa, bottled under screw cap. Its vivid aromas of white fruit and exuberant green chile peppers may be made in conscious emulation of the New Zealand Cloudy Bay style; flavors are consistent with the nose, herbaceous and fresh, tart acidity provides a spine beneath a mouth-coating texture; crisp citric flavors of lemon-lime and grapefruit linger in a long finish. U.S. importer: Brown-Forman Beverages Worldwide, Louisville. (April 19, 2006)
FOOD MATCH: Depending on whether your perspective is that of a pessimist or an optimist, Sauvignon Blanc in this bold, forward style either goes well with lots of dishes or doesn't go ideally with much of anything. I like it with similarly bold dishes, chicken or seafood or vegetarian dinners with attention-getting (not fiery) Asian or Mediterranean flavors. It worked well with earthy garbanzo pancakes (see the April 20, 2006 Wine Advisor FoodLetter) garnished with goat cheese and prosciutto.
VALUE: It's under half the price of Cloudy Bay Sauvignon Blanc and on the low end for New World Sauvignon Blanc in general; no complaints if you like this style.
WHEN TO DRINK: The Techicolor aspect may fade into something more subtle with a few years of cellar time, but much like jammy, exuberant Zinfandels, aging may sacrifice the bold character that many consider its primary attraction.
PRONUNCIATION GUIDE:
Sauvignon Blanc = "So-veen-yawn BlahN"
WEB LINK:
Here's a good fact sheet on Durbanville Hills Sauvignon Blanc from Wine.co.za, a South Africa wine portal:
http://www.wine.co.za/Directory/Wine.aspx?WINEID=11557
FIND THESE WINES ONLINE:
Look up prices and find vendors for Durbanville Hills Sauvignon Blanc on Wine-Searcher.com:
http://www.wine-searcher.com/find/Durbanville%2bSauvignon/-/-/USD/A?referring_site=WLP