Boundary-crossing Barbera
The label says Barbera, and the producer's vowel-ending family name might contribute to the impression that the heavy green bottle contains an Italian wine. A taste reinforces this supposition: The Italian grape makes a fine, sturdy and mouth-wateringly acidic red that goes great with a hearty dish sauced with a meat-and-tomato "gravy."
But you've got to flip the atlas over to a different page in the "I" section to find this wine's actual home: A recent arrival in the U.S. and other Western markets, the wines of Recanati Winery in general - and its appealing 2004 Barbera in particular - are among the most impressive wines I've tried from Israel.
Israel remains a relatively minor player on the world wine scene, but it's growing fast. According to material supplied by Palm Bay Imports of Boca Raton, Fla., a recent RCNielsen market study showed Israel as the third fastest-growing wine region in U.S. sales, trailing only New Zealand and South Africa in its rate of increase during the 12-week period ending last Feb. 11. With wines like Recanati's coming into the market, this trend seems likely to continue.
The Recanati family name sounds Italian because it is Italian, by the way. Winery owner Lenny Recanati's family came to Israel from Italy in the early 1900s; he's a leading Israeli banker and financier, and the winery is now the country's sixth-largest. Rounding out the firm's international profile, wine maker Lewis Pasco is American-born, a University of California/Davis wine-making grad and trained chef, who worked at Napa's Chimney Rock and Sonoma's Marimar Torres and cooked at restaurants in San Francisco and New York City before moving to Israel.
Recanati wines are now available in the Italy, France, Germany, the U.K. and Japan as well as Israel and the U.S. Palm Bay brings in a range of eight wines, representing a range of international varieties, from a 2005 Sauvignon Blanc ($12.50 suggested retail) to a 2002 Reserve Cabernet Sauvignon ($22). The wines are made kosher for Passover, but like bagels and latkes, you don't have to be Jewish to enjoy them. I'll report on a few more of these wines in coming weeks.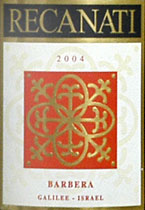 Recanati 2004 Galilee Barbera ($15)
Very dark purple, almost black; garnet at the edge. Black cherries and berries and a whiff of spice. Fresh and juicy fruit shaped by tart acidity; good sour-cherry tang in a long finish. A bit on the "international" side, it speaks of fruit more than the soil, but there's a distinct Italian accent in the snappy, food-friendly balance of acidity and fruit. U.S. importer: Palm Bay Imports, Boca Raton, Fla. (April 25, 2006)
FOOD MATCH: Its Italianate style made this wine a fine match with a quick, light variation on Italian-American meat and tomato "gravy" over fettuccine.
VALUE: A fine value in the mid-teens, and "street" prices may undercut this manufacturer's suggested retail.
WHEN TO DRINK: Like its Italian cousin, this Barbera is fine for early drinking but should hold up well for at least a few years. No rush to drink it.
PRONUNCIATION:
Barbera = "Bar-BARE-ah"
WEB LINK:
The winery Website appears to be information-packed, but it's all in Hebrew.
http://www.recanati-winery.com/
For English-language information, see the U.S. importer's Website,
http://www.palmbayimports.com/xq/asp/VID.781/qx/brands.html
FIND THIS WINE ONLINE:
Look up prices and locate sources for Recanati on Wine-Searcher.com:
http://www.wine-searcher.com/find/Recanati/-/-/USD/A?referring_site=WLP