That's Gneiss!
As I've pointed out before, one of the most intriguing things about wine is that it offers a virtual university education in a glass for those who choose to take advantage of it. Every bottle of wine brings along a whole curriculum of lessons that cover topics as diverse as geography and history, languages, culture and religion, agriculture and chemistry and so much more.
Of course there's always the option to push past all the academic stuff and simply drink the wine with pleasure. There's nothing wrong with that. But for most of us who enjoy thinking about wine and talking about wine almost as much as drinking wine, the intellectual element ranks right up there with sight, smell and taste.
For today's lecture, then, let's open our geology textbooks for a quick look at the rocky earth in which vineyards grow, and which, to some degree, fosters in wine a taste of the earth that the French call terroir.
The two wines featured - siblings and near-identical twins - come from Muscadet in the Loire Valley, a region where most producers take terroir, vineyard soil and minerality very seriously indeed. This producer, Guy Bossard, adorns the labels of his wine, Domaine de l'Ecu, with cross-sectional photos of granite-rich soil, and he names his bottlings after the specific rocks that distinguish separate vineyards: "Expression de Gneiss" and "Expression d'Orthogneiss." (He also makes an Expression de Granit," which I wasn't able to acquire.)
Being no geologist myself, I knew that gneiss was a rock, but didn't know how to pronounce it. (In fact, it's a sound-alike with "nice.") I'd never heard of orthogneiss and wouldn't have known one if I met it on the street.
As it turns out, gneiss and orthogneiss are both similar to granite, and that's a good thing for vineyard soil, as granite-rich earth allows easy drainage and permits roots to grow deep; and it is relatively infertile, a seeming negative that's actually good for grapevines (if not for corn or wheat) because it fosters intense, complex flavors in the fruit.
Gneiss is a coarse-grained rock with a layered structure. It's a "metamorphic" rock, meaning that at some ancient time its original form was altered by great heat or pressure or both. Orthogneiss is a subcategory of gneiss but an "igneous" rock, originally formed during Earth's development when molten lava or magma solidified into stone. The word "gneiss," according to Wikipedia.com, comes from an old Saxon mining term.
Is it necessary to know all this to enjoy the wine? Of course not. But the discovery of a matched pair of Bossard's 2004 Gneiss and Orthogneiss set up an intriguing "blind" tasting challenge: To what extent would the different stones in each vineyard affect the aromas and flavors of otherwise similar wines made from the same grape and similar vinification by the same wine maker in the same vintage? My findings - somewhat complicated by a slight volatile acidity flaw in one of the wines that may have obscured its mineral subtleties - are below.
Bossard is also one of his region's leading proponents of bio-dynamique ("biodynamic") agriculture, an offbeat variation on organic farming that straddles the lines between agriculture, philosophy and maybe even religion. That's another class session for another day.
---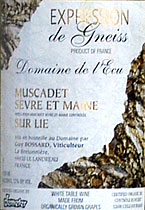 Domaine de l'Ecu 2004 "Expression de Gneiss" and "Expression d'Orthogneiss" Muscadet Sèvre et Maine Sur Lie ($9.99)
These two wines bear almost identical labels and were produced in the same vintage using similar biodynamic-organic principles from neighboring vineyards distinguished primarily by their geology, as the wine names reflect.
The Gneiss is a clear, straw-color wine; its distinctive "crushed seashells" and chalk character shouts "Muscadet!" White fruit and snappy citrus surround chalky minerality on the palate, clean, refreshing and long. Young and still showing primary fruit flavors, it might gain more minerally complexity with a year or three, but it's already fine.
The Orthogneiss is almost identical in color, clear straw with just a touch more yellowish hue. Sadly, the hoped-for comparison of minerality is stymied by an offputting volatile acidity in this bottle, "dusty" and metallic high-toned aromatics that eventually blow off, mostly, to reveal a somewhat more fruit-driven wine, lemon-scented honeydew melons and currants cloaking a stony minerality that's closer to slate than chalk. Singing acidity and intriguing minerality make me want to like the wine, but lingering volatility keeps intruding. U.S. importer: Kysela Pere et Fils Ltd., Winchester, Va. (March 31, 2006)
FOOD MATCH: Muscadet's natural companion might be perfectly fresh oysters on the half shell, unadorned except for lemon. But it goes mighty well with just about all forms of seafood and fish, and was well-matched with a simple dinner of fresh cod baked with white wine and olive oil, parsley and garlic.
VALUE: The Gneiss is one of the year's top $10 values at this local sale price, and only the slight volatility in the Orthogneiss detracts from a similar rating. It's still a fine buy at its more common price point in the middle teens.
WHEN TO DRINK: They're drinking nicely now, but both these wines would benefit from five years (or more) of aging under excellent cellar conditions.
PRONUNCIATION GUIDE:
Muscadet = "Moos-cah-day"
Gneiss = "Nice"
WEB LINK:
The U.S. importer has a fact sheet about Boussard's Muscadets, including the Gneiss, Orthogneiss and more, at this link:
http://www.kysela.com/loire/ecu.htm
FIND THESE WINES ONLINE:
Find vendors and compare prices for Guy Bossard's Muscadets on Wine-Searcher.com:
http://www.wine-searcher.com/find/Bossard%2bMuscadet/-/-/USD/A?referring_site=WLP