Wine to go?
You order an excellent wine to go with your restaurant meal, and when dinner is done, the bottle is half empty. Or half full, depending on your worldview. What do you do?
Common sense would dictate that you poke the cork back in the bottle and take it home to enjoy another day. But common sense, by and large, does not inform alcoholic-beverage-control laws. In most states of the U.S. and provinces of Canada, anyway, restaurants are generally not licensed for "package liquor" sales and, historically, have risked a fine or loss of their drinks license if they permit customers to carry out leftover wine.
In recent years, though, model legislation (usually pushed by the restaurant industry and wine distributors) has made its way through the law-making process in quite a few states, including New York and Massachusetts as well as a few more rural jurisdictions.
Kentucky's similar law won easy passage in March, with only nominal opposition from some lawmakers in "dry" regions. The law, as most of them do, requires that restaurant staff re-seal the bottle, place it in a container and provide a dated receipt. The consumer must keep the bottle in the trunk, a locked glove compartment or other place "inaccessible to the driver" during the quick trip home.
The changes have not gone without debate. Supporters argue that the new laws foster moderation because diners don't feel pressured to drink the whole bottle at the restaurant, then drive home. Opponents fret that drivers can all too easily defeat the system if they desire a quick swig - or several - for the road.
In Maryland, where a similar law just passed the legislature and awaits the governor's signature, a local newspaper found the expected range of opinions from cheers to jeers. Here's a link to the story in the Frederick (Md.) News-Post:
http://www.fredericknewspost.com/sections/news/display.htm?storyid=48112
WHAT DO YOU THINK?
I'm guessing that most wine lovers would hail this notion as progressive and right, but what do I know? To find out, we've set up another of those fun and informal online polls on our Netscape WineLovers Community. Click here to vote:
http://community.netscape.com/winelovers?nav=messages&tsn=1&tid=4192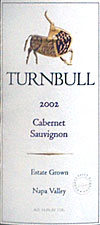 Turnbull 2002 Napa Valley Cabernet Sauvignon ($36)
Garnet color, clear but very dark; almost black at the center. Fruit-forward aromas, currants, berries and red cherries. Lots of fruit in the flavor, too; serious and balanced wine in a crowd-pleasing style. (April 8, 2006)
FOOD MATCH: Perfect with a dry-aged rib eye, slow-roasted in Chef Michael Schlow's style as discussed in yesterday's WineAdvisor FoodLetter.
VALUE: In this day and age, quality, limited-production California Cabernets are no more budget wines than are top Bordeaux or premier cru Burgundies. By this lofty standard, however, a wine of the Turnbull's character is a fine buy in the $30s, capable of competing at a higher price point.
WHEN TO DRINK: This Cab appears to have been vinified for immediate enjoyment, but the nature of the variety, and this wine's structure and balance, should carry it for a decade in the cellar, an experience that should see it evolve into a more subtle if not as fruit-forward a wine.
WEB LINK:
The Turnbull Website offers details about the winery and its extensive portfolio, including a wine-buying club.
http://www.turnbullwines.com/

For a tech sheet on Turnbull 2002 Napa Cabernet in Adobe (PDF) format, click
http://www.turnbullwines.com:8080/pdfs/Turnbullcabsauv02.pdf
FIND THIS WINE ONLINE:
I got today's wine, as I did Wednesday's Cline Bridgehead Zinfandel, from California Wine Club's Connoisseurs' Series, my most reliable source for highly rated, limited-production California wines. For more about Connoisseurs' Series, see below.
If you're in a region that Connoisseur's Series doesn't serve, you may be able to track down this hard-to-find wine using Wine-Searcher.com:
http://www.wine-searcher.com/find/Turnbull%2bNapa%2bCabernet/2002/-/USD/A?referring_site=WLP