Napa Wine Auction goes global
Erasing yet another bit of the line between the Internet and the real world, officials of one of the world's leading charity wine auctions, Auction Napa Valley, will make major wine lots available for online bidding this spring.
For the first time, it will be possible for wine enthusiasts anywhere in the world to place Auction Napa Valley bids from the comfort of their home or office computers.
Although there's nothing new about online wine auctions - such quality firms as The Chicago Wine Company, Winebid.com, Wine Commune and others have offered these opportunities for close to a decade - Auction Napa Valley and other high-profile charity auctions have been much more conservative about joining the computer age. Last year for the first time, the Napa event permitted bidding via digital "kiosks" on the festival grounds. Now that system goes global with an online "E-Auction."
"This year, wine lovers everywhere will be able to take part," auction sponsors said in a media statement. Beginning May 17, pre-bids and maximum bids on specific auction lots may be entered by computer from anywhere in the world. The annual Napa auction and festival runs June 1-4, and bidding will close at 2:45 p.m. PDT on June 2. "Auction guests will be able to watch the real-time results of the last rounds of bidding from oversize screens on site," festival sponsors said.
Calling itself "the granddaddy of charity wine auctions," an assertion that might come as a surprise to the Hospices de Beaune, Auction Napa Valley has raised more than $62 million for health care, youth services and low-income housing in the Napa region since it begain in 1981. This year's auction will be at Trinchero Family Estates in St. Helena, with associated events throughout the Valley. The wine-making Cakebread family chairs this year's event, which is sponsored by Napa Valley Vintners, the regional trade association representing more than 270 producers.
WEB LINKS:
The Auction Napa Valley home page is
http://www.napavintners.com/auctions/wineauction.asp
Information about the online E-Auction is here:
http://www.napavintners.com/auctions/e-auction_how_to_bid.asp
Finally, to examine the 62 lots of wine and wine-related items available for online bidding, see
http://www.napavintners.com/auctions/auction_napa_valley/lots/2006_elots.asp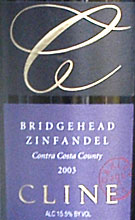 Cline 2003 Contra Costa County "Bridgehead" Zinfandel ($26)
This is a very dark reddish-violet wine. Its aromas show classic Zinfandel bramble fruit - raspberries and blackberries - with a warm note of raspberry liqueur. Big and bold mixed-berry flavors are intensely fruit-forward, as a big Zin should be, but mouth-watering acidity, light tannins and judiciously integrated oak provide structure and balance. Its brawny 15.5% alcohol makes its presence manifest as warmth and full body, but the wine is structured to carry it well. Powerful, well-made Zin in the blockbuster style. (April 1, 2006)
FOOD MATCH: I like Zinfandel with lamb, and this one made a stunning match with a robust, Mario Batali-style dish built to go with the wine: Lamb shanks "deconstructed" in an intense pan reduction with red wine and subtle curry flavors, served over orzo.
VALUE: What's good news for Zin producers is less happy news for consumers, but let's be frank: The days of serious Zinfandel as a modest quaffing wine available at spaghetti-wine prices are long past. Certainly Cline's top bottlings earn their rightful place in the $20s range, in competition with other Zins and in comparison with other major red-wine categories.
WHEN TO DRINK: I'm in the drink-Zin-young school, admiring the exuberant youthful fruit that makes this variety special, I'm in no doubt that this balanced Zinfandel would handle cellaring well for those who prefer the more "claret-like" character of older wines.
WEB LINK:
The Cline Cellars Website provides plenty of information about the winery and its wines, with an online store offering currently available wines (the 2004 Bridgehead is now in stock) at full-retail winery prices.
http://www.clinecellars.com/
FIND THIS WINE ONLINE:
I got today's wine from California Wine Club's Connoisseurs' Series, my most reliable source for hard-to-find and highly rated California wines that consistently please my palate. For more about Connoisseurs' Series, see below.
Cline's single-vineyard Zinfandels (and other wines) are also available at full list price on the winery Website; if you're in a world region that Connoisseur's Series doesn't serve, you also may be able to track down a bottle using Wine-Searcher.com:
http://www.wine-searcher.com/find/Cline%2bBridgehead/-/-/USD/A?referring_site=WLP