Think pink for spring
After a chilly month that held things back a bit, it's finally starting to look a lot like spring around these latitudes, with green buds and spring flowers popping. What better way to greet the season, on a sunny if slightly brisk April afternoon, than to pop open a crisp, dry rosé?
This one's a favorite, a bone-dry and crisp California pink wine in the style of Provence, from the prolific Bonny Doon Vineyards of offbeat producer Randall Grahm. It comes neatly packaged with a sturdy, modern metal screwcap, along with a wacky neck-hanger brochure that explains the six stages of, er, closure - including "denial," "anger" to "acceptance," for wine lovers in the process of getting over natural cork. For more on this, see DeathOfTheCork.com, Bonny Doon's cheeky marketing splash that accompanied its 2002 move to Stelvin-brand metal screwcaps on most of its wines.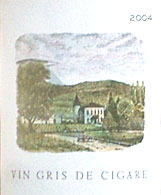 Bonny Doon 2004 "Vin Gris de Cigare" California Pink Wine ($12.99)
Transparent salmon color. Appealing fresh-fruit scent, red berries with a hint of watermelon. Crisp and dry, fresh fruit and zippy acidity over a rather full body built on 13.5 percent alcohol. Similar to the style of Provence rosé this is no mere "blush" wine; great with Asian fare. (April 4, 2006)
FOOD MATCH: It worked particularly well with a medium-fiery Chinese dish, Ma Po Tofu (recipe featured in the June 12, 2003 Wine Advisor FoodLetter). The wine was properly quenching with the dish's spicy heat, and the fragrance of toasted Sichuan pepper seemed to bring up the wine's berrylike fruit.
VALUE: It's competitive at this lower-teens price, but shop around, as it's widely available for less, often on sale for less than $10.
WHEN TO DRINK: Like virtually all rosé wines, this is best enjoyed young and fresh; drink up this year, then watch for the 2005, which is already coming into the marketplace.
PRONUNCIATION:
Vin Gris = "VaN Gree"
WEB LINK:
As you might expect, Bonny Doon's Website is on the wacky side. To go direct to the essay on Vin Gris de Cigare, click:
http://www.bonnydoonvineyard.com/wine/view/118
FIND THIS WINE ONLINE:
Look for sources and compare prices for Vin Gris de Cigare on Wine-Searcher.com:
http://www.wine-searcher.com/find/Vin%2bGris%2bCigare/-/-/USD/A?referring_site=WLP