Best cheap fizz
Here's a one-word wine prescription to cure what ails you if you've been feeling snobbish lately: Prosecco.
This modestly priced if rarely exalted sparkling wine from Northeastern Italy's Veneto region between Venice and Trieste is rapidly gaining popularity for two very good reasons: It's affordable, and it's good.
That's reason enough to go get some, uncork it, and take the rest of the day off. But before we do, let's stop for a moment for a quick but important lesson in challenging the conventional wine wisdom.
Few wine enthusiasts ever question the standard assumption that Champagne - the real stuff from France - stands head and shoulders above all other sparkling wines, and that this primacy stems, at least in part, from its production by the methode champenoise process in which the wine is individually fermented in every bottle. This is a difficult, labor-intensive and artisanal effort, and it justifies the expense with quality that no other sparkling wine can approach. Or so goes the tale.
But then there's Prosecco. Low-cost, mass-produced, made not in the bottle but by the often-maligned Charmat process, which may mockingly be defined as "individually fermented in this great honkin' vat." No wonder it generally sells for $10 or so and rarely crosses the $20 line, while that hand-made Champagne starts in the upper $20s and rapidly heads upward from there.
The key to Prosecco's popularity may lie in a consistently fresh, clean character that belies its humble production method. While I wouldn't make the foolish claim that Prosecco could stand side-by-side comparison with a great Champagne on the basis of subtlety or finesse, I do find that I'm turning more and more to the Italian option when I want something fun and fizzy. Compared with Spanish Cavas, American low-end bubbly or any other sparkling wine in its price niche, Prosecco scores for me with a wine that's consistently crisp, fresh and clean.
TELL US WHAT YOU THINK!
We had such a good time with last week's "Eat and sip" poll on our WineLovers Community, I thought it would be fun to try another poll on today's topic, offering you the opportunity to click to our forum and express your opinion in "Today's Poll: Best cheap fizz." Take your pick from the options "Champagne," "Prosecco," "Cava," "US bubbly" or "Other (discuss)."
I hope you'll take the time to participate. The voting procedure is quick and simple, and there's no need to go through the easy registration process unless you wish to join in the discussion after you vote (which, of course, I hope you will).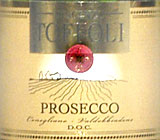 Vincenzo Toffoli Conigliano-Valddobbiadene Prosecco ($14.99)
This is a clear, straw-color wine with a lasting stream of pinpoint bubbles. Citric and delicately floral aromas of lemon-lime and citrus blossoms lead into a rich mouthfeel with good body and creamy carbonation; clean citrus flavors follow the nose. It's not overly long, but the finish remains clean and crisp, a rare and admirable thing in a modest sparkler. U.S. importer: Martin Scott Wines Ltd., Lake Success, N.Y. (March 13, 2006)
FOOD MATCH: Good bubbly goes with just about everything, and this one was fine with a moderately hot-and-spicy asparagus and tofu stir-fry scented with toasted Sichuan pepper.
VALUE: While there's a lot of $10 Prosecco around, you can expect those from Conigliano and Valddobbiadene to command a few dollars more; no complaints at this mid-teens price, particularly when you comparison shop with Champagne.
WHEN TO DRINK: Freshness is a virtue in Prosecco: Drink it young. Note also that non-vintage product can be a fooler, so shop at merchants you trust, and don't be shy about asking how long a bottle has been on the shelf.
PRONUNCIATION:
Prosecco = "Pro-seck-coe"
Conigliano = "Coe-neel-yah-noe"
Valddobbiadene = "Vahl-doh-b'ya-day-neh"
WEB LINK:
Vincenzo Toffoli has a brief Web page in Italian; click the British flag for a fact sheet in English in Adobe Acrobat (PDF) format:
http://www.proseccotoffoli.it/
FIND THIS WINE ONLINE:
Look up prices and locate sources for Vincenzo Toffoli Prosecco on Wine-Searcher.com:
http://www.wine-searcher.com/find/Toffoli%2bProsecco/-/-/USD/A?referring_site=WLP