Wine and the Irish
"Did St Patrick enjoy a glass or three of wine?"
With the Irish saint's day coming up Friday and much of the world putting on something green regardless of our actual ethnic heritage, this provocative opener to a story in Sunday's Belfast Telegraph caught my eye. It's not a question I had thought of before, but if I ever imagined Saint Paddy drinking at all, I would have envisioned him quaffing something black and malt-based, an early precursor of Guinness Stout.
Not so, argues writer John Hunter in a feature story headlined Wine & Vine: Here's to St Pat. Since the historical Patrick's family was Romano-British nobility, he said, wine imported to the northern Isles from Rome might have been a normal thing. What's more, Hunter wrote, "Patrick's later Irish crusade led missionaries to Europe, where early records of their presence in Bordeaux and the Loire valley exist."
Ireland's French connection in more recent times - "recent" being interpreted as "the past 300 years" - is even more easy to trace. Simply check out the vineyard map of Bordeaux, and you'll find it as studded with Irish names as currants in a loaf of soda bread: "Lynch", "Boyd", "Kirwan", "Barton", "Clarke", "Dillon", "McCarthy" and "Phelan" all appear on the labels of excellent Bordeaux, including such great properties as Chateau Lynch-Bages and, at the pinnacle, Chateau Haut-Brion and the other properties of Domaines Dillon.
So if you're not in the mood for a black draught of Guinness or green-tinted mass-market American suds on Saint Patrick's Day, feel free to substitute a glass of fine Irish Bordeaux. And, although a good claret should go well enough with corned beef and cabbage, bear in mind that this purportedly Irish dish is really an Irish-American immigrant invention. Back on the Auld Sod they'll be dining on spring lamb, and there's really nothing better with that than a good Bordeaux.
If you'd like to read John Hunter's full story in The Belfast Telegraph online, here's a link:
http://www.sundaylife.co.uk/features/story.jsp?story=682339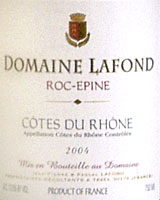 Domaine Lafond 2004 "Roc-Epine" Côtes du Rhône ($14)
I'm enjoying the return of a good, typical vintage in much of Europe after the wacky, fruit-forward and oversize wines that were all too common in the record-heat year of 2003. This modest table wine offers a lovely example: There's plenty of fruit, but it's well-structured with acidity and tannin in a balanced, food-friendly wine that takes me back in memory to years long past, discovering cheap but hearty Rhone reds served by the pitcher in Paris sidewalk cafés. Dark ruby in color with glints of reddish-orange, it offers classic Côtes du Rhône aromas of peppery cherry-berry fruit. Mouth-filling flavors follow the nose, juicy fruit shaped by tart acidity and substantial tannins. U.S. importer: Wines of France Inc., Mountainside, N.J. (March 11, 2006)
FOOD MATCH: Red meat is a natural companion, and it went very well with pan-seared flatiron steaks scented with garlic and lots of black pepper. Yes, it will be just fine with St. Patrick's Day corned beef, too.
VALUE: After so many years in which basic Côtes du Rhône was a stalwart of the under-$10 bins, it's sad to see it selling the middle teens. In fairness, though, this one is more than competitive with other table reds at this price poin.
WHEN TO DRINK: Côtes du Rhône is billed as a drink-now wine, but this item's balance and tannic structure suggests that it will hold up well for several years on the wine rack or in a cellar.
PRONUNCIATION:
Côtes du Rhône = "Coat doo Rone"
WEB LINK:
Domane Lafond's attractive blog-style Website is available in French and English:
http://www.roc-epine.com/
FIND THIS WINE ONLINE:
Look up prices and locate sources for Domaine Lafond Roc-Epine Côtes du Rhône on Wine-Searcher.com:
http://www.wine-searcher.com/find/Lafond%2bEpine/-/-/USD/A?referring_site=WLP