The return of Nero d'Avola
Let's return to Sicily, this month's topic in our online Wine Tasting 101, for a brief lesson in the way things change in the wine business: Nero d'Avola, nowadays one of Sicily's top wine exports, seemed on the verge of disappearance no more than 20 years ago.
In her excellent 1986 book, "Vines, Grapes and Wines," Jancis Robinson disposed of the variety in a single sentence - actually, part of a sentence - "Other Sicilian red varieties include the excellent Nero d'Avola (or Calabrese) ..."
Hugh Johnson's 1983 "Modern Encyclopedia of Wine" didn't mention Nero at all, although Johnson did pick up on the rapid changes that were starting to occur in the Sicilian wine industry, noting that it had become "the biggest in Italy and one of the most modern. Enormous new vineyards supply automated cooperatives, which churn out 'correct,' clean and properly balanced modern wines. ... It is a table-wine industry, based not on local traditions but on choosing appropriate grapes, converting cornfields into mechanized vineyards, and making wine with cool efficiency (with the emphasis on cool. None of this could have been achieved without New World techniques of refrigeration - and huge government grants. ... The industry has grown far faster than its market."
As part of that process, total plantings of Nero d'Avola ("The black grape from Avola," a village near Syracuse on the island's southeast corner) decreased by fully one-third during the 1980s, in favor of international varieties that were seen as more commercially viable.
Perhaps because of its inherent quality - it is, after all, a reliable producer of hearty, ageworthy red wine - a market remained for Nero d'Avola. As the prices of Northern Italy's more highly regarded treasures, from the Piemontese Barolo and Barbaresco and the Tuscan Chiantis, Brunellos and "Super Tuscans" began to command premium prices, Sicilian wines of good quality started to fill in the midrange market niche. If Nero d'Avola lent itself to a fruit-forward, "international" style that could command critical praise and quick sales, who but the occasional "wine geek" would mind if that sense of the land called terroir was lost in the shuffle?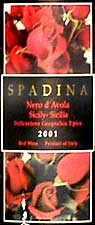 Spadina 2001 Nero d'Avila Sicilia ($11.99)
Very dark reddish-purple, black at the core. Deep, plummy fruit and spice, plums and blueberries; ripe and full, mixed-berry fruit and tangy acidity. Rather "international" in style as is typical of most exported Nero d'Avola, but fresh fruit and reasonable balance score well in its favor. U.S. importer: William Grant & Sons, NYC. (Jan. 29, 2006)
FOOD MATCH: The simple but bold and spicy flavors of a classic Southern Italian pasta dish, spaghetti amatriciana, makes a perfect foil for this big, fruit-forward wine.
VALUE: More than fair at this price in the low double-digits.
WHEN TO DRINK: Nero d'Avola holds up well, and a couple of years in the bottle may add a bit of nuance; note that the 2002 and 2003 vintages are already in the commercial pipeline.
PRONUNCIATION:
Nero d'Avola = "Neh-roe Dah-voe-lah"
FIND THIS WINE ONLINE:
Look up prices and locate sources for Spadina Nero d'Avola on Wine-Searcher.com:
http://www.wine-searcher.com/find/Spadina%2bAvola/-/-/USD/A?referring_site=WLP