This article was published in The 30 Second Wine Advisor on Monday, March 6, 2006.


Hugh Johnson: A Life Uncorked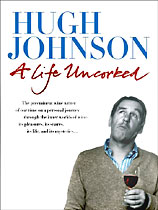 Click the cover image above or this link to order Hugh Johnson's "A Life Uncorked" from Amazon.com paperback for $22.02, a 37 percent saving from the $34.95 list price.

As I think I've mentioned before, it's a funny thing for a Yank to admit, but my favorite wine writers have always been British. I like Jancis Robinson for her knowledge, style and grace, and the clarity of her writing. I like Broadbent and Coates and others for their depth.

And perhaps mostly because I encountered him first, before Robert M. Parker Jr. or Wine Spectator had even appeared on the wine world's radar, I feel a deep affection for Hugh Johnson, whose little pocket wine encyclopedia - it must have been the 1978 edition - was my first introduction to serious wine. As this prolific scribe added book after book to his collection, I read them as quickly as he turned them out, and it's no exaggeration to say that his approach and his style molded the way I think about wine.

There's something about the way the British writers in general approach the world of wine that fits comfortably with my impression of our favorite beverage as a civilized and inseparable part of life. Some of the American writers almost seem to feel that wine is a sort of hobby that can be learned from workbook or manual, reduced almost to a set of mathematical formulas, an thing that can be segregated from its surroundings and enjoyed without outside context.

A passage in Johnson's new biography, "A Life Uncorked," almost made me jump up from my chair with a shout, it expressed this distinction so well. Let's turn the pulpit over briefly to Hugh for this telling excerpt:
"Perhaps I should have started by asking what wine is for; there may not be such an obvious consensus. I rarely, for example, drink wine, or more than a couple of glasses of wine, without food - and when I do it is almost always white. Wine for me is essentially what I drink while eating, which is not at all the case with my children's generation. I can only respect their capacity for wine unmixed with solid matter. If they want wine which itself tastes more solid, if that's the word, I can hardly be surprised."
This kind of puts those 90-point Barossa Shirazes or overwhelming Spanish Priorats into a new context, doesn't it? Johnson goes on ...
"It depends on whether you see wine primarily as a drink or as a recreational substance. In a drink you look for something refreshing and satisfying without too loud a voice, not too intrusive on your food or your thoughts each time you take a sip. ... At table I am using the wine as sauce or lubricant for my food. A bite, a sip, the food and the wine together in my mouth; it blends their flavors almost as though the wine had gone into the pot. It works when both have the same intensity of flavour, or nearly. If the food is much more tasty, or spicy, or hot or acid, then the wine falls back into the role of a chaser; just a liquid to clear the passage for another mouthful. If the wine is more intense in flavour, fruitier or sweeter than the food, or with tannins that attack your palate, the artistry of the chef goes for nothing. All that is left is texture, and even that can be blotted out by a too-forceful wine."
So much for blockbuster wines bearing, in Parker's famous and parody-inviting phrase, "gobs of hedonistic fruit." And lest there be any doubt that he's consciously staking out separate ground, Johnson adds, a bit later in the book ...
If I missed the point of what Robert Parker was trying to do with his percentages of perfection, I made a mistake. To me his numbers game was simply irrelevant. He could score away as he liked, and I could enjoy my wine untroubled. It took years for the realization to dawn that his scoring was influencing the way wines were being made. He, of course, would say for the better. We have different tastes."
As, in fact, do I. So naturally when Johnson's latest book arrived (published in Britain last year, it's now out in a U.S. edition from University of California Press), I devoured it. Lavishly illustrated with many of Johnson's own photos, it ranges from wine style to wine style ("Bubbly," "White," "Red" and "Sweet"), recalling the places he's seen and the friends he has made in a long lifetime in wine. It's an unusual book, certainly not a handbook or novice's guide but a warm and loving and very personal remembrance and diary of his life in wine.
It makes me smile, with much the same kind of enjoyment I might take from enjoying a glass of fine wine with an excellent meal. But it also leaves me with a tear because, although Johnson doesn't explicitly say so, this long look back has the tone of a valedictory and a farewell. He'll be 70 in 2009, and I for one don't want to see him leave us.
If you'd like to order "Hugh Johnson: A Life Uncorked" from Amazon.com, the following link offers it for $22.02, a 37 percent saving from the $34.95 list price. Orders placed using this exact link will return a small commission to WineLoversPage.com.
http://www.amazon.com/exec/obidos/ASIN/0520248503/robingarrswineloA/

The Connoisseur's Series:
Unparalleled excellence in California wine
For many years, we've been partners and friends with the good folks at The California Wine Club, a firm that has consistently impressed me - and that I know has impressed literally thousands of you - with their commitment to excellence in their wines and their consumer service.
While you probably know California Wine Club best as a reliable source of quality, affordable wines from carefully chosen "mom and pop" California producers, plus select higher-end wines through its Signature Series, you may not have been aware of its Connoisseur's Series, a remarkable wine club limited to rare California beauties that typically garner 90-plus ratings from the major critics but that are almost impossible to find in stores or even winery mailing lists.
Recently, for the first time ever, membership in Connoisseur's Series has become available to WineLoversPage.com readers and our 30 Second Wine Advisor subscribers.
In the Jan. 23, 2006, Wine Advisor, I reviewed my first set of Connoisseur's Series wines and was metaphorically blown away by their quality: These are wines that underscore California's standing among world-class wine regions.
Below I report on three more recent arrivals that reinforce that reaction. You may be able to find these wines at retail, although their quality, high ratings and limited production can make them difficult to track down. But Connoisseurs' Series makes it easy, by doing the work of selecting and sourcing the wines for you, then offering the opportunity to buy additional bottles in half- or full-case lots at attractive discounts. If you're in the market for the very best California wines, I can't imagine a better way to get the maximum bang for your buck than through Connoisseur's Series.
The Connoisseur's Series is the only wine club in America that can guarantee a monthly wine shipment of impossible-to-find, 90-plus-rated wines - each and every time. Whether you choose to receive wines monthly, every other month or quarterly, every shipment is guaranteed to include two to four bottles of California's highest-rated wines, along with detailed tasting notes, cellaring recommendations and winemaker comments. Monthly shipments average $125-$175, including all shipping and handling.
To join this elite club, call The California Wine Club at 1-800-777-4443 and ask about The Connoisseur's Series. Feel free to tell them that I sent you ... and, if you join, please don't hesitate to contact me by E-mail and tell me what you think.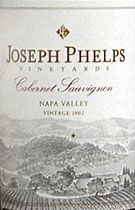 Joseph Phelps 2002 Napa Valley Cabernet Sauvignon ($48 retail, $44 per bottle for half or full case orders from Connoisseurs' Series)
This wine shows an inky, deep color, black almost to the edge, where there's a thin rim of reddish-purple. Lovely aromas of black fruit and a hint of cocoa over distinct eucalyptus paint a classic Napa Cabernet profile, and it's just as well put-together on the palate, where full-bodied black cherries and plums are built on a sturdy structure of acidity and firm but palatable tannins. It's drinking beautifully now, especially with rare beef on the table, but it will surely reward extended cellar time. The addition of 8% Petit Verdot, 6% Merlot and 3% Cabernet Franc add a touch of Bordeaux-style complexity to the blend. Winery Website: http://www.jpvwines.com/index.html (Feb. 27, 2006)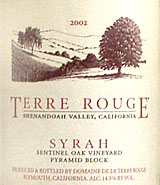 Terre Rouge 2002 Shenandoah Valley California Sentinel Oak Vineyard Pyramid Block Syrah ($44 retail, $39 per bottle for half or full case orders from Connoisseurs' Series)
Another inky blackish-purple, this Gold Rush Country Rhone Ranger is dark all the way to the edge. Deep and brooding, lovely Syrah fruit mingles black plums and leather - not saddle leather but well-bound antique books - with just a hint of menthol. Full and ripe, black fruit flavors are consistent with the nose, with a firm acidic backbone that shows a real kinship with the ageworthy Syrahs of the Northern Rhone. Soft tannins are well integrated, and it carries its substantial 14.5% alcohol well. It made a first-rate match with the earthy, spicy flavors of North African merguez lamb sausages over couscous. 800 cases made. Winery Website: http://www.terrerougewines.com (March 2, 2006)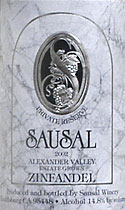 Sausal 2002 Alexander Valley Private Reserve Zinfandel ($22 retail, $18 per bottle for half or full case orders from Connoisseurs' Series)
Not merely inky but opaque, as black and shiny as patent leather, with a glint of purple at the edge. Ripe blackberries and judiciously handled oak come together in an appetizing blend of fresh berry scents and brandied fruit compote. Big and full-bodied, mouth-filling fruit and bright acidity, with full, round fruit flavors that suavely conceal its hulking 14.8% alcohol content. Italian-style hamburgers enhanced with porcini made a stylish complement. http://www.sausalwinery.com/ (March 5, 2006)

WineLoversPage.com