WT101 - Viva Sicilia
Now that the Winter Olympics are over and the world bids a reluctant farewell to Torino in the Alpine regions of far Northern Italy, let's take a trip to the other end of Italy for this month's excursion in our Wine Tasting 101. Throughout the month of March, we'll be tasting and talking about the wines of Sicily, the football-shaped island just off the toe of Italy's "boot."
One of the most ancient of Italy's regions, Sicily traces its vibrant, mixed heritage to the Greeks and the Phoenicians, the Romans and the Saracens. Bread basket to the ancient world, frequently colonized and often exploited, Sicily may be best known to the world for its darker side ... grinding poverty and organized crime. But it's also a starkly scenic land of proud people, who've been growing grapes and making wine for 2,500 years or more.
Until modern times, those wines have been widely disregarded as poor, "peasant-style" vino, harsh and raw and best suited for washing down country fare. But the times - and the wines - are changing as Sicily and its Southern Italian neighbors enjoy a growing economy and increasing visibility on the international marketplace.
Much like Southern France, Sicily and Southern Italy boast a warm climate that invites high vineyard yields and an ocean of modest, inexpensive wine. As technology comes to a once-rural industry, the potential for improvement is strong, and more than a handful of producers see quality as the key to market share.
With a lot of new wine and new labels coming out of Sicily - much of it at attractive prices - you'd expect the wine universe to be buzzing with word of bargains and value. In reality, though, there's a shadow on this sunny picture: By and large, it seems that the Sicilian industry - or at least that portion of it that's going after an export market - is convinced that the rest of the world wants "modern-style" wines, those big, fruit-forward, low-acid fruit bombs with so little sense of place that it becomes hard to distinguish a Sicilian Nero d'Avola from a Central Coast California Pinot Noir or a big Australian Barossa Shiraz.
Is there a middle ground? Can we find earthy, terroir-driven Nero d'Avola or interesting, complex whites made from Sicilian white varieties like Grillo, Catarratto Bianco or Grecanico? That's our assignment this month, and you're invited to join in as we explore the world of Sicilian wine in Wine Tasting 101.
WEB LINK:
My favorite Website for exploring Italian wine and food in general is the excellent, well-organized Italianmade.com, English-language home of the Italian Trade Commission (Istituto nazionale per il Commercio Estero or I.C.E.).
Here's a direct link to its section on Sicilian wine:
http://www.italianmade.com/regions/region19.cfm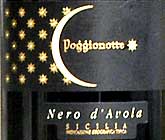 Poggionotte 2003 Nero d'Avola Sicilia ($13)
Typical of the grape, it's an inky blackish-purple color, showing violet glints against the light. Mixed-berry fruit aromas of blackberries and blueberries are marred at first by an unattractive level of volatile acidity, but this soon blows off to reveal the fruit-forward, "blueberry milkshake" character that's typical in modern Sicilian reds. Big and full on the palate, berries and just-sufficient acidity. A whiff of earthy "barnyard" adds a hint of complexity to what would otherwise be a monolithic "Shiraz-style" Italian wine, but it's still made for those who like blockbuster, fruit-forward reds. U.S. importer: North Berkeley Imports, Berkeley, Calif. (Feb. 28, 2006)
FOOD MATCH: A stereotypically ethnic food choice - Southern Italian-style meatballs with raisins and pine nuts over spaghetti with tomato-sauce "gravy" - serves it well, bringing bold flavors to bear against the wine's ripe and forward fruit.
VALUE: It's certainly well-made, and hard to quibble with a price point in the low teens, but as noted, much depends on how you feel about this modern style of Sicilian wine.
WHEN TO DRINK: Nero d'Avola is considered a wine with aging potential, although this fruit-forward style has much to lose as the primary flavors fade. I'd cellar it only as an experiment.
PRONUNCIATION:
Nero d'Avola = "NEH-roe DAH-voe-lah"
WEB LINK:
I couldn't find a Poggionotte Website; here's a short article about the producer from another distributor:
http://www.montecastelli.com/wine/producer_profile.cfm?id=Poggionotte
FIND THIS WINE ONLINE:
Look up prices and locate sources for Poggionotte Nero d'Avola on Wine-Searcher.com:
http://www.wine-searcher.com/find/Poggionotte%2bAvola/-/-/USD/A?referring_site=WLP