Porn star's wine earns Parker 90
In a stunningly unlikely celebrity entry into the world of wine, porn star Savanna Samson, who's reportedly best-known for her gyrations in the X-rated "New Devil in Miss Jones," has launched a signature brand of Italian wine labeled Sogno Uno ("Dream One")
That's the setup; here's the punch line: Iconic wine critic Robert M. Parker Jr. loves it! The wine, that is. In a story headlined "Naked Came the Vintner" in today's New York Times, writer Warren St. John reports, "After tasting a young bottle of Sogno Uno at a Paris bistro last fall, Mr. Parker gave Ms. Oliveros's wine a rating of 90 to 91 or outstanding, a judgment that quickly became the talk of the wine world. 'It's a very fine wine - awfully good,' Mr. Parker said by telephone. 'It was really opulent and luscious and it had a personality.'"
The Times declared Samson, whose real name is Natalie Oliveros, "a porn celebrity," noting that she has starred in more than two dozen sexually explicit films and has twice won the Adult Video News Award for best actress.
Sogno Uno, a Northern Italian blend of Cesanese, Sangiovese and Montepulciano grapes from Lazio and Tuscany, made for Samson by the wine maker Roberto Cipresso, goes on the market this week at wine stores and restaurants in Manhattan. Just 409 cases were made, and the slinky celeb hopes to sell it for $38 a bottle. It was not immediately known whether one opens the wine by pulling a cork or unscrewing a ... aw, I just can't say it.
Will the Parker rating make this offbeat wine fly off the shelves? Or will other factors drive sales? What do you think? Would you try it? The wine, I mean. Drop by our online WineLovers Community and tell us what you think.
WEB LINK:
Here's a link to St. John's story in The New York Times:
http://www.nytimes.com/2006/02/26/fashion/sundaystyles/26SAVANNA.html
Free registration is required to access Times articles online, but it's a small price to pay for access to most of the content of the U.S. newspaper of record.
Speaking of sultry Latin beauties, here's an inexpensive, fruity little item from Provence that's no cheap tart.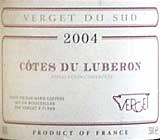 Verget du Sud 2004 Côtes du Luberon ($8.99)
This is a dark-garnet wine with a clear edge. It offers fresh, attractive aromas of red and black plums with just a hint of earthy "barnyard" scent in the background, not at all "dirty" but evocative of country lanes on summer nights. Mouth-filling, juicy and tart, plums and a touch of spice on the palate, good acidity and a soft back note of tannic astringency; a touch of fragrant black pepper lingers in the finish. Good wine at a good price, and unexpectedly "Old World" for a wine from Jean-Marie Guffens' Verget, a label usually associated with modern, international-style wines. U.S. importer: Vintner Select, Cincinnati, and other regional importers. (Feb. 19, 2006)
FOOD MATCH: Served well enough in an experimental tasting with fiery Western Chinese fare, but really better suited with red meat or grilled/roast poultry.
VALUE: You won't find much better value than this at the under-$10 price point.
WHEN TO DRINK: Not meant for long-term cellaring, but there's no hurry to drink it ... it should keep on the wine rack for at least a couple of years.
WEB LINK:
Surprisingly for such a widely exported label, I can find a winery Website only in French:
http://www.verget-sa.com/
For a change of pace, you might enjoy a feature story about Vintner Select, a small but respected Cincinnati-based importer, that appeared in Sunday's Cincinnati Enquirer:
http://news.cincinnati.com/apps/pbcs.dll/article?
AID=/20060226/COL08/602260331/1081/BIZ
(If your E-mail software breaks this long link in half, you may need to paste it back together to make it work.)
FIND THIS WINE ONLINE:
Look up prices and locate sources for Verget du Sud Côtes du Luberon on Wine-Searcher.com:
http://www.wine-searcher.com/find/Verget%2bLuberon/-/-/USD/A?referring_site=WLP