Stopper topper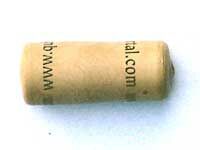 If there's one thing I would have thought certain after my recent visit to Portugal and interviews with natural-cork producers, it is that Portugal's wine industry fully supports the cork makers in their commitment to fend off all imitators, foreign and domestic.
Indeed, for a Portuguese winery, you'd think that using an artificial wine-bottle stopper would be almost as out of place as telling a rude joke in church.
You'd think.
Imagine my surprise, then, when I brought home a very modestly priced Douro red wine from a respectable Port producer - another of those intriguing dry table wines made from the traditional Port grapes - and peeled off the capsule to discover ... a plastic cork inside! It was the solid type, the one that sticks so tightly to your corkscrew that it takes pliers to get it off, extruded in a rather repellent flesh color with the winery's Web address encircling each end.
Whaddya think of that?
Personally, although I'm still open to quality screw caps (like the Stelvin brand) as a plausible alternative to natural cork, I think the jury has pretty much come back with a negative verdict on synthetics, based not only on esthetic factors but a growing body of experience that suggests they simply don't do a good job of keeping the wine intact. But wherever you come down on this argument, it's still an unexpected thing to see anything but real cork in a wine from Portugal.
All that said, this 2003 "Mural" Douro from Quinta do Portal, still young enough to fall within a reasonably safe zone for synthetic stoppers, was an enjoyable table wine and a very good value for the price. I'm a bit puzzled about its backround, though: The winery's own Website provides information only on the 1999 vintage, and Wine-searcher.com comes up with a single listing for a 1996. So how did this apparently rare 2003 with a plastic cork find its way to Louisville, Ky.? We'll just have to file this away as one of the small mysteries that makes wine interesting.
Quinta do Portal 2003 "Mural" Douro ($8.99)
This is a very dark blackish-purple wine with ruby glints. Smoky black-cherry and plum aromas carry over on the palate as medium-bodied black-fruit flavors shaped by tart, almost sour acidity that's fine with food but on the tangy side for sipping by itself. Light tannins appear only in the long, tart finish. A blend of 60 percent Touriga Franca, 25% Tinto Roriz (Tempranillo) and 15 percent Touriga Nacional, it's aged nine months in French barrels. U.S. importer: MHW Ltd., Manhasset, N.Y. (Feb. 21, 2006)
FOOD MATCH: Fine with red meat or roast or grilled poultry; it was excellent with a Portuguese dish, the Galinha Estufada featured in the Wine Advisor FoodLetter on Feb. 16, 2006.
VALUE: Dry Douro reds generally offer fine value, and this one is no exception.
WHEN TO DRINK: Although these wines normally show good aging potential, I wouldn't recommend it under the plastic "cork."
WEB LINK:
The winery Website has a fact sheet on Mural, but it dates back to the 1999 vintage.
http://www.quintadoportal.com/main.php?setid=25&id=32
FIND THIS WINE ONLINE:
As noted, you'll find only limited hits on Quinta do Portal "Mural" at Wine-Searcher.com:
http://www.wine-searcher.com/find/Portal%2bMural/-/-/USD/A?referring_site=WLP