Offbeat grapes - Malvasia
The annual dinner of The Wine Century Club is coming up in New York City next month, and naturally I'm planning to be there.
The club, a casual organization for wine enthusiasts who can claim to have tasted at least 100 wine-grape varieties, was founded by my pals Steve and Deborah De Long, and as a longtime fancier of odd and offbeat grapes with close to two hundred varieties on my personal life list, I've followed it since the very start.
As regular readers of this publication will know well, one of my great joys in wine is discovering new tastes, new grapes and new regions. (My other great wine joy is going back to old favorites over and over again, but that's a whole 'nother story.)
Today, prompted by a recent California Wine Club selection, let's take to the wine road for a quick taste of Malvasia, a very ancient grape that found a natural home in Italy but has moved on to many other regions.
Pronounced "Mahl-vah-ZEE-ah," the name actually covers a couple of dozen sub-varities and clones, including a red variety, although white is by far the most common. Thought to stem from Greece and the Greek islands (where it was called Monemvasia after a seaport town, it was adopted by the Romans, spread through Italy, and eventually throughout the Mediterranean and on to the New World. Fruity and headily aromatic, Malvasia makes memorable dessert wines, and may be best known in modern times as Malmsey, the English-accented moniker that the British gave it in Madeira. (The French re-named it, too, as Malvoisie, and also use it in sweet wines, mostly from the Pyrennees.)
In Italy, Malvasia is fairly widely grown and turns up occasionally as a single-varietal sweet or dry wine in Northern regions, but most often ends up anonymously - often blended with Trebbiano - in everyday white wines. Same's true in California, where Italian immigrant winemakers brought it to the Central Valley more than a century ago, and where it's mostly used in jug-wine blends.
Here and there, though, imaginative producers make Malvasia Bianca into a more "serious" white wine ... and you'll find few more serious (or delightful) than this offering from Drytown Cellars, a small but impressive winery in Amador County, California's Gold Rush country.
Drytown Cellars 2004 California Malvasia bears the statewide appellation because it's made from grapes from two different regions, Santa Clara (South San Francisco Bay) and Madera (Central Valley). I don't pay much attention to wine medals, but it's worth noting that this one is almost festooned with 'em, having claimed a Gold, two Silver and four Bronze medals in every California competition it entered, including Gold at the Long Beach Grand Cru and silver at both the Los Angeles and Orange County Fair.
Fresh and crisp and sealed with a clean Stelvin-type metal screw cap to keep it that way, this model Malvasia reminds me a bit of a Riesling with its remarkably aromatic and floral flavor profile and just-off-dry flavor tied up with snappy acidity.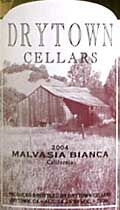 Drytown Cellars 2004 California Malvasia Bianca ($10.50)
Straw color, transparent and very pale, with a faint greenish hue. Aromatic and floral, white flowers and a squirt of grapefruit waft from the glass. Flavors are consistent with the nose, so fresh and fruity that the first impression is of sweetness, but crisp acidity provides structure, and the finish is long and just off-dry, with juicy fresh citrus flavors lingering. It's no lightweight, but carries its 14.3 percent alcohol well. (Feb. 20, 2006)
FOOD MATCH: This would make a great aperitif for spring and summer sipping, but it serves well at the table, with enough personality to stand up well to hearty fare; it should go as nicely as Riesling (which it somewhat resembles) with spicy Asian fare, and it was fine with a hearty risotto with broccoli rabe and tomatoes, onions, garlic and Parmigiano.
VALUE: An excellent buy at the $12 winery price, better still on California Wine Club's sale.
WHEN TO DRINK: It's hard to come up with a reason not to drink it now, with that lovely, almost exuberant floral and citrus aroma and flavor profile; but the variety can stand aging, and the sturdy Stelvin-type screwcap should serve it well. If you buy a case, it would be worth enjoying half of it this summer and cellaring the rest just to see where it goes.
WEB LINK:
The winery Website offers information about the property and its wines,
http://www.drytowncellars.com/tasting.html
FIND THIS WINE ONLINE:
California Wine Club currently has Drytown Cellars 2004 Malvasia available in its Premier Club wine store for $10.50. Click to order:
http://www.cawineclub.com/store/Wine_Store___Premier_Club?Args=
Look up prices and locate sources for Drytown Cellars wines on Wine-Searcher.com:
http://www.wine-searcher.com/find/Drytown/-/-/USD/A?referring_site=WLP