Douro reds revisited
In a modest effort to draw a reasonable balance between dewy-eyed enthusiasm and gimlet-eyed cynicism, I have a simple reality-check rule about those exciting discoveries that come during wine travel: No matter how much I loved a wine when I tasted it on the scene, wait a month or two, then try it again.
I'm happy to report that such a reality check on the red table wines of Portugal's Duoro region - dry wines made from the grape varieties traditionally reserved for sweet, fortified Port - passed this test with ease.
A recent revisit to the current (2002) release of Ramos Pinto's Duas Quintas (purchased locally at retail, not hand-carried home from Portugal), revealed all the good things I remembered from tasting similar wines in the Douro in December: Ripe, fresh-fruit cherry and berry flavors, consistent with the aroma profile of Port, in a full-bodied, dry table wine.
Dry Douro table wines aren't exactly a new discovery - I've got notes on a few of them, including Duas Quintas, back to the early 1990s. But this entire category is hardly ancient history: The first such Douro wine was Ferreira's iconic Barca Velha, which goes back to 1952 and, in recent vintages, sells for close to $100 a bottle (if you can find it). It was 20 years before the second such wine came along, Quinta do Cotto's Grand Escolha, which is produced only in small quantities in excellent vintages and is almost impossible to find in the U.S.; it commands 30€ to 80€ in Europe.
It took almost another full generation, until 1990, before the third dry Douro red appeared: Duas Quintas from the Port house Ramos Pinto. The name ("Two Vineyards") reflects the sources of its grapes. Ramos Pinto's Quinta de Ervamoira is located on the lower slopes of the precipitous Douro Valley, where the microclimate is hot and dry, fostering fully ripened, luscious grapes; its Quinta dos Bons Ares vineyard is high up the mountainside, where cooler, breezy conditions are said to foster fresh, pure flavors in the fruit. It's a blend of Tinta Roriz (the same grape that the Spanish call Tempranillo in Rioja and Ribero del Duero) and Touriga Nacional (perhaps the premier grape of Port).
The hard-to-find Duas Quintas Reserva sells for $30 and up. The widely distributed regular bottling, today's featured tasting, may be technically a "lesser" wine, but at $10 or less, it's one of the best red-wine values around.
After this gradual start, the floodgates have opened in recent years, and just about every Port producer now makes a dry Douro red; some make several. You'll find quite a few notes in my Portugal Wine Diary 2005,
http://www.wineloverspage.com/wines/portugal2005.phtml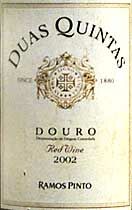 Ramos Pinto 2002 "Duas Quintas" Douro ($8.99)
A blend of the Port varieties Tinta Roriz and Touriga Nacional, this is an inky blackish-purple wine with a clear red-violet edge. Black and red cherries and berries and a dash of spice fill the aroma and flavor, a combination that offers a hint of Port without the fortified alcohol or the sweetness. The fruit is appealing but restrained: This is no mere "fruit bomb;" good fresh-fruit acidity and smooth tannins provide excellent structure and balance. U.S. importer: Maisons, Marques and Domaines USA Inc., Oakland, Calif. (Feb. 19, 2006)
FOOD MATCH: This robust but balanced wine is made for red meat, and worked just fine with the comfort-food style of a beef pot roast.
VALUE: I ran into an unusually good price (at Old Town Wine & Spirits in Louisville), the same as I had paid for the 1995 vintage of this wine seven years ago. Wine-Searcher.com indicates that you're more likely to find it from $10 to the lower teens, but it's still a very good value at that price point.
WHEN TO DRINK: This basic red is made for immediate enjoyment (the Reserva will cellar longer). But these ageworthy grapes and this balanced style would certainly hold up and might even evolve with five years or more of cellar time.
WEB LINK:
The winery Website is available in Portuguese, French and English at this link:
http://www.ramospinto.pt/
I find its graphical Flash menus a bit difficult to navigate, but the colorful photos give a sense of what the property is like.
FIND THIS WINE ONLINE:
Look up prices and locate sources for Duas Quintas on Wine-Searcher.com:
http://www.wine-searcher.com/find/Duas%2bQuintas/-/-/USD/A?referring_site=WLP