Winter Olympics mood
Matching wine and food? Any sommelier worth his salt can do that, and so can you. Today let's talk about the more subtle art of matching wine and mood, choosing a wine to go with what we're watching on television or hearing on the hi-fi. Er, home audio system.
Wine "geeks" with time on their hands occasionally ponder what wine goes best with a favorite musical genre ... Burgundy with the Beatles, Beerenauslese with Wagner, White Zinfandel with Philip Glass, you get the idea.
Now the world - or many of us anyway - is tuned in to the Winter Olympics, and we face the question of an appropriate wine to serve with dinner on an Olympics night, saving a glass to sip while relaxing with speed-skating and downhill skiing and figure skating and bobsleds and luges and all the other exciting sports that we'll be enjoying for the next 10 days or so.
The diversity of games and the pageantry of the nations that makes the Olympics special offers all sorts of options, of course, but one obvious choice is a wine that honors the host country. That's easy for me to say ... I love Italy and its wines.
Better still, how about a wine from Piemonte, the Alpine foothills region of Northwestern Italy, a major wine region whose capital is Torino, venue for the 2006 Winter Olympics. Piemonte's top wines are the classic and ageworthy Barolo and Barbaresco, made from the great red grape Nebbiolo, as are the similar if more second-tier Gattinara and Spanna. Add the food-friendly Dolcetto and Barbera and the occasional offbeat Freisa, and we're looking at quite a selection of hearty red wines to consider for our Olympics wine team, not to mention the dry Cortese white or the sweetly fizzy Moscato-based whites from Asti and its neighbors.
Today let's have a look at a recently tasted Piemontese wine from Angelo Rocca, a prominent regional producer whose top wines almost invariably earn high ratings from the usual suspects. This is a Vino da Tavola, the basic and least restricted Italian classification, made primarily from the Nebbiolo grape. It's a big, rather one-dimensional wine, without the subtle complexity of a Barolo or Barbaresco; more of a burly bobsled driver, say, than a graceful figure skater. But it's a robust table wine, fine with a hearty winter dinner, and as good a companion as any for an evening with the Olympics.
WEB LINK:
Here's a link to the official site of the Torino 2006 Winter Olympics:
http://www.torino2006.org/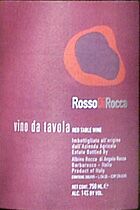 Rosso di Rocca Vino da Tavola ($16)
A blend of the traditional Northwestern Italian grapes Nebbiolo (80%), Barbera (10%) and the less traditional Cabernet, this table wine doesn't qualify for a vintage label, but the back label discreetly discloses "2004 harvest." Clear dark garnet in color, it shows dried-fruit and floral notes, a combination oddly but pleasantly reminiscent of hard candies. Simple and fresh on the palate, red fruit is shaped by tart acidity; a rather high (14%) level of alcohol adds body and warmth. No "Barolo lite," it's very much an international-styled wine, not a surprising thing for shipper Marc de Grazia. U.S. importer: Vintner Select, Mason, Ohio, and other regional importers. From Marc de Grazia. (Jan. 24, 2006)
FOOD MATCH: This big, robust red would work well with red meat or even game; I risked a vegetarian option, using a variety of cheeses to bring the dish up to the wine: Broccoli rabe with a rich, earthy Mornay sauce featuring a blend of French cow's milk Laguiole cheese and Italian ricotta salata, spooned over a bed of mashed potatoes, dusted with Parmigiano and broiled.
VALUE: The retail price I paid is a bit on the spendy side of the median for this wine ... you may be able to find it for a dollar or two less.
WHEN TO DRINK: Not made for long-term cellaring, but I see no reason why it wouldn't keep for several years on the wine rack.
WEB LINK:
Michael Skurnik Wines, another regional importer, has a fact sheet on Rosso di Rocca at
http://www.skurnikwines.com/wines.cgi?rm=view_detail&wine_id=3721
FIND THIS WINE ONLINE:
Look up prices and locate sources for Rosso di Rocca on Wine-Searcher.com:
http://www.wine-searcher.com/find/Rosso%2bRocca/-/-/USD/A?referring_site=WLP