Rediscovering Australia
If you're like me, I expect you go through inexplicable phases in your wine-tasting choices. As hard as I try to spread my wine interests around the world in order to experience as many grape varieties and wine regions and styles as I can, those traditional favorites - red wines, mostly, from Italy and France, California and maybe Argentina - keep turning up on my table.
But variety is not only the spice of life, it's also one of the most appealing things about wine-as-hobby for me, and it doesn't take much of an impulse to jar me out of my rut.
A crisp, elegant invitation that arrived just the other day, sent up from Down Under by my good friend Warren Mason, prompted me to realize how long it had been since I've reported on some good Australian wines.
The invitation, announcing the 2006 awards presentation and banquet for the Sydney International Wine Competition, was a kind gesture but not really practical for me with the banquet just a week or two off. But the Australian wine part? That was easy.
When I think about wine in the context of "Old World" versus "New World" styles, I tend to think of Australian wine as being distinctly New World, perhaps even more so than the wines of California, typically defined by fruit-forward, mouth-filling and often strongly alcoholic characteristics, often showing a distinct presence of oak. Of course, Australia turns out a lot of wine, not all of it alike, and all generalizations are dubious - even this one.
In selecting a red and a white for today's tasting, I steered clear of Barossa Valley Shiraz, stereotypically the most blockbusterish and one-dimensional of Australian wines, in favor of a red from the lovely McLaren Vale (on the other side of Adelaide from the Barossa) that softens the Shiraz with a measure of Sangiovese; and for the white went to Western Australia, a region that's building a reputation for wines of relative elegance.
The results? They both still seemed essentially "Australian" to me, but there's nothing wrong with that. Thanks, Warren, for the reminder. I wish I could jet over to Sydney for the banquet.
For those of you who are closer to the land Down Under, the Competition's 2006 Awards Presentation Banquet is a memorable wine-lover's event, well worth the toll. A dress-up event calling for black-tie or lounge suit, it's Saturday, Feb. 25, 2006, in the Grand Ballroom of the Shangri-La Sydney Hotel, 176 Cumberland Street at The Rocks. Price per person is AUD$200, or AUD$1,900 for a table for 10. Events will include a Premier Tasting of the Competition's Blue-Gold Award Winners for 2006, followed by apéritifs and a five-course banquet with courses chosen to complement the three top wines in each of the Competition's five Style Categories.
It has been my great pleasure to judge the Sydney International Wine Competition twice, and I regret that a scheduling conflict forced me to miss a turn this past year. I look forward to getting back over in the future. Meanwhile, if you're within range of Sydney this month, the banquet would be well worth attending. For more details and booking information, you'll find information and a form at
http://www.top100wines.com/events/events.cfm
And no matter where in the world you reside, if you love wine and food, you should visit the Sydney International Wine Competition site often. In my mind, it's the world's best wine judging because it rates all its wines in compatible style categories and judges the winners not only on their own merits but also on actual tastings with food, each wine accompanied by appropriate dishes made to match. The Website includes extensive tasting notes from judges past and present (you'll even still find some of my comments there), as well as lots of recipes for Jacquie Mason's outstanding dishes. Highly recommended for your wine Internet bookmarks:
http://www.top100wines.com/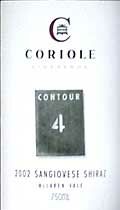 Coriole 2002 "Contour 4" McLaren Vale Sangiovese-Shiraz ($14)
This is a blend of 55 percent of the Italian variety Sangiovese (perhaps best known as the leading grape in Chianti) with 45 percent of the Australian Shiraz (Syrah), grown in the lovely McLaren Vale wine region not far south of Adelaide. It's dark garnet in color with a reddish-violet edge. Pleasant wild-cherry aromas lead into fresh and bright red-fruit flavor with a whiff of spice and a distinctly oaky edge, with crisp acidity to provide structure. I don't think I would mistake it for Chianti in a blind tasting, with its New World fruit-forward character, mouth-filling texture and perceptible oak. But it shows its Italian ancestry in its inviting, quaffable flavor and food-friendly acidity. U.S. importer: Robert Whale Selections Ltd., Washington, D.C. (Feb. 11, 2006)
FOOD MATCH: It paired very nicely with an Italian-style dinner of polpettine (veal mini-meatballs) over spaghetti with a "pink" sauce of fresh tomatoes and a bit of cream.
VALUE: The mid-teens seem a fair range for this inviting table wine.
WHEN TO DRINK: Not made for long-term cellaring, but I see no reason why it wouldn't keep for several years on the wine rack.
WEB LINK:
The winery Website is online at
http://www.coriole.com/
For a fact sheet on this specific wine, see the importer's Website,
http://www.robertwhaleselections.com/tastingnotes.cfm?
tastingnotesid=157&ourwinesid=24
FIND THIS WINE ONLINE:
Look up prices and locate sources for Coriole "Contour 4" Sangiovese-Shiraz on Wine-Searcher.com:
http://www.wine-searcher.com/find/Coriole%2bContour%2bSangiovese/-/-/USD/A?referring_site=WLP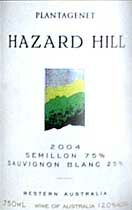 Plantagenet 2004 "Hazard Hill" Western Australia Semillon-Sauvignon Blanc ($11)
Although it appears at a glance to be the same blend as White Bordeaux, this Australian white reverses the usual proportions with a predominance of Semillon (75 percent) over Sauvignon Blanc (25 percent). The transparent straw-color wine bears little resemblance to a French wine, either, with its fruit-forward frapefruit and mango aromas, which carry over intact on the palate, juicy and snappy tropical fruit nicely shaped by crisp acidity, with a prickly petillance that tickles the tongue. U.S. importer: Robert Whale Selections Ltd., Washington, D.C. (Feb. 12, 2006)
FOOD MATCH: It worked well enough to wash down pork chops, but its fruit flavors are so intense that it tends to dominate the fare; maybe be best suited as a quenching summer aperitif.
VALUE: Certainly reasonable at this price in today's marketplace.
WHEN TO DRINK: Best drunk up over the coming year while all that exuberant fruit and prickly carbonation remains young and fresh.
WEB LINK:
Here's a link to the winery Website, which features its Plantagenet and Omrah labels as well as the budget-price Hazard Hill line:
http://plantagenetwines.com/go/
FIND THIS WINE ONLINE:
Check vendors and compare prices for Plantaganet's Hazard Hill wines on Wine-Searcher.com:
http://www.wine-searcher.com/find/Plantagenet%2bHazard/-/-/USD/A?referring_site=WLP