Compare, contrast, taste, enjoy
Compare and contrast. Contrast and compare. This key principle about learning wine bears frequent repetition.
Back in school days, those "compare and contrast" essay questions on English literature exams struck me as a real pain; but in the long run I know they helped me develop analytical thinking skills. In real life, setting yourself to a similar task with wine can be just as instructive ... and tastes good, too.
You can open similar bottles side-by-side or simply take notes on one night's wine, then move on to a comparison bottle the following night before your palate's memory fades. Either way, the process of paying close attention to the ways that the wines resemble each other - and how they differ - is an extremely effective way to learn.
It's easy to come up with specific "assignments" for comparison: Taste two different grape varieties and try to discern the differences; sample wines made from the same grape in different regions; compare variations among similar wines of different vintages, or just sit down at the table and pay attention as you enjoy your dinner, learning how food-and-wine matching works by comparing your reactions to disparate wines over the meal.
If you're worried about wasting wine (or drinking too much) by opening two bottles, invite friends in to share the experience ... or just recork the partially finished bottles, stick them in the fridge, and save them to enjoy another day.
Today's tasting, a follow-up on Wednesday's report on an excellent, value-priced 2004 Muscadet, returns to the Loire to try another white from a different subregion (Sancerre) made from a different grape (Sauvignon Blanc) in a very different vintage (the record-breaking hot summer of 2003).
Although these are almost too many variables for a quasi-scientific comparison, it was still fun to contrast the unctuously aromatic Sauvignon Blanc against the lean, tart Melon grape character of Muscadet; to note the more evident minerality of Muscadet de Sèvre et Maine, and to mutter about the atypically fat, fruit-forward and almost "California-style" ripeness that the summer of 2003 conferred on many Loire wines. Tasting these two wines against each other on successive nights brought all these differences into sharp, memorable contrast.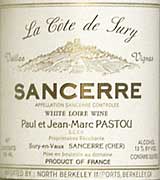 Paul et Jean-Marc Pastou 2003 "La Côte de Sury" Sancerre ($21)
Transparent straw color with glints of gold. Lovely mixed citrus aromas, lemon and lime, tangy grapefruit, even a hint of tangerine. Full and ripe, almost an oily mouthfeel; soft citrus, so fruity that the steely Loire acidity and old-vines minerality, though certainly present, take a back seat to the sweet and juicy fruit. Loire traditionalists may be offended, but it's a mighty slurpy Sauvignon Blanc. U.S. importer: North Berkeley Imports, Berkeley, Calif. (Feb. 8, 2006)
FOOD MATCH: I think of seafood and fish in general with Sancerre, but would err on the side of richer, sweeter shellfish like lobster or crab with this fat '03. It made a surprisingly good match with a Chinese-style vegetarian dish, the tofu and bok choy stir-fry with toasted Sichuan peppers and five-spice featured in yesterday's Wine Advisor FoodLetter.
VALUE: At $21, this is pushing the margin of value, particularly in comparison with Wednesday's Muscadet at half the price. I paid well above the median for this wine, though, and - setting aside the issue of personal preference for the 2003 style - it's a white wine of real quality, arguably competitive with other wines at the $20 price point.
WHEN TO DRINK: As a general rule, quality Sancerre can age and improve for five years or more under good cellar conditions. How the idiosyncratic '03s will fare in the cellar is anyone's guess, but I'd look for this one to dry out a bit over time, which might be a good thing, although the tradeoff is that its intriguing citrus flavors will likely fade.
WEB LINK:
The importer has a bit of information about this wine's 2004 vintage on this page:
http://www.northberkeleyimports.com/articles/index.php?id=140
FIND THIS WINE ONLINE:
Check prices and find sources for Paul and Jean-Marc Pastou's wines on Wine-Searcher.com:
http://www.wine-searcher.com/find/Pastou/-/-/USD/A?referring_site=WLP