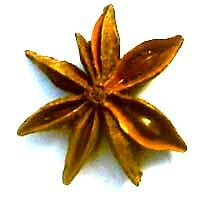 Star anise
Licorice was so despised in my family that, when my brother and sister and I were small, Santa threatened us for misbehavior not with the usual threat of lumps of coal in our Christmas stockings but something even worse: black licorice gum balls. Eeeuuuwww!
So it's a little unlikely that I grew up to love the similar if milder, sweeter aromas and flavors of anise as much as I do. But there it is. From a glass of Pernod poured over ice to the deliciously crisp and anise-scented finocchio bulb to the addictive anise flavor of Italian sausage on pasta or pizza, I just can't leave the stuff alone ... and nowhere is it more delightful than in its Asian form, the pretty eight-pointed seedpods of star anise or the powdered anise-and-other-good-things blend of Chinese "five spice."
I like the way star anise blends with other flavors. It's a natural with pork, fine with chicken, seductive with mushrooms. Five spice and Sichuan peppers make a blend that defines culinary synergy; it melds naturally into soy sauce and kicks tofu up a notch, and some chefs are even experimenting with it as a flavor enhancer in pastries and desserts.
The food lovers in our WineLovers Community have named star anise as the "Ingredient of the Month" for February, and we're happily comparing notes on this exotic spice, experimenting with traditional recipes and inventing some new ones of our own.
Last night for dinner I took an Asian approach, fashioning a quick stir-fry with baby bok choy cabbages and onions and cubes of firm tofu in a light sauce flavored with a spice mix of ground toasted Sichuan pepper, star anise and five spice. Here's how it went:
INGREDIENTS: (Serves two)
1/2 of a sweet yellow onion
3 small heads of baby bok choy
12-ounce (350g) container fresh tofu, firm or extra firm
2 cloves garlic
1/2 inch (1.25cm) length of fresh ginger
Dried red-pepper flakes
1 scallion
1 teaspoon (5g) Sichuan peppercorns
1/2 teaspoon five spice
1/2 teaspoon salt
1/2 teaspoon freshly ground black pepper
1 anise star
1 1/2 cups (350ml) chicken broth (or vegetable broth if you prefer to keep the dish entirely vegetarian)
2 tablespoons (30ml) Sherry
1 tablespoon cornstarch
2 tablespoons peanut oil
PROCEDURE:
Remember that stir-frying is a quick process, so you'll want to get all your ingredients measured and prepared before you fire up the wok.
1. Peel the onion and cut it into wedges, breaking each wedge into individual squares. Cut the bok choy into bite-size chunks, keeping the pale-green stem portion and the leaves separate. Remove the tofu from its container and cut it into about 24 bite-size cubes.
2. Peel the garlic and ginger and mince them fine. Place them in a small bowl with a shake of red-pepper flakes to taste. Chop the scallion, reserving it for garnish.
3. Toast the Sichuan peppercorns in a small, dry skillet until they're aromatic, then crush them gently in a mortar and pestle or herb grinder. Blend with the five spice, salt and black pepper.
4. Mix the Sherry into the broth, and dissolve the cornstarch in a little water in a small bowl.
5. Now you're ready to stir-fry. Heat your wok or large skillet over a high flame until it's very hot, then put in the peanut oil and cook until it's almost smoking. Stir-fry the onions and the bok choy stem portions for a moment or two until they start to cook, then add the minced garlic and ginger and dried red-pepper flakes, the star anise and a good-size "pinch" of the mixed spices, and continue stir-frying the garlic and ginger turn translucent and aromatic.
6. Reduce heat to medium, pour in the broth and Sherry mix, and bring to a simmer. Gently slide in the tofu cubes, taking care not to break them, sprinkle on a little more of the spice mix, and cook until they're heated through. Stir in the cornstarch mix to thicken, then sprinkle with the remaining spice mix, garnish with the chopped scallion, and serve with steaming white rice.
WINE MATCH: As Jenise pointed out, star-anise dishes in general are naturally suited to Pinot Noir, and that was my choice with both the beef dish and the duck. The tofu dish, however, seemed to need a crisp but full-flavored white, and a fruit-forward, almost Loire white from the overheated 2003 vintage did well: Paul et Jean-Marc Pastou "La Côte de Sury" Sancerre Vieilles Vignes.