Value favorite: Muscadet
After Monday's unusual excursion into nosebleed price realms where we rarely go, let's quickly return to more comfortable financial territory, taking another look at one of the wine regions where high quality and real value often meet: Muscadet de Sèvre et Maine.
Muscadet, which I've described as an "anti-Chardonnay," is one of those wines that divides wine enthusiasts into opposing "love it" and "hate it" camps. I love it, but if you like your white wines big and buttery and full of fruit, you may prefer to steer clear. This Loire Valley white at its best is lean and tart, not really shy of fruit but balancing that character with tart, food-friendly acidity and, at its best, an attractive minerality that speaks of stones and fresh rainwater and sometimes an oddly characteristic chalky note that's oddly reminiscent of clean seashells on an ocean beach.
That's the kind of intriguing complexity that I love in wine, and the remarkable thing about Muscadet is that, even in a world of price inflation, you can still often find it for $10 or less. You'll find a little more background about the wine and its region in the Nov. 2, 2005 Wine Advisor,
http://www.wineloverspage.com/wineadvisor1/tswa051102.phtml
Now, let's go straight to the tasting report.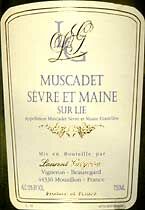 Laurent Grégoire 2004 "Domaine de Beauregard" Muscadet de Sèvre et Maine Sur Lie ($9.99)
This is a very clear, light straw-color wine, offering attractive fresh-fruit aromas of melon, apples and pears touched with a briny hint of the sea. Crisp white fruit is enhanced on the palate with chalky minerality, nicely structured with a high note of tart, lemony acidity. Its texture becomes pleasantly full-bodied and complexity enhanced as the wine warms in the glass; don't serve this one ice-cold. U.S. importer: Weygandt-Metzler, Unionville, Pa. (Jan. 7, 2006)
FOOD MATCH: Muscadet is made to go with oysters, but fares well with just about any seafood or fish; it was a delight with fresh yellowtail tuna steak, pan-seared rare with butter and lemon.
VALUE: A delicious, minerally and complex white wine that's exceptionally well-matched with food, for a penny under 10 bucks? Gedouttaheah!
WHEN TO DRINK: Made to drink now, capable of aging for years under good cellar conditions.
WEB LINK:
Here's the importer's fact sheet on Laurent Grégoire:
http://www.weygandtmetzler.com/producershtml/gregoire.htm
FIND THIS WINE ONLINE:
Look up prices and locate sources for Laurent Grégoire's Domaine de Beauregard Muscadet on Wine-Searcher.com:
http://www.wine-searcher.com/find/Beauregard%2bMuscadet/-/-/USD/A?referring_site=WLP