$100 Valentine
What's the ideal wine to treat your Valentine? The good folks at Inniskillin, Ontario's first winery of modern times and arguably its No. 1 producer of high-end ice wines, modestly suggest that their rare Cabernet Franc ice wine fills the bill: It's luscious and sweet, it's a glowing pink color for Valentine's Day, it goes great with chocolate (another romantic treat) ... and its rarity and cachet add up to a stunning $100 for a bottle. That's for a half-bottle, mind you, a tiny 375ml vessel that contains just enough for two, quite an indulgence even if it is widely discounted.
Ice wine, you'll recall, is an ancient German tradition that the Canadians have perfected - and brought to market - in quite a short time since Inniskillin opened its doors in 1975. It's made by leaving ripe grapes on the vines well into winter, waiting for the first cold wave to freeze the grapes rock-hard, then picking them and pressing them while they're frozen. The water freezes, the sugar doesn't, so only a tiny amount of concentrated, super-sweet juice comes out - almost pure fruit sugar - yielding an intensely sweet wine that's about like syrup.
Most Ontario ice wines are made from Riesling or Vidal grapes, but you'll occasionally see other varieties. Inniskillin makes both the red Cabernet Franc and even a sparkling ice wine. By law in Ontario, harvesting for ice wine may not begin until the temperature drops to minus-8C (18F), and picking is usually done before dawn on frigid January mornings. Bring gloves and a parka!
Being difficult to produce, made in tiny quantities, and under great demand because of its rarity and excitement factor, ice wine is not cheap. In my visits to Ontario, I've tasted ice wines priced at the winery from CDN$37 to CDN$60 for half bottles. Export wines are hard to find and usually are marked up substantially.
Are they worth it? That's the $100 question. In contrast with some of the "cult" wines that command nosebleed prices because critical acclaim pushes demand far out of touch with supply, ice wine is arguably pricey because it's difficult to make and comes in only tiny quantities. As importer's representative Kevin Karl pointed out, "Cabernet Franc grapes are a particularly weak-stemmed variety and, as they hang on the vine into winter, susceptible to being knocked to the ground by wind or snow. Accordingly, the yield of this variety is extremely low - something like 5 percent per acre compared to a table-wine harvest. It is that which makes this ice wine so rare and special."
So, like a Rolex watch or a limited-production sports BMW, this ice wine is expensive, but the price may be justified by quality and rarity ... and, to be blunt, by high-end consumer demand. Inniskillin has grown into one of Canada's most successful wineries not least by tapping that demand, with substantial export to the wealthier U.S. metro markets - and, in substantial amounts, to Japan.
Personally, I don't drink a lot of ice wine. But then, I don't wear a Rolex or drive a Beemer either. I don't drink a lot of any wine in that price bracket, and on the occasions when I do, my tastes lean more toward the complexity and flavor balance of mature French, Italian or California table wines ... or Vintage Port.
If the lush, unctuous and toothache-sweet style of dessert wine appeals to you, and if you're prepared to make an investment at this level for a sweet treat for Valentine's Day (or any other special occasion), then Inniskillin's Cabernet Franc Ice Wine is certainly an indulgence worth considering.
TALK ABOUT WINE ONLINE:
Just for fun, I've set up a new edition of our popular WineLovers Voting Booth to see how wine lovers around the world feel about pricey wines for special occasions, or for any occasion. I hope you'll take a moment to participate - the Voting Booth is fully anonymous and just takes a moment. To vote, click to
http://www.wineloverspage.com/votebooth/vb20060206.shtml
To see the results as they come in, visit
http://www.wineloverspage.com/votebooth/ans20060206.shtml
If you'd like to ask a question or comment in more detail on today's topic (or any other wine-related subject), you'll find a round-table online discussion in our interactive WineLovers Community, where you're always welcome to join in the conversations about wine.
http://community.netscape.com/n/pfx/forum.aspx?nav=messages&
tsn=1&tid=2861&webtag=ws-winelovers
If you prefer to comment privately, feel free to send me E-mail at wine@wineloverspage.com. I'll respond personally to the extent that time and volume permit.
PRINT OUT TODAY'S ARTICLE
Here's a simply formatted copy of today's Wine Advisor, designed to be printed out for your scrapbook or file or downloaded to your PDA or other wireless device.
http://www.wineloverspage.com/wineadvisor1/print060206.html
---
DISCLOSURE: To have early access to the 2004 Cabernet Franc ice wine, I accepted a sample bottle from the U.S. importer. The importer was not able to bill me for the sample but suggested that in lieu of payment I make a charitable donation in a similar amount. I have done so, and tasted the ice wine with a salute to Alley Cat Advocates in Louisville.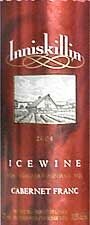 Inniskillin 2004 Niagara Peninsula VQA Cabernet Franc Ice Wine ($100/375ml)
This is a very pretty wine with a transparent light-ruby color that's light for a red wine but deeper in hue than a rosé. The aromas offer ripe, appealing red-berry fruit with subtle nuances: Intense raspberry scents catch the attention first, then a whiff of strawberry, with a sharper fruit note behind the berries ... fresh apples, or maybe apple skin; then comes a delicate, intriguing back note of green chile peppers, almost akin to the "jalapeño" character familiar in New Zealand Sauvignon Blanc. On the palate it's very full-bodied and unctuous, coating the mouth with an almost oily mouthfeel, syrupy and sticky-sweet, luscious ripe raspberries with sufficient tart acidity to bring it all together. It's quite an impressive wine in the ice-wine style, a celebration of intense sweetness and fruit, although the problem with ice wine for me is that it offers intensity without the subtlety or finesse that, for me, justifies a high-end investment in a bottle of wine. U.S. importer: R.H. Phillips Inc., Esparto, Calif. (Feb. 5, 2006)
FOOD MATCH: My advice remains: Drink dessert wines as dessert, not with dessert, enjoying their sweetness and flavor on its own. That being said, however, Inniskillin boasts that the Cabernet Franc ice wine makes an exceptional partner with chocolate desserts, a classic combination worth trying if you're indulging for Valentine's Day. The winery also suggests caramelized desserts like creme brulee or blue cheeses.
VALUE: Ah, here's the point of today's essay. What does a wine have to do to justify a price at this level? This is a costly wine to make, and it enjoys substantial demand even at this high price. In fairness, that price is based on more than mere hype ... and the market is clearly ready to pay for it. You pay your money, and you take your choice.
WHEN TO DRINK: It's fully ready to enjoy, but super-sweet wines do generally cellar well and gain complexity and richness at the expense of losing some of their sweetness over the years. The winery suggests enjoying it through 2014.
WEB LINK:
The winery Website, available in English, French and Japanese, plays to Inniskillin's strength, skipping the winery name in favor of
http://www.icewine.com/
FIND THIS WINE ONLINE:
Inniskillin offers some information about international distributors on its Website at
http://www.inniskillin.com/en/whereBuy/index.asp?location=whereBuy
Look up prices and locate sources for Inniskillin Cabernet Franc Ice Wine on Wine-Searcher.com:
http://www.wine-searcher.com/find/Iniskillin%2bFranc%2bIce%2bWine/-/-/USD/A?referring_site=WLP