Sweet Soave
When is Soave not Soave? Over the past five years, at least, one answer to this question is, "When it's made by Anselmi." Wine maker Roberto Anselmi, sometimes nicknamed "Soave's rebel," made waves and headlines in 2000 when, angry with regulatory changes that he considered confining, he declared that he would no longer sell his wines as "Soave" but claim only the broader "Veneto IGT" on the label, freeing him to make his wines as he saw fit, not as regulators did.
I admire that free spirit, but still couldn't resist the alliterative headline on today's report, which follows up on Wednesday's article on Soave with an Anselmi dessert wine made in Soave from the region's indigenous Garganega grapes.
Anselmi 2003 "I Capitelli" is made in the classic "passito" style that's a tradition for sweet wines in both Soave and neighboring Valpolicella. Hand-selected grape bunches (compare Germany's "Auslese") are laid out to dry on straw mats for three months or so, during which time they shrink into super-sweet raisins while developing the beneficial fungus botrytis. Pressed and, in Anselmi's case, fermented and aged in small French oak barrels, the grapes yield a small amount of intensely scented, luscious sweet wine.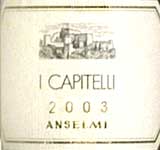 Anselmi 2003 "I Capitelli" Veneto Passito Bianco ($29.99/375ml)
Bright gold. Candy-apple and crème caramel aromas with a subtle smoky note. Full-bodied and quite sweet, with good acidity to counterbalance the fruit sugars; golden raisins and dried stone fruit flavors, with bitter-almond notes drying out the sweetness in the finish. Interesting and complex, an excellent dessert wine and a good choice as a sweet seasonal treat for your Valentine. U.S. importer: Palm Bay Imports, Boca Raton, Fla. (Feb. 2, 2006)
FOOD MATCH: Served after dinner as a dessert without food accompaniment. The producer, implicitly likening it to Sauternes, calls it "a divine partner" with lobster, foie gras, blue cheeses, pastries or fresh fruit.
VALUE: The passito process is time-consuming and limited in production, yielding a wine that justifies its price on the basis of both quality and rarity. By the standard of fine dessert wine, though, that's almost low-end, and I Capitelli can compete with far more expensive Sauternes.
WHEN TO DRINK: Beautiful now, but like other dessert wines in the late-harvest botrytized genre, it will evolve into remarkable richness and complexity over the long haul. I have no reason to doubt the producer's judgment that it will last for 20 years or more.
PRONUNCIATION:
"Passito" = "Pah-SEE-toe"
WEB LINK:
There's an article about Anselmi on the importer's Website at this link:
http://www.palmbayimports.com/xq/asp/VID.1081/qx/brands.html
FIND THIS WINE ONLINE:
Wine-Searcher.com shows many European sources but relatively few in the U.S. for Anselmi I Capitelli, perhaps because Anselmi only recently moved into Palm Bay's portfolio:
http://www.wine-searcher.com/find/Anselmi%2bCapitelli/-/-/USD/A?referring_site=WLP
U.S. consumers may also wish to check the importer's "Wine Locator" page to find a nearby distributor:
http://www.palmbayimports.com/wine_locator.asp
---
Favorite Wine Links: Wine-Journal.com
Finally, as a bit of wine-related lagniappe on a Friday, I'd like to share a link to an excellent Website I've just recently discovered. Wine-journal.com is an independent site dedicated to fine wine, written and published by Neal Martin, a 30-something British gent with a fancy for wine and a well-tuned capability for writing about it.
"Within these pages," he writes, "are in-depth profiles, photographs, musings and over 4,500 wines tasted ... Objective analysis, stimulating prose and passion form the tenets for this site: I hope you enjoy."
I do! I do! From Hugh Johnson and Clive Coates and the Broadbents to the delightful Jancis Robinson, I admire and enjoy many of the British wine writers, and Martin fits quite neatly into this literate and comfortable style.
I asked him for an informal bio and got back, among other things, this charming report that I can't resist sharing:
Wine-journal.com was born in June 2003. I had worked in the wine trade for about seven years as a wine buyer for Far East airline, a job that threw me into the deep end of fine wine. Hitherto, I was a complete novice, in fact until I was 24 I had never even purchased a bottle of wine! My family abhorred drinking and I had spent my teenage and university years DJ-ing and drinking cheap lager. I had lived in Tokyo for a year after graduating and ended up in a boring insurance job, before I was offered an interview at a Japanese export company, responsible for the procurement and export of wine.
"Knowing nothing about wine except that it came in red and white, I popped into wine-shop before the interview, memorized the name on a randomly chosen bottle so that when I was asked which wine was my favourite, I would have an answer. They asked me that question, I replied 'Pfalz' and got the job!
"Thereafter I caught the wine bug, passed my Wine Diploma and went hell for leather tasting as many wines as possible, a task made easier when you are one of the biggest wine buyers in the world. ...
"I would like to make the website my full-time job since I still write articles, sitting in the living room with a laptop perched on my lap or on the 08:17 to Victoria Station in the morning. ...
"To be honest, wine-journal is intended to be a life-time work that will grow in line with my experience, which is a fraction of Parker's, Broadbent's or Robinson's. The one advantage I have is time on my side: I am still in my early 30s and I have been lucky (and at times downright unscrupulous) in being able to taste as many great wines as I have. The disadvantage is that I am no successful lawyer or doctor with substantial savings to help finance what can be an unprofitable pursuit - but perhaps that knife-edge existence gives the writing and the website its edge and hopefully makes the reader think that even if I am tasting DRC's or 1945 clarets, that I am still thinking what a lucky bastard I am to be doing this!"
You've got to love this guy ... click to his Website, and I think you will:
http://www.Wine-journal.com